Welcome to the 464th Tablescape Thursday!
Update: Since I had some issues with the shelves that came with these cabinets not holding the weight they are "supposed' to hold without bowing, I had melamine shelves cut to the size needed at Home Depot. I replaced every single shelf that wasn't a "fixed" shelf with the Home Depot melamine shelves at the cost of $7 a shelf. The HD shelves are thicker and much sturdier and held the dishes without any bowing. The photos in this post were taken before I replaced all the shelves, so you may see some slight bowing.
Yipee! The garage cabinets are at last complete!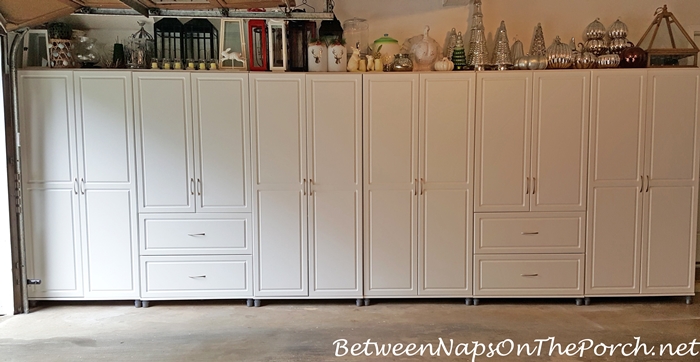 Let's throw back the doors and see how they are being used. The cabinets I purchased for this project are available here: Cabinets.
You'll notice I've stored a lot of the things I use as centerpieces and when decorating across the top. You'll get a better view of some of those in this post, as well.
The garage has a heated/cooled space on three sides of it: Laundry Room behind the cabinets, kitchen at the front of the garage and a bonus room above, so that helps it stay a bit warmer in the winter and a bit cooler in the summer than a lot of garages that are exposed on more sides.
Here's a photo detailing what's inside each cabinet. Starting on the far left and moving across:
Cabinet 1: Miscellaneous sets of china/dishware
Cabinet 2: Napkin Rings and flatware in bins with napkins in the drawers below
Cabinet 3: All Christmas dishware except my Lenox Winter Greetings and Lenox Holiday which is still stored in my dining room
Cabinet 4: Alice in Wonderland, Easter, 4th of July, St. Patrick's, ending with fall/autumn dishware on the bottom two shelves
Cabinet 5: Charger Plates with napkins in the drawers below
Cabinet 6: Glassware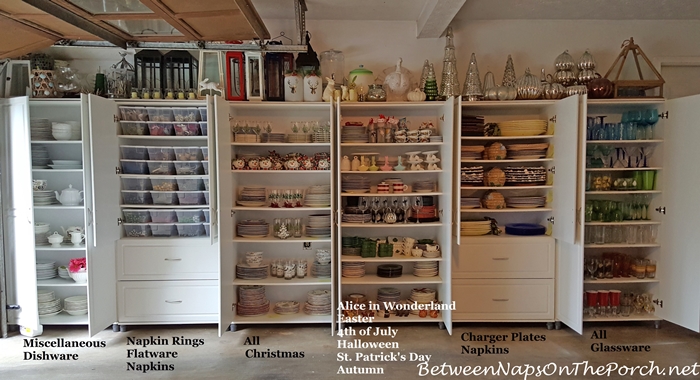 Cabinet 1:
Here are a few close-up shots starting with Cabinet 1 on the far left. This first cabinet is filled with miscellaneous patterns that I use from time to time in table settings.
Please ignore the little stickers/post-it notes. Those are just little notes I made of the exact weight of each stack, so I wouldn't exceed the weight allowed for each shelf , which is 35 lbs except for the top shelf and bottom shelf. The top shelf can support 40 lbs and the bottom shelf will support 50 lbs. I'll be removing the post-it notes soon, but I still need them there for now since I may swap out some of the shelves for melamine shelves from Home Depot–more on that in just a sec.
Cabinet one doesn't quite open all the way due to the garage laser safety thing at the bottom of the garage door, but I placed a cabinet here since it does open plenty far enough to access that cabinet.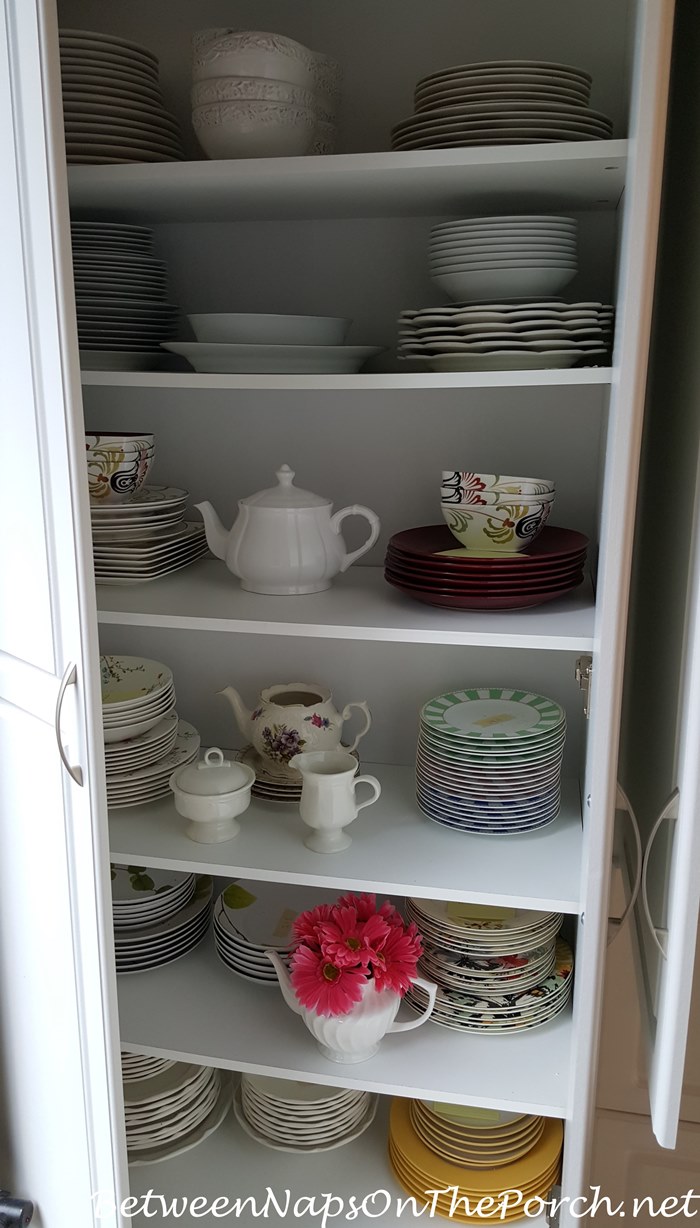 Cabinet 2:
Napkin Rings are in the top three rows of bins, followed by flatware. As I share these close-up views, you'll catch glimpses of some of the lanterns I've stored overhead on 3/4 inch plywood.
As mentioned in a previous post, all the cabinets are anchored to the garage wall and the plywood along the top is anchored via screws to the side wall(s) of each cabinet. I attached the plywood that way so I wouldn't have to worry about it sliding around as I pulled lanterns off the top.
Also, all the cabinets have the soft-close hinges/doors. So when you close the doors, they close really gently, no jarring or movement at all. I love that feature about these cabinets!
The top drawer in this cabinet is filled with napkins in mostly white, cream and pastel colors.
The bottom drawer is filled with Christmas napkins and other red/green napkins.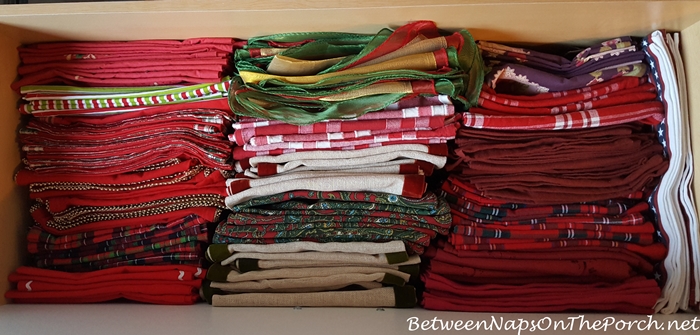 Cabinet 3:
Cabinet 3 contains all Christmas dishware, not including my Lenox Holiday and Lenox Winter Greetings.
The second shelf down that holds my "snowman" dishes, appeared to be slightly bowing when I shared my progress on these cabinets in THIS previous post. I turned the shelf over and that seemed to correct the issue.
By the way, I used my cellphone to take these photos since it handles low lighting so well. The wide-angle lens though tends to sometimes make shelves appear to be bowing when they aren't. You'll see that when we get to the cabinet that's filled with glassware.
A BNOTP reader had mentioned that Home Depot sells melamine shelving, I checked it out and discovered it is slightly thicker and I think a bit stronger than the shelves that came with these cabinets. I purchased two shelves, having Home Depot cut them down to the size I needed.
I swapped out the shelf that has the snowman dishes, just to see how it worked. It's probably hard to see, but that shelf is slightly thicker than the other shelves that came with the cabinets and that I purchased extra from the company that makes these cabinets.
I'm going to buy a few more since they are just $7 each and I plan to replace a few more shelves like the ones underneath the flatware stored in Cabinet 2.
A little closer view: Fortunately, I had space in this cabinet to also include some of my Christmas glassware without adding too much weight to each shelf.
Cabinet 4:
I added three additional shelves to this cabinet and other than the Alice in Wonderland dishware on the top shelf, it is mostly filled with holiday dishware, not including Christmas.
Starting with the top shelf you'll find Alice in Wonderland dishware followed by Easter, 4th of July, Halloween, St. Patrick's Day, ending with fall/autumn dish patterns on the bottom two shelves.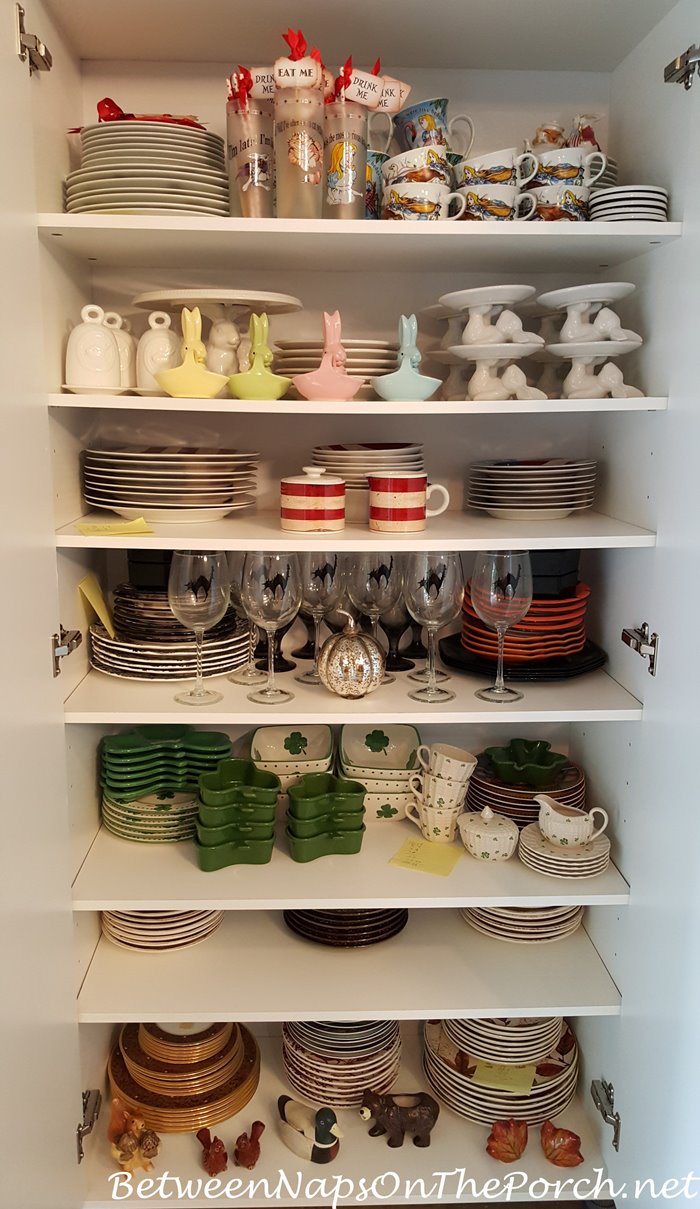 Cabinet 5:
Cabinet 5 is filled with all my charger plates, except two sets of ceramic chargers that I have stored in my dining room sideboard and grapevine chargers that are a little too large to fit inside. I've also tucked in my six little Bee Skep soup tureens to take advantage of the space in between the chargers.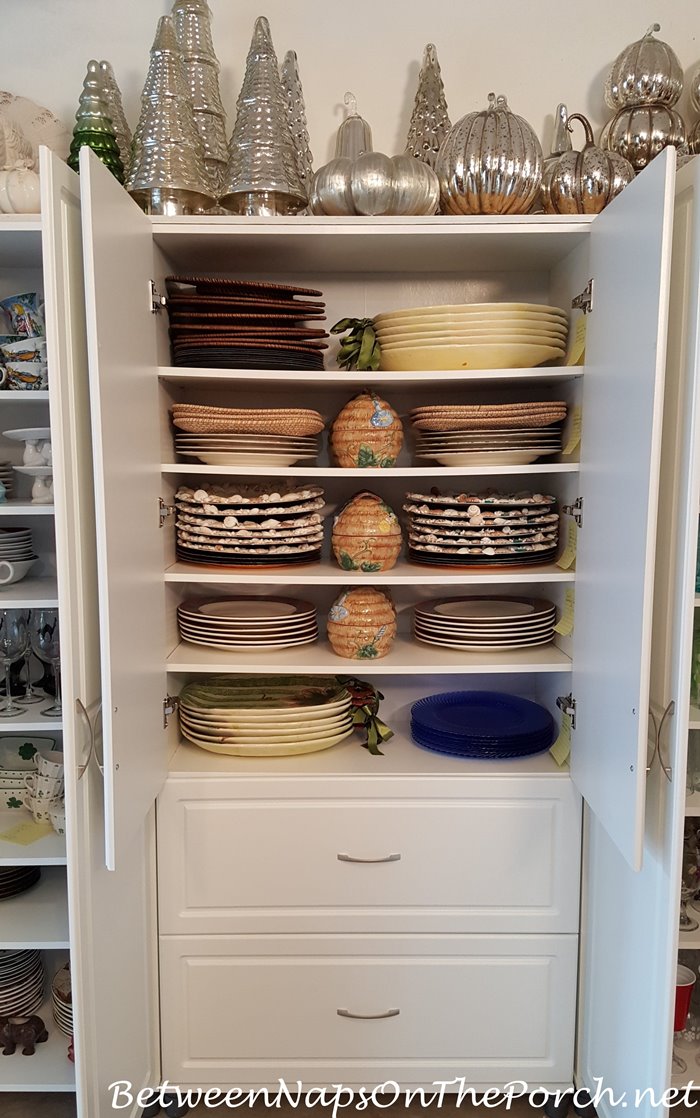 In the top drawer below the chargers, you'll find the rest of my napkins. The bottom drawer in this cabinet is mostly empty except for a some miscellaneous holiday stuff I tossed inside. I may save it for additional napkin space, not sure.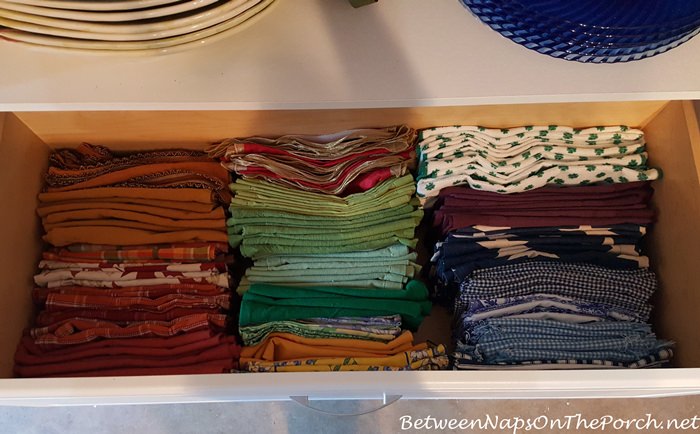 Cabinet 6:
Cabinet 6 is all glassware. I still need to finish washing that yucky film off some of them–See yesterday's blog post HERE for more info on that.
You'll notice that I've often interchanged how I have the glasses stored: some are upright and others are turned upside down. Alternating the glasses this way provides a bit more space for storing them, depending on their shape.
I would never recommend storing expensive glassware on its rim, especially delicate crystal, but the glassware stored here in this cabinet isn't that type of glassware. Most of the glassware in this cabinet came from Pier 1, HomeGoods, Tuesday Morning, Marshalls, Dollar Tree, TJ Max, Kohls, etc…
I started with blue glassware, blending into green, followed by clear, then amber/gold/leaf glasses that are often used in fall table settings. The bottom shelf contains snowflake-covered stems and glassware in various other patterns, including "redneck" wine glasses and chicken/rooster glasses.
This isn't all my glassware, just what I had stored in my laundry room cabinets. I still have 3-4 more sets in my kitchen cabinets, not counting my everyday La Rochere "bee" glassware. My Waterford crystal is stored inside my china cabinet in my dining room.
Notice how the second shelf appears to be slightly bowing. It's not, I promise. The glassware stored in this cabinet doesn't come even close to exceeding the 35 lb weight limit for each shelf, but a combination of the angle and the wide-angle lens causes some shelves to look slightly bowed, even though they're not.
I used my DeWalt drill for some parts of this project, but for some of the assembly a drill would have been too powerful. A recent purchase that was super helpful in putting these shelves together was this ratcheting handle/screwdriver.
I first purchased it when I was looking for a way to speed up the process of assembling chairs for some deck furniture I bought recently. They were designed with screws that required an Allen wrench, and the process was super tedious. This ratcheting screwdriver arrived too late to help with the deck furniture, but it was great for assembling these cabinets.
It contains bits for all the different types of screws like Phillips, Flathead, Allen, etc… You can read more about it here: Ratcheting Screw Driver Set. When I think of all the things I've assembled over the years, I'm kicking myself that I didn't buy this set many years ago! I would have if I had known it existed!
Have you ever gotten a new car and found yourself in those first few days going to the garage and opening the door to see if it's really there? I've done that a time or five with these cabinets. lol
After wanting storage down this wall for so many years, only back then I was thinking garage storage for gardening supplies, I'm so happy to finally have it completed. It was a lot of work, but definitely worth it!
The cabinets I purchased for this project are available here, Cabinets and here: Cabinets.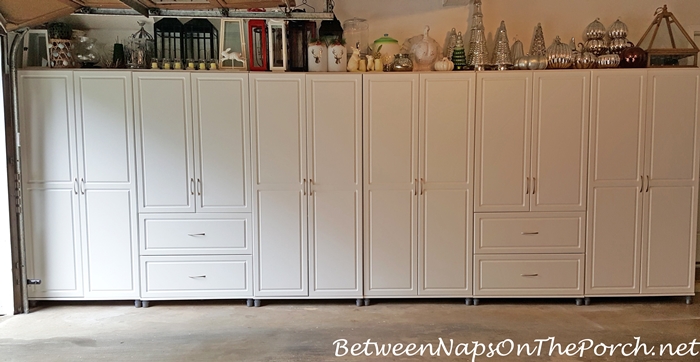 Pssst: I post almost daily to Instagram. Follow Between Naps on the Porch on Instagram here: Between Naps On The Porch.
Looking forward to all the tables linked for this week's Tablescape Thursday!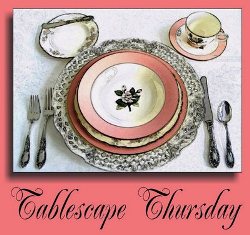 If you are participating in Tablescape Thursday, please be sure to add your permalink below, and not your general blog address.To get your permalink, click on your post name, then copy and paste the address showing in the address bar, into the "url" box when you link up.
You'll need to include a link in your post back to the party to link up and participate. That's so visitors to your blog will be able to find the party and the other Tablescape Thursday participants. Requiring a link back also prevents businesses and scammers from linking up to sell their products. (Yup, that really happens, unfortunately.)
Please Note: After 1 week, party links are still available to view by clicking on the blue button below.
*If a post is sponsored or a product was provided at no charge, it will be stated in post. Some links may be affiliate links and as an Amazon Associate, I may earn from qualifying purchases. *