Welcome to the 479th Metamorphosis Monday!
Good morning! Hope you had a great weekend! For this week's Met Monday, I thought I'd share a mini-lifestyle improvement I made recently. You may recall me mentioning in an earlier post that I ditched my cable TV a while back. I rarely ever watched TV since there was never anything on that really interested me. I just couldn't justify the expense when my cable bill went up yet again.
So I disconnected the TV part (kept the internet) and decided to try Acorn TV, having heard good things about it. I immediately got hooked on the Agatha Raisin mystery series. lol I usually end up watching a show on Acorn when I'm working on something at my desk–like sorting through photos for an upcoming blog post. I'll have a show going on one monitor while I'm sorting through photos on the other monitor. I have to be multi-tasking when watching a show, just feels more productive.
A week or so ago I got a crazy idea. Wouldn't it be fun to ride my Peloton bike while watching a favorite show! I looked online and found this cool gadget that will hold a tablet or phone.
Here's how it looks in their "sample" photo holding an iPad.
I don't have a TV in my exercise room, so what I do is attach my iPad to the handle of my bike while I have one of Peloton's "Scenic" rides playing in the background with the volume turned off. That way the bike will keep up with my ride, in case I want to log the ride and see how many calories I burned, etc…
Here's how my tablet looks attached to the handlebar of the bike.
So if you like the idea of riding an exercise bike while watching a favorite show on Acorn or Netflix, but you don't have cable or a TV in your exercise room, this is one way to make it work. I guess you could even Facetime/Skype with someone this way while riding. There are a few vloggers I follow who post longer videos, so this would be a fun way to watch those, too. This little gadget will also hold a cell phone, which could come in handy if you need to keep your phone close by while riding.
When I want to take a spin class on my bike, the tablet, along with the top part of the holder, will lift right off the handlebar so I can easily see the screen. That way I don't have to unattach/reattach the holder each time I want to take a class or a scenic ride on my bike.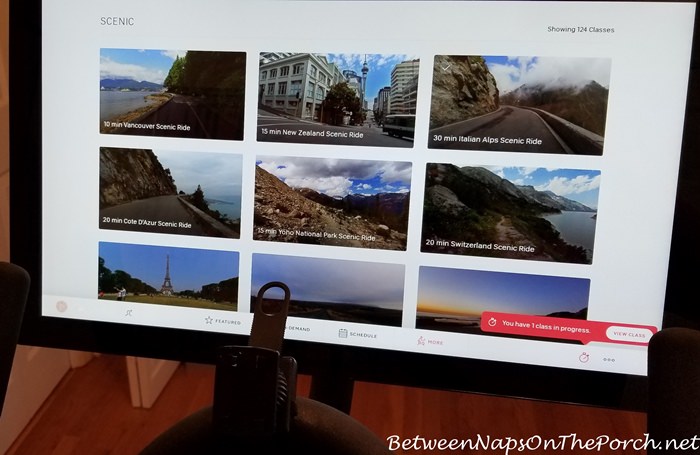 Here's how the holder looks attached to the iPad. I used to carry my iPad with me all the time in my handbag before smartphones grew in size. I haven't carried it in my bag in years, preferring to just use my smartphone when I'm out and about. So I'll probably just leave the holder attached to the back of the iPad, although it's easy to remove by just lifting up on the top of the holder.
I purchased my holder here: Phone/Tablet Holder. Genius idea! So glad someone thought of making this little device! Just had to share it in case you would find it helpful, as well.
Happy Spring, dear Friends!
Looking forward to all the wonderful Before and Afters for this week's Metamorphosis Monday!
Pssst: I post almost daily on Instagram. Follow Between Naps on the Porch on Instagram here: Between Naps On The Porch. If you enjoyed this post, subscribe for free email updates when a new post is up here: Subscribe for post updates.
Metamorphosis Monday
Metamorphosis Monday is a party that's all about Before and Afters. If you are participating in Met Monday, please link up using the "permalink" to your MM post and not your general blog address. To get your permalink, click on your post name, then just copy and paste the address that shows up in the address bar at the top of your blog, into the "url" box for InLinkz.
In order to link up, you'll need to include a link in your MM post back to the party so the other participants will have an opportunity to receive visits from your wonderful blog readers.
Please observe these few rules:
Please link up Before and After posts that are home, gardening, decorating, crafting, painting, sewing, cooking, fashion or DIY related.
Be sure to include a link back to the party in your post, so your readers will be able to find and visit the other bloggers who are participating.
Do not link up to the party if you're only doing so to promote or sell a product.
To those who are linking up: If you notice a shop or online store linking up to sell products (yes, unfortunately, that does happen) please let me know so I can remove their link and block them from participating in future parties. No one wants to click a link expecting a Before and After, only to find a spam link to an online business/store.

*If a post is sponsored or a product was provided at no charge, it will be stated in post. Some links may be affiliate links and as an Amazon Associate, I may earn from qualifying purchases. *