Each time I set a table and use Mr. Bunny in the centerpiece, I get lots of emails and comments from folks asking where I found him. He was designed by artist, Marjolein Bastin and I found him several years ago in a small gift shop in Marietta, Georgia called The Whimsical Nest. I've heard from several readers who have called the shop and were told that they no longer carry him. I think they only had him for that one season.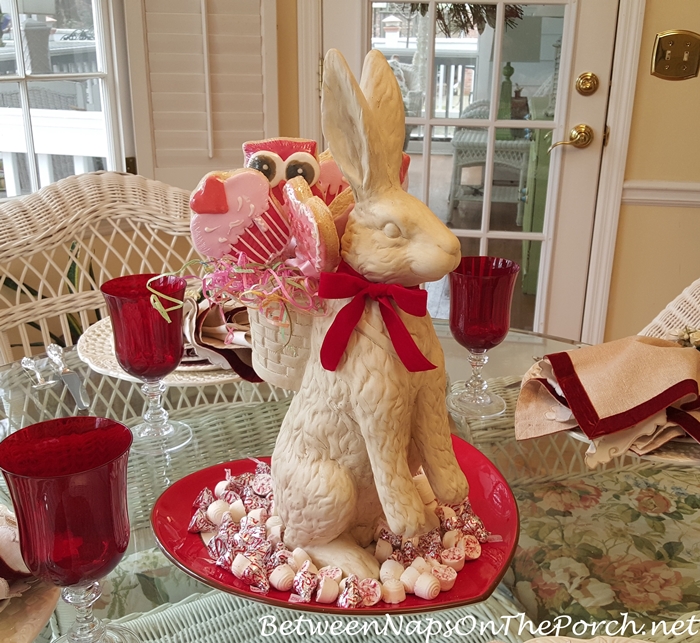 He has appeared in a St. Patrick's Day table with shamrocks. (Tablescape can be viewed here: St. Patrick's Day Table Setting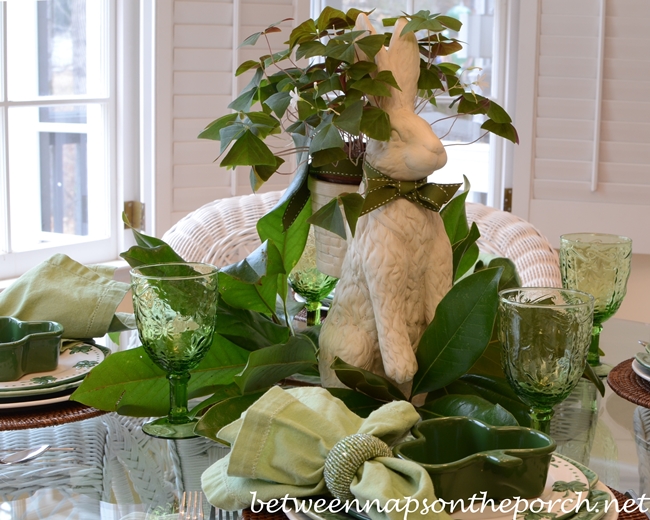 One Easter, he brought us a basket full of Debutante Camellias. (Table setting can be viewed here: Easter Table Setting.)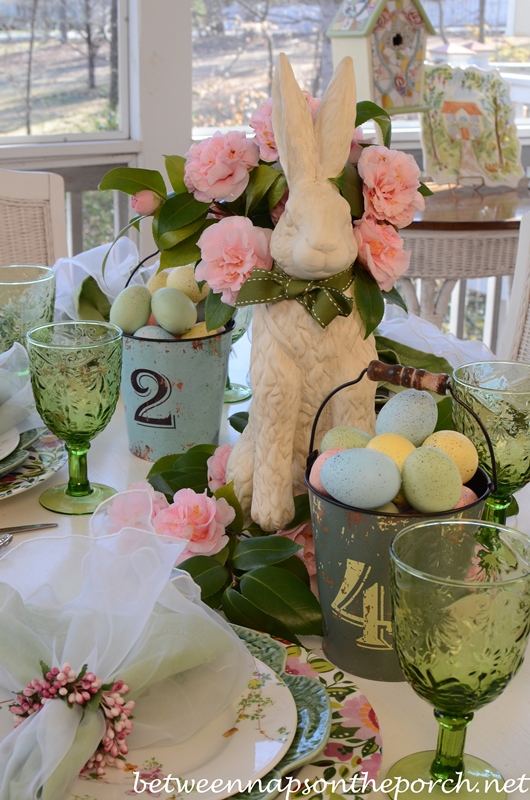 For summer he helped himself to carrots from Mr. McGregor's garden, narrowly escaping! (Tablescape can be viewed here: Peter Rabbit Raids McGregor's Garden)
He even made an appearance for Christmas one year when the dishware I used featured a cute bunny alongside a Christmas tree. (Tablescape can be viewed here: A Christmas Table Setting Inspired by Nature)
Good news! For everyone who has been seeking a tall bunny with a basket, I have found three! Last night I noticed Pottery Barn has a similar bunny for sale. He has a basket on his back and is 13 inches tall, which is about the same height as my bunny. You'll find him here: Bunny with Basket By the way, Pottery Barn is having a sitewide sale right now, 20% off everything with the code: FRIENDS. I think it includes everything but furniture.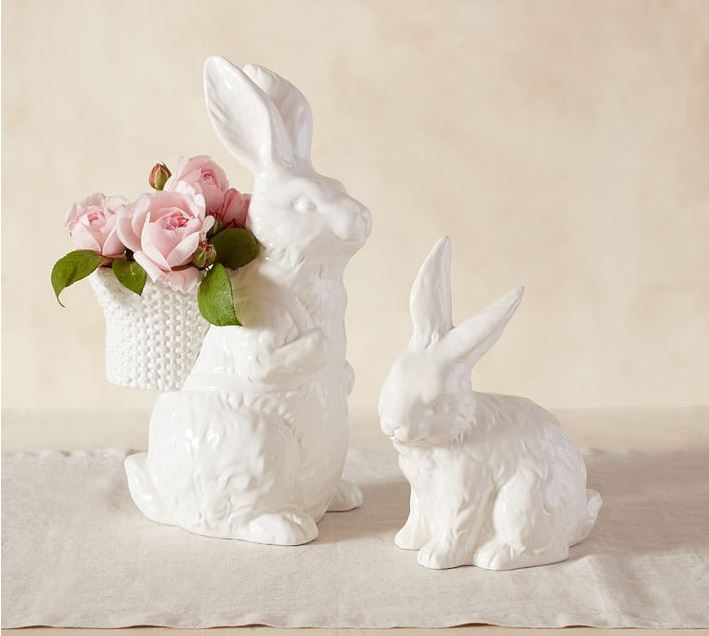 Williams-Sonoma has a bunny that has two baskets! He is 13 1/4 inches tall, so again around the same height as my bunny. I'm so tempted to get him, I love that second basket! Update: I just ordered this guy, couldn't resist the double baskets. 🙂
You can see how tall he is in this photo where he's being used in a table setting. He is around the same price as what I paid for my bunny, and he's available here: Bunny With Two Baskets
Williams-Sonoma has yet another bunny and he is 14 1/2 inches tall. He's available here: Bunny with Basket.
So, if you were one of the folks trying to find a bunny with a basket, this is the year! There's a plethora of them available right now! I'm sure they'll all sell out because the cute spring/Easter pieces always do. So if you want one, don't wait too long!
Update: Thanks to Anita for sharing another source for bunnies with baskets. You'll find the bunny you see in the centerpiece of this table below, here: Bunny with Basket
*If a post is sponsored or a product was provided at no charge, it will be stated in post. Some links may be affiliate links and as an Amazon Associate, I may earn from qualifying purchases. *