Merry Christmas! How was your Thanksgiving?
Our Thanksgiving was great, the days just passed way too quickly. Having this house filled with family and two boisterous little boys was a joy! I was so sad when it was time for them to go home, I was almost in tears as they drove away. The only thing that made me feel a bit better was knowing I'd be seeing them again in just a couple of weeks.
Do you have little ones coming to visit this holiday season? A few weeks ago I ordered these pillows beds for my two grandchildren. (They are available here: Pillow Beds.) I ended up not using them because I ordered the King size version and could never find 10 King size pillows for what I considered a reasonable price.
If I had ordered the "Regular" size Pillow Beds that took Regular or Queen size pillows, I probably would have used these for the boys since I found those size pillows for a great price in Wally World. As it was, when I did the math, I decided I didn't want to spend a large sum on King size pillows that I would probably never use again and would end up donating.
So I ended up going with air mattresses and these cute racing car tents instead. This worked out to be close to the same cost as the Pillow Beds (with King size pillows) would have been, but I knew storage would be easier since I could let the air out when they were no longer needed.
Aside: Wanted to add, the boys could have slept together in the bed in the guest bedroom but when they saw the tent beds, they were super excited and wanted to sleep in their own little tents. I think that was for the best because they don't sleep together in the same bed at home and I was worried they would never get to sleep in the same bed. lol
Each air mattress came with a reusable pump so blowing them up was a breeze. Each air mattress went from flat to fully inflated in about 1 minute or less.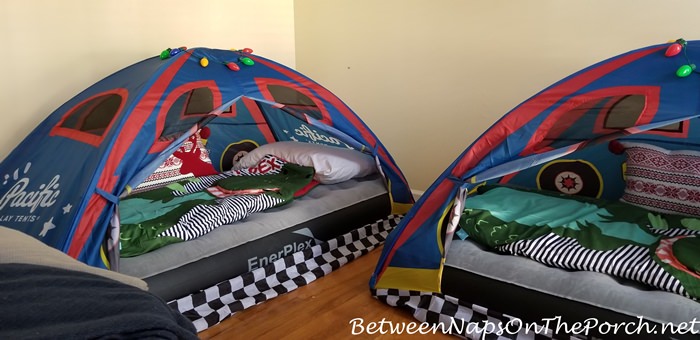 My sweet friend, Susan, sent fun Christmas bulb necklaces that light up for the boys and their parents. (Thank you, Susan!)
I decorated the tops of the boy's tents with them before they arrived and they loved them! My daughter-n-law had been looking for necklaces like this, so she was thrilled to see these! You can find them in all styles here: Lightbulb Necklaces. They are a riot to give out to guests at a Christmas party!
The day before family arrived, I drove over to my nearby HomeGoods to purchase twin sheets. I couldn't find any out on the floor so I asked a sales associate to look in back in case they just weren't out. He couldn't find any, either. I couldn't believe they didn't have one set of twin sheets in the entire store!
While I was walking around trying to decide if I should brave the holiday traffic and drive to another store to look for sheets, I came across these adorable dinosaur sleeping bags for $19.95 each. I knew the boys would love them and they would work temporarily until I could purchase some actual sheets. They did love them and took them home to use while watching TV or a movie. I forgot to take a photo but when you lifted up the mouth of the dinosaur, it had Rawwwwrrr scrawled across inside. lol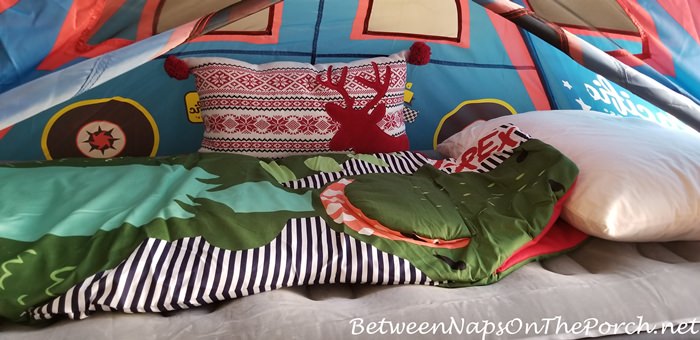 I ordered sheets on Amazon that had great reviews and were said to be super soft. Here's how the beds looked with the sheets. They came in 20 different colors and I went with gray. My daughter-in-law later commented on how soft they were.
I set the boy's beds up in my "formal" living room area since that was the only room with enough space to have both of them in the same room.
The boys loved their tent beds and were fast asleep every night within minutes of crawling inside.
If you have little ones coming for Christmas and need some additional sleeping options, you'll find the tents beds, air mattresses and sheets linked below. The tents come in several styles, so I've linked to them all below. Happy Holidays to you!
Soft Sheets in all sizes and 20 Different Colors
Cottage House Tent Bed/Playhouse
Secret Castle Tent Bed/Playhouse
*If a post is sponsored or a product was provided at no charge, it will be stated in post. Some links may be affiliate links and as an Amazon Associate, I may earn from qualifying purchases. *