Welcome to the 538th Metamorphosis Monday!
Update: Please note the two updates I've added to the bottom of this post. I made a slight change/addition to this recipe and it was big, big hit at the party, so be sure and note the updates at the end of this post.
I'll be attending a party later this week and will be bringing a dish to share. They'll be around 20 in attendance for this gathering. I found a recipe online that looked and sounded really tasty, plus it didn't look overly complicated to make.
I found this appetizer/finger food online at Martha Stewart.com and it has the weirdest name: Devils on Horseback. I wonder how it got that name? Here's how it looked in the photo online.
The recipe entails wrapping prunes in bacon, then baking them in the oven. I've really gotten hooked on dates this past year, love them! So I wondered how this recipe would work substituting dates for the prunes. I decided to test the recipe by trying both out to see which tasted the best.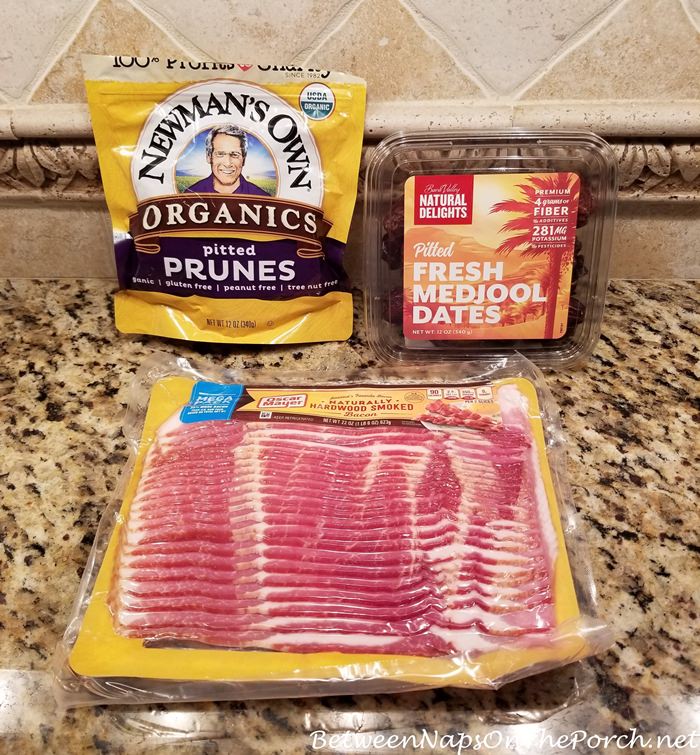 These are the toothpicks I'll be using to hold them together. They are sharp/pointed only on one end. I ordered more today on Amazon since I will need a few more than what I currently have. (You'll find this style toothpick available here: Toothpicks.)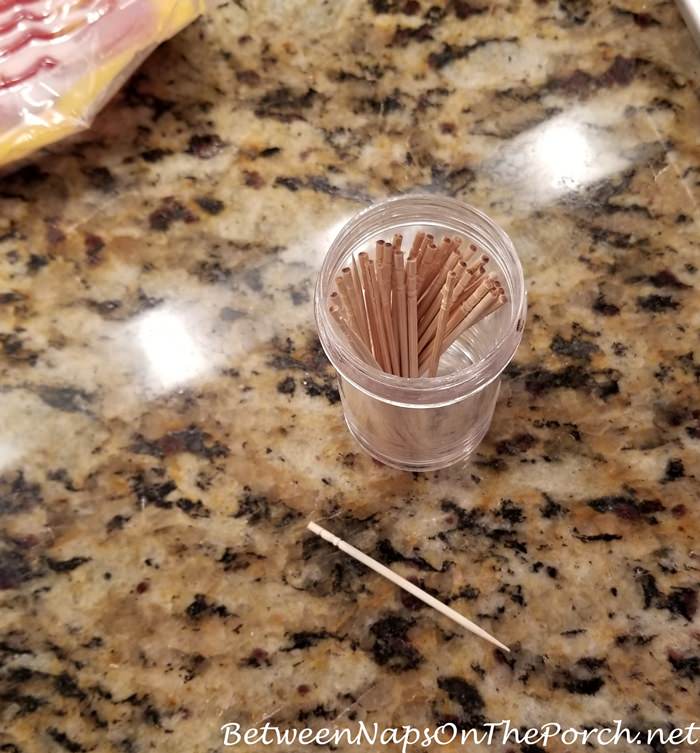 Normally when I'm having a party in my home, I have no qualms about preparing something I've never tried before. So far I've never had a disaster occur where something turned out to be truly awful, but since I'm one of the few people who will be bringing food for this gathering, I figured I'd better test out this recipe first.
I don't especially like the taste of prunes, so I decided to make one with a prune and one with the Medjool dates that I love so much. Medjool dates are almost twice the size of the organic prunes I purchased, so I cut the date in half and that turned out to be the perfect size.
The recipe states to cut a slice of bacon into thirds, then wrap each piece of bacon around a prune, securing it together with a toothpick.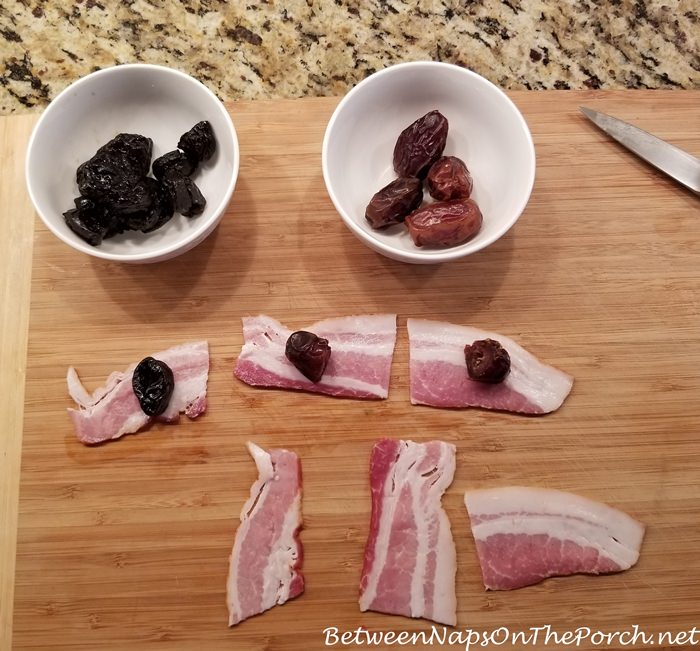 Here's how they looked all wrapped up and ready to go in the oven. Again, this was just a test to see how they taste, so that's why I only made a few.
The recipe recommends baking them at 400 degrees for 15 minutes. I checked them after 12 minutes and they weren't quite ready. Fifteen minutes turned out to be pretty much the ideal time for baking.
The verdict: I like them with both the prunes and the dates, but I think I like the dates better. You can't really tell that you're eating prunes because the bacon flavor camouflages the prune flavor. One thing I did notice, the dates tasted a good bit sweeter than the prunes.
So either dates or prunes will work great for this recipe. I think I'll probably go with dates…love the contrast of the sweet with the salty. Yum!
Update: As I was preparing this post, I read another version of this recipe that includes stuffing the fruit you use with Stilton cheese. I think I'll look for that cheese in the grocery store tomorrow; I'd love to try that version, too!
2nd Update: These are insanely good stuff with Stilton cheese. That's how I made them for the party and they were a BIG hit. So definitely stuff with them with Stilton cheese. Also, when you cut the date in half, it exposes the hole in the center where the date was pitted and that's perfect for stuffing with the cheese.
I also found that cutting the bacon in thirds was a little too short once the dates were stuff with cheese, so you may need to just cut each slice of bacon in half, instead of in thirds to wrap around the dates that are stuffed with the Stilton cheese. They are just incredible with the cheese so I'll always be making them that way. So many folks wanted to know the recipe during the party, so again, this recipe is a great one, especially when you stuff the dates with Stilton cheese. If you don't like Stilton, use some other type cheese, but I loved it with the Stilton!
Have you ever made Devils on Horseback? I'm sure I'll be making these again in the future. It's one of those appetizers/finger foods/snacks that you can whip up in minutes if you suddenly find you have guests coming over. All you need is bacon, prunes or dates and some toothpicks–and maybe some cheese if you want to stuff the fruit with a bit of cheese. I'm definitely going to try them with cheese…that sounds over-the-top good!
Looking forward to all the fabulous Before and Afters linked for this week's Metamorphosis Monday!
Pssst: Subscribe for email notifications when a new post is available at Between Naps On The Porch here: Subscribe.
You'll find Between Naps on the Porch on Instagram here: Between Naps On The Porch on Instagram and on Facebook here: Between Naps On The Porch on Facebook.
Metamorphosis Monday
Metamorphosis Monday is a party that's all about Before and Afters. If you are participating in Met Monday, please link up using the "permalink" to your MM post and not your general blog address. To get your permalink, click on your post name, then just copy and paste the address that shows up in the address bar at the top of your blog, into the "url" box for InLinkz when prompted.
In order to link up, you'll need to include a link in your MM post back to the party so the other participants will have an opportunity to receive visits from your wonderful blog readers.
Feel free to link up Before and After posts that are home, gardening, decorating, crafting, painting, sewing, cooking, fashion, travel or DIY related. Please do not link up to the party if you're only doing so to promote/sell a product.
To those linking up, if you notice a shop or online store linking up to sell products (yes, unfortunately, that happens) please let me know so I can remove their link and block them from participating in future parties. No one wants to visit a link expecting a Before and After, only to find a spam link to an online business/store.
This party has ended, click button below for the links to all who participated.
*If a post is sponsored or a product was provided at no charge, it will be stated in post. Some links may be affiliate links and as an Amazon Associate, I may earn from qualifying purchases. *