Welcome to the 505th Metamorphosis Monday!
Over the past three years as I've traveled abroad, this adorable bag has always been my carry-on bag. There are many things I love about it, including its two interior pockets. One is perfect for carrying a laptop and the other, a zipper pocket, is great for smaller items like electrical cords, mouse, Rx, etc…
I always get so many comments/compliments on this bag each time I travel. Never once have I seen anyone else with this bag, it's such a unique design. To see more of the interior, check out this prior post: Rolling Carry-on Tote. This bag is available here: Rolling Carry-on.
Though I love this cute bag and definitely have no plans to get rid of it, I'm ready to try something a little bigger. In addition to my laptop, I usually store my camera, travel pillow, books/magazines, any medicine(s) I'm taking on the trip and a change of clothes in my carry-on. That way, if my main suitcase is delayed or lost, I'll at least have a change of clothes when I arrive at my destination.
But it would be really nice to have space for a few more things, including room for those larger souvenirs I sometimes purchase while away. The extra room would really come in handy while traveling abroad in the fall/winter when I normally pack a lot of wooly sweaters and a coat or two.
Recently, a friend texted me and asked if I had heard of the "Away" bag. I had, but couldn't remember where or anything about it. I'm not sure if I saw it in a magazine or where I'd heard the name. She said she had heard amazing things about it and was thinking of getting one. Intrigued, I Googled the bag and checked it out at the Away website. I liked what I found!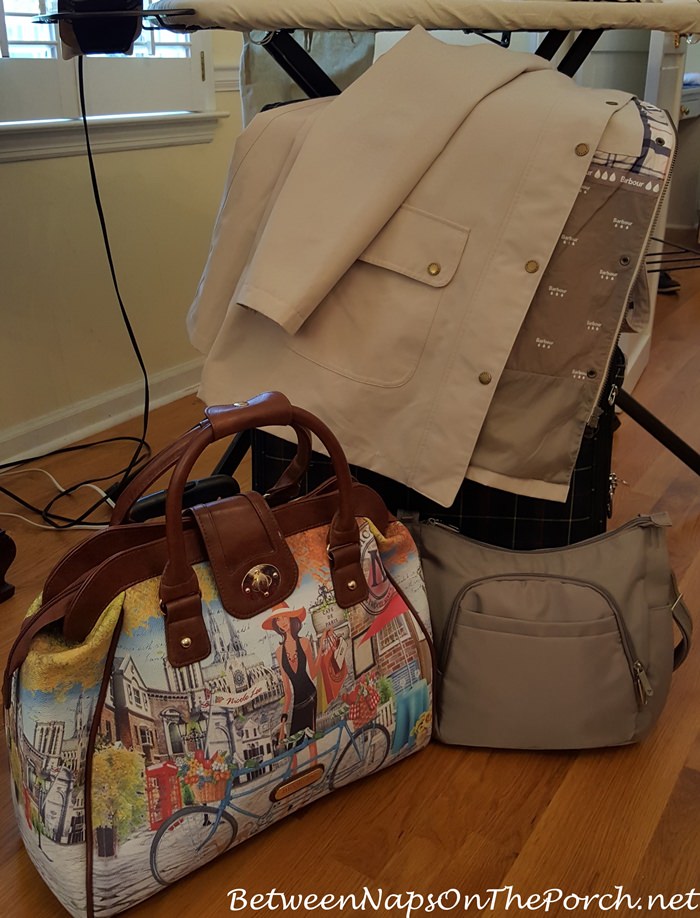 Then, as fate would have it, I came across this photo on Instagram. Lydia is a fashion blogger who travels a lot. I watch her videos on YouTube occasionally for the handbag reviews she shares. There she was, sporting a silver suitcase I now recognized as an Away bag!
Does that ever happen to you, someone mentions something to you, then suddenly it starts popping up everywhere? Funny how that works! It's like buying a new car and suddenly you're seeing them everywhere as you drive around.
About a week ago I ordered what's known as the "Bigger Carry-on." In the photo below from the Away Instagram page, I think the smaller bag is the one I ordered. This particular style below (and that Lydia has above) is their new "Aluminum" edition. It's going to be a permanent offering in their line-up of bags.
I love their non-aluminum bags, too. They come in a bunch of cute colors.
But it was the aluminum bag that captured my heart. It has a few extra features that I really like, including soft-close handles that slowly glide down when released. I also like that it doesn't have a zipper.
The Away bags lock with a spinning combination style lock that's TSA approved. That will make me feel a bit better about leaving my laptop, camera, etc… in my hotel room when I'm out and about seeing the sights.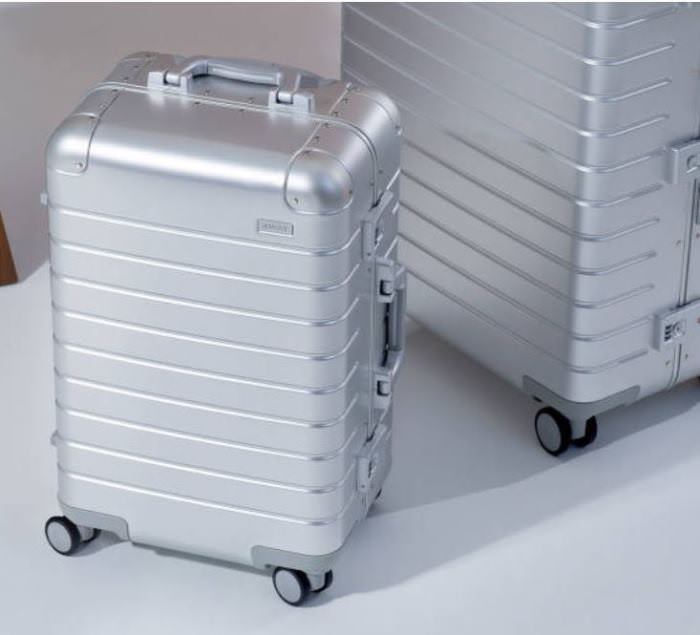 This bag has a lot of great features, including a compression panel that helps flatten down clothes when extra space is needed. Probably its most popular feature is the built-in, removable/ejectable battery that will charge an iPhone or Android phone up to 5 times. Love that! To remove the battery, you just press down and it pops right up.
Tip: If you buy a carry-on bag with a built-in battery, be sure the battery is removable. That's sometimes required by TSA when passing through security. Most folks like to remove it anyway to have it available for use during the flight.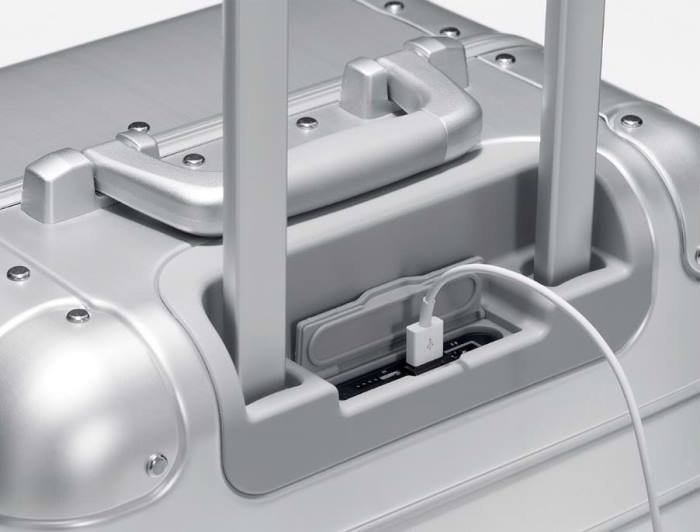 Here's a view of the inside of the bag. They make this bag in a regular carry-on size and a "bigger" carry-on size. I purchased the bigger carry-on for that tiny bit of extra space.
I saw this photo on the Away Instagram page. Away will monogram your bag, but I don't think it looks quite like this. I need to find out more about how/where these were monogrammed. I'm not sure if I would want my bag monogrammed, I don't think I do.
One thing I really love about Away is the Lifetime Warranty they give on this bag. They also have a super generous return policy. It's my understanding (double check to be sure) if you don't like your bag, you can return it anytime within 100 days of purchase, even if you've already used it for a trip.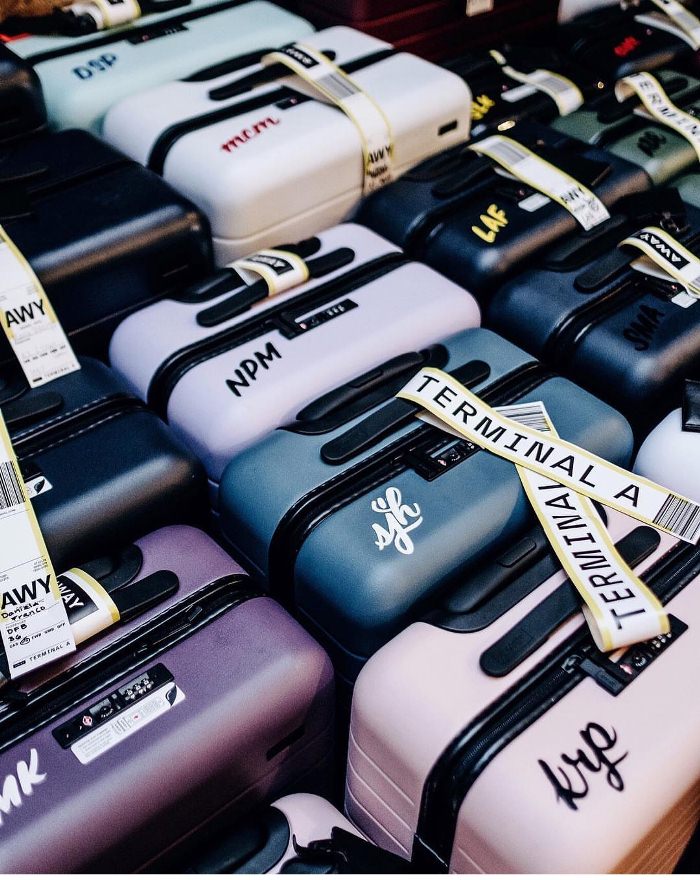 If you end up checking these bags out and think you would like to purchase one, use this link and you'll get $20 off your purchase: Away Bag Discount. When I purchased mine, I used a link I found under a YouTube video and it worked. I was able to get $20 off.
By the way, this isn't a sponsored post. If it had been, I would have mentioned it in the post as always. I'm just another Away customer.
My bag is due to arrive tomorrow. I'll do a follow-up/packing post soon to let you know what I think about it. Can't wait to get my hands on it and check it out in real life!
Looking forward to all the fabulous Before and Afters linked for this week's Metamorphosis Monday!
Pssst: I post almost daily to Instagram. Follow Between Naps on the Porch on Instagram here: Between Naps On The Porch.
If you enjoyed this post, subscribe for free email updates when a new post is up here: Subscribe for post updates.
Tip: If possible, please do not use a Hotmail e-mail address to subscribe. Hotmail's servers are notorious for filtering out perfectly good emails.
Metamorphosis Monday
Metamorphosis Monday is a party that's all about Before and Afters. If you are participating in Met Monday, please link up using the "permalink" to your MM post and not your general blog address. To get your permalink, click on your post name, then just copy and paste the address that shows up in the address bar at the top of your blog, into the "url" box for InLinkz when prompted.
In order to link up, you'll need to include a link in your MM post back to the party so the other participants will have an opportunity to receive visits from your wonderful blog readers.
Feel free to link up Before and After posts that are home, gardening, decorating, crafting, painting, sewing, cooking, fashion, travel or DIY related.
Be sure to include a link back to the party in your post, so your readers will be able to find and visit the other bloggers who are participating.
Do not link up to the party if you're only doing so to promote or sell a product.
To those linking up, if you notice a shop or online store linking up to sell products (yes, unfortunately, that happens) please let me know so I can remove their link and block them from participating in future parties. No one wants to visit a link expecting a Before and After, only to find a spam link to an online business/store.
*If a post is sponsored or a product was provided at no charge, it will be stated in post. Some links may be affiliate links and as an Amazon Associate, I may earn from qualifying purchases. *