Welcome to the 534th Metamorphosis Monday!
I'm back today as promised to share what fits inside this Away "Bigger Carry-on" bag that I purchased recently.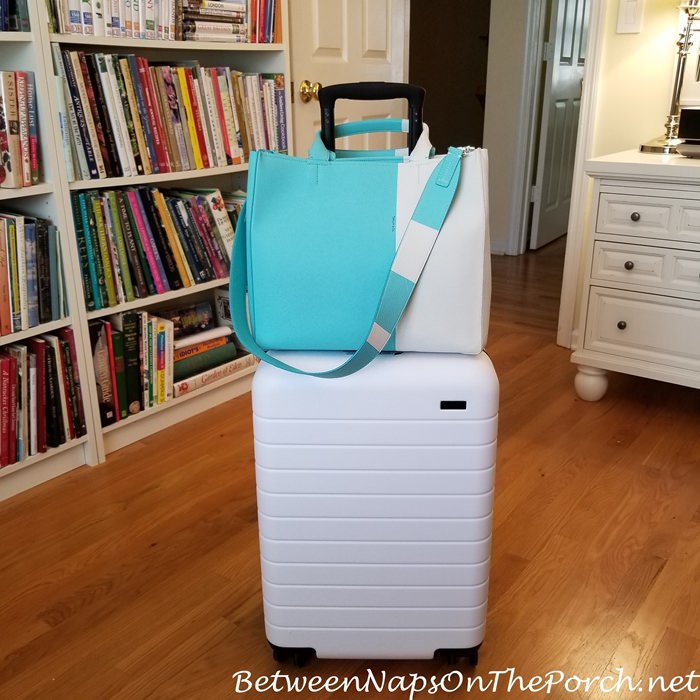 Here's how the Away bag looks when you open it up. The left side contains a zippered mesh pocket which is where I carried my laptop to Egypt and back when I purchased the aluminum version of the Away bag. You may recall, I returned that bag due to it being too heavy for me to get into the overhead bin of the airplane when it was fully loaded. I'm happy to say, I can definitely lift this one over my head when it's filled, so it's a lot lighter than the aluminum suitcase.
Away makes a Bigger Carry-on with a large pocket designed onto the front of the bag, but I liked the sleek look of the Away bag without the pocket on the outside. So I'll always carry my laptop inside the mesh pocket on the left. The right side has a cover that you can zip up over your clothes once they are inside the bag. You can see the cover folded in the center of the bag.
So let's fill this bag and see what all it can hold!
I actually didn't fill the bag all the way up. I was trying to reenact what I would pack for a week-long trip to the beach and I stopped after adding in what I thought I would take, so the suitcase will hold more than what I ended up packing. But hopefully, this will give you some idea of what this bag can hold.
I started by placing my laptop in the large mesh pocket inside the bag. On top of that, I placed three pair of shoes for this pretend beach trip: a pair of wedge sandals to go with dresses/skirts for a few dinners out, a pair of dressier/fashion sandals and a pair of practical sandals for all day walking/hiking/shopping. A pair of flip flops could easily be added laying flat across the top.
I also included my Calista Hair Styler because it goes everywhere I go. Can't do without it! (You'll find it here: Hair Styler.) The empty space inside all the shoes could be filled with underwear, socks or anything small.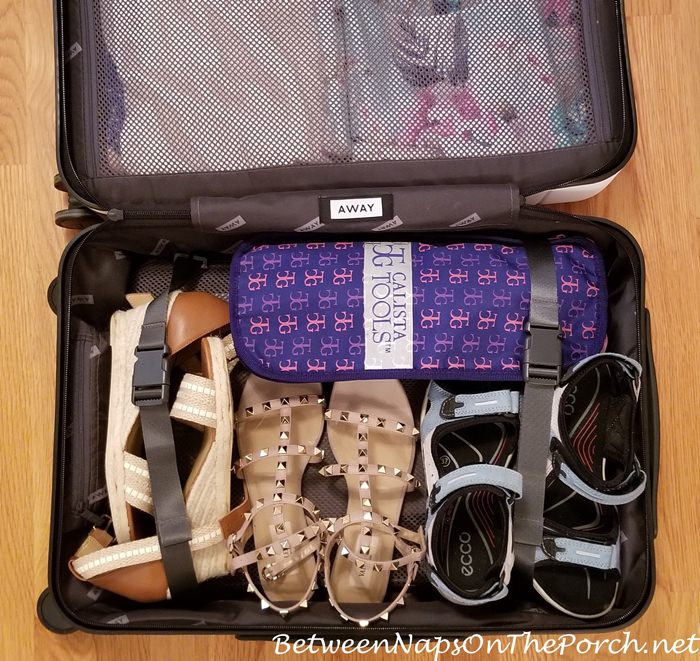 Notice the little bag on the left in the photo below. Inside is a bag that you can use to place your dirty clothes. I'm not going to use that and will remove it when I actually use this suitcase for a trip. So that will be additional space for packing clothes. I left it in place for this post so you could see where it snaps into place in the suitcase. That's probably where I would fit in my charging cables and mouse for my laptop. I could put those inside the bag…like that idea!
On the other side is where I packed the clothes I would take along on this trip. I know it's hard to see, but I greatly under-packed this suitcase. The clothes don't even reach the top edge. I didn't pack underwear, spared you that view 🙂 but it would easily fit on top. Across the top, you'll see two pairs of shorts rolled up, everything else is just folded and placed in the bag. Underneath the clothes is a hanging toiletry bag that I've had for many years.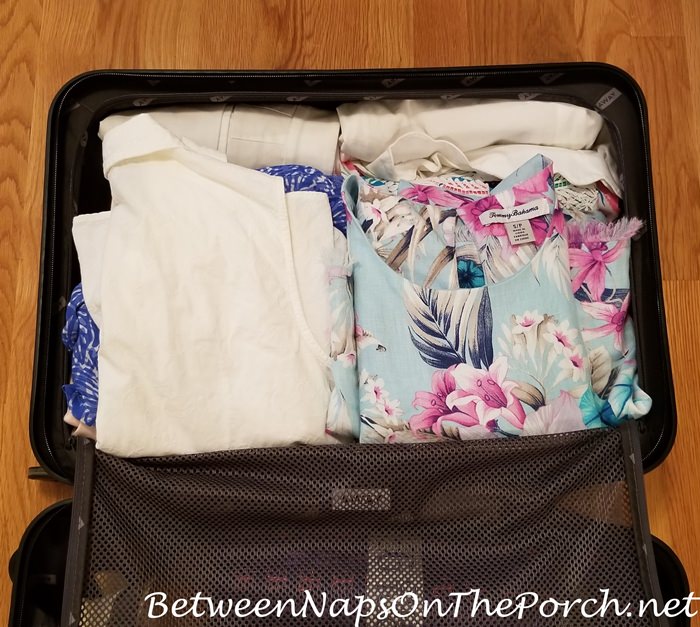 In order to better show what I had inside, I spread everything out on the guest bed. Across the top (starting on the left side) you'll see the black toiletry bag, a pair of white jeans, a pair of pale pink jeans, a blue skirt purchased in Hawaii last summer and a white summer top.
Below that, you'll see my laptop, the three pairs of shoes, my Calista hair styling tool and a summer dress.
Also in the suitcase, I had 4 summer tops and two pairs of white shorts. Again, there was a lot of room left over. When I closed up the suitcase, I could literally push it inward to where the two white sides of the suitcase met, squishing in the back zipper part that is designed into the suitcase to allow for expansion. Based on that, I'm positive I could have packed another 2 to 3 pairs of pants, a jacket or sweater and probably a few more tops.
Update: I know what I should have added…pajamas! lol There was still plenty of room for those. It would be interesting to do this test with winter clothing. I still think I'd be able to take along a lot because though sweaters are bulky, they are soft and can squish down some.
So overall, I'm very impressed with what this Bigger Carry-on suitcase will hold. I'm tempted to take it, and only it, on my 10-day England trip this June. This will be the first trip I've ever taken where we will have to handle our own luggage. In the past, I've traveled with companies that took care of the luggage as part of the trip.
The only thing I worry about is if I purchase a large souvenir or two. Maybe I should check the large bag that I normally take on trips (with it empty) and then it could just stay on the bus and I would only need to bring up my Away bag when we arrived at each hotel. That way I would have it if I should purchase any larger souvenirs. Ummm, have to think more about this.
If you're interested in purchasing an Away bag, you'll find all their bags here: Away Luggage. I think that link will also give you $20 off any purchase, but if it doesn't, leave a comment letting me know and I'll email a referral link from the site and that should work.
Happy travels! Time to uncover more of the bucket list map! 🙂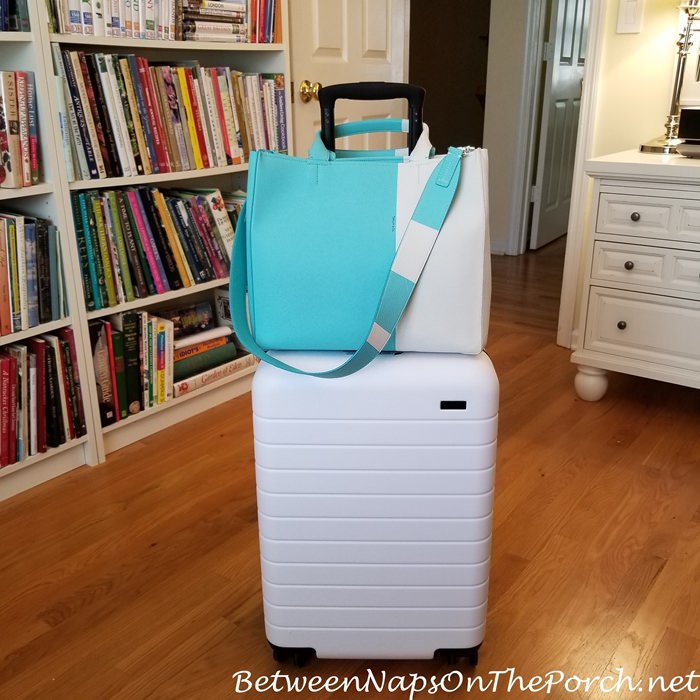 Pssst: You'll find Between Naps on the Porch on Instagram here: Between Naps On The Porch on Instagram and on Facebook here: Between Naps On The Porch on Facebook.
Metamorphosis Monday
Metamorphosis Monday is a party that's all about Before and Afters. If you are participating in Met Monday, please link up using the "permalink" to your MM post and not your general blog address. To get your permalink, click on your post name, then just copy and paste the address that shows up in the address bar at the top of your blog, into the "url" box for InLinkz when prompted.
In order to link up, you'll need to include a link in your MM post back to the party so the other participants will have an opportunity to receive visits from your wonderful blog readers.
Feel free to link up Before and After posts that are home, gardening, decorating, crafting, painting, sewing, cooking, fashion, travel or DIY related. Please do not link up to the party if you're only doing so to promote/sell a product.
To those linking up, if you notice a shop or online store linking up to sell products (yes, unfortunately, that happens) please let me know so I can remove their link and block them from participating in future parties. No one wants to visit a link expecting a Before and After, only to find a spam link to an online business/store.
This party has ended, click button below for the links to all who participated.
*If a post is sponsored or a product was provided at no charge, it will be stated in post. Some links may be affiliate links and as an Amazon Associate, I may earn from qualifying purchases. *