Welcome to the 307th Metamorphosis Monday!
Greetings! How was your weekend? Do anything fun? I finished up a bit of my Christmas shopping and was happy to get that done.
So, you know how I've been working on curing my floppy-flange problem? lol That sounds really weird, doesn't it? For anyone who missed that post, I've been working on improving the appearance of the pillows for my winter bedding. I have some lazy pillows on my hands as you can see in this picture below. The flange or decorative edge part around the tartan pillows shown below, won't stand up worth a flip.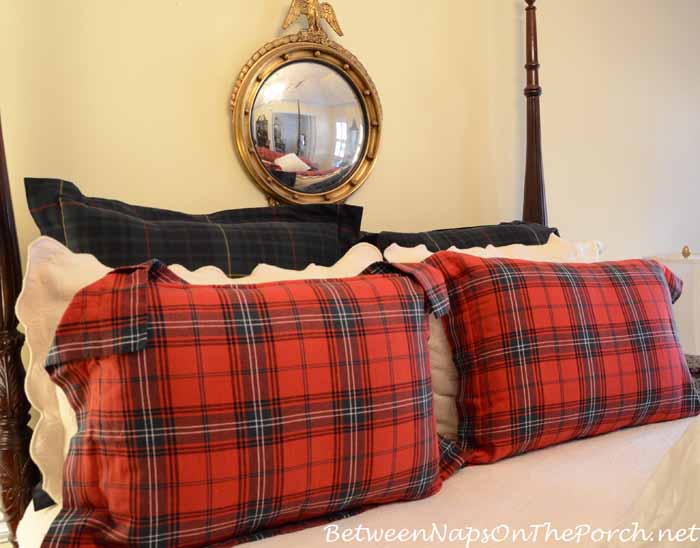 Since I saw what a huge difference it made for the green-plaid, Devonshire Euro shams across the back when I filled them with feather/down inserts in the correct size, (the bigger pillow shown below) I decided to go for it and ordered the inserts for the other shams on the bed, too. (Previous post showing inserts for Euro shams can be read here: Feather/Down Insert For Euro Shams)
So here's how all the pillows look now with the feather/down inserts inside. I know it's hard to see since they're a bit shorter, but the new inserts worked wonders for the cream matelasse shams (they're behind the red shams). They stand up really well now, much better than before. The pillows I'd had inside those before were the biggest "standard" pillow I was able to find years ago when I first bought the shams.
I had a good laugh when the new inserts arrived for the matelasse shams. I had forgotten that I had stuffed a towel inside them at some point, in an effort to better fill out the sham. Is that not sad or what? Ha! I had no idea back then that I could have inserts made to fit the shams so I was making-do the best I could with a towel to beef things up.
As mentioned, after I saw how much better the Euro shams across the back looked with the proper size feather down inserts, I went back to the company that made them (Bed of Roses) to order inserts for the cream matelasse shams and for the red tartan shams.
They had the size I needed for the cream shams in stock, but they didn't have the size I needed for the tartan shams. I e-mailed them and they replied back saying they would be happy to make them. Those took about 10 days longer to arrive since they had to be custom-made to the size I needed , but they didn't charge me anymore for those than their normal price.
As you can see in the picture below, it did help the red shams a lot, they are much better.
They are still a bit floppy and I think that's because the tartan fabric isn't stiff like the matelasse fabric and isn't light-weight like the Devonshire (Euro sham) fabric. Instead, the red tartan fabric is quite heavy and not at all stiff, so it just flops down under the weight of the fabric.
But they do look a whole lot better than they did before with the old inserts that didn't fill them out properly at all!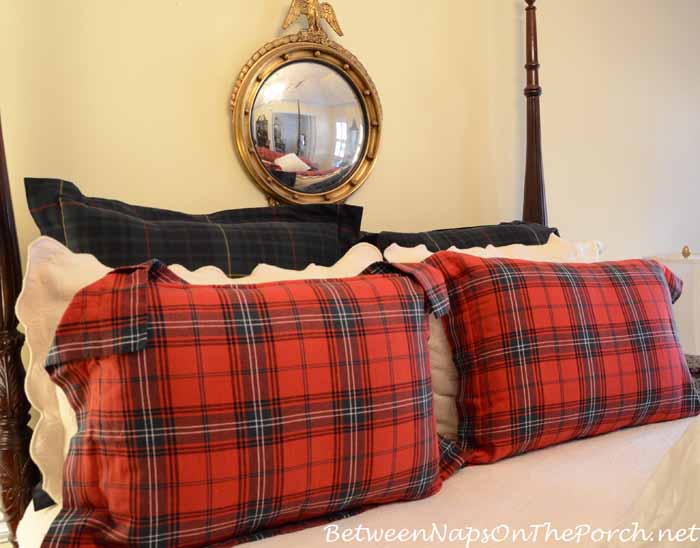 I will probably still have some "washed felt" (or whatever it is that seamstresses use) added inside the flange of the red tartan shams since they could still use a bit of help, but the feather/down inserts totally fixed the issue I was having with the Euro shams across the back and the bagginess I was seeing with the cream matelasse shams.
I'm happy to share a link to the name of the company I've been purchasing all the inserts from since I've ordered from them 3 times now and have been very pleased with the quality of the pillow inserts and the service I've received each time. I think their shipping cost is really reasonable too ($4.49 for two inserts) because these pillow inserts are heavy! I've ordered all my pillow inserts from Bed of Roses on Amazon. That's not an affiliate link and I'm not connected or affiliated with them in any way, just happy to share their name/link, in case it's helpful.
Tip: If you decide to order their feather/down inserts and don't see the size you need, email them and tell them what you need and they'll make it for you.
Also, be sure and read all the info for each of the pillow inserts they sell, because I've learned through this process of ordering for my bed, usually the pillow insert needs to be a couple of inches bigger than the actual sham. So if you're not sure what size to order, email them and ask. That's what I did for the tartan shams and I'm glad I did. That extra few inches really does make a difference in how the sham looks in the end.
Bedskirt Update:
In case you're wondering about the bedskirt, I have a seamstress coming out to measure for that in January, so hopefully I'll have a real bedskirt by late January or early February. If you're new to reading BNOTP, check out this previous post for that to make sense: Dressing The Bed In Tartan.
Looking forward to the other Before and Afters for this Met Monday!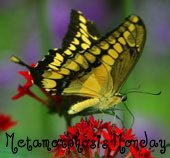 If you are participating in Metamorphosis Monday, you will need to link up the "permalink" to your MM post and not your general blog address. To get your permalink, click on your post name, then just copy and paste the address that shows up in the address bar at the top of your blog, into the "url" box for InLinkz.
In order to link up, you'll need to include a link in your MM post back to the party so the other participants will have an opportunity to receive visits from your wonderful blog readers.
Please observe these few rules:
Only link up Before and After posts that are home, gardening, crafting, painting, sewing, cooking, DIY related.
Do not link up if you're doing so to promote a website or product.
Do not link up a post that was just linked last week since a lot of readers will have already seen that post.
Please do not link up more than 2 Before and Afters each week. Thanks!


*If a post is sponsored or a product was provided at no charge, it will be stated in post. Some links may be affiliate links and as an Amazon Associate, I may earn from qualifying purchases. *