Welcome to the 267th Metamorphosis Monday!
Hope you had a great weekend! This weekend I was busy adding a bit of protection to the Pottery-Barn-Inspired potting table I made recently. I'm hoping to move it up to the deck soon for spring planting and summer parties and I really don't want to see it become weathered and damaged over the years.
I've never before had to worry about protecting wood outdoor furniture so I did a little Googling and found a thread where folks were saying really good stuff about McCloskey Marine Spar Varnish. That reminded me of a YouTube video I had seen a week or so before where the guy in the video had just finished building a potting bench from pallet wood and he used spar varnish to protect it, also. So with those recommendations, I decided to go with a marine grade spar varnish and purchased the one that had been touted as being great in the thread.
I couldn't find anyone who sold this brand locally so I ended up ordering it here: Marine Spar Varnish. Their website says: "The strongest name in clear protection is McCloskey® Man O'War® Spar Marine Varnish. Use on interior and exterior wood surfaces to protect and beautify for years to come!"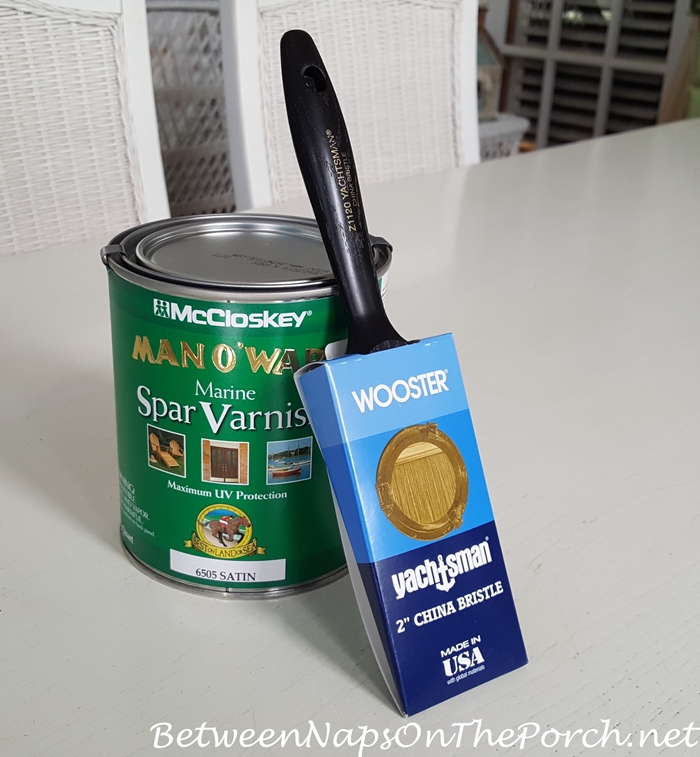 I like the idea that it's a clear product since I really didn't want to cover up the natural color of the cedar wood.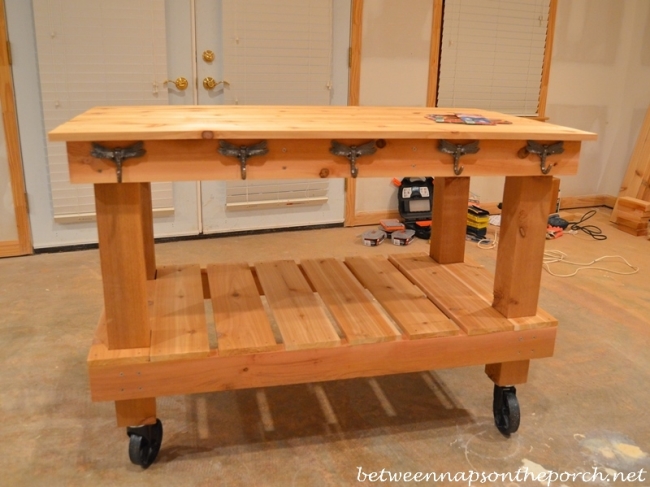 This brand also states that it has superior durability, U.V. protection, is water-resistant, helps prevent weather damage, and resists cracking and peeling. It also resists ocean salt spray but that's wasn't a concern for me since I'm nowhere near the ocean.
Here's a list of all the things this particular varnish can be used on:
Exterior wood entry doors
Ideal for expensive mahogany, etc.
Wood garage doors
Wood shutters
Wood hand rails
Wood outdoor furniture
Interior window sills & frames
Planters
Lamp posts
Wood trim on boats (above water line)
Wood projects (birdhouses, mailboxes, etc…)
This was the type brush I used to apply the varnish. It was was recommended by my local hardware store.
When you apply the varnish, it feels somewhat dry after 6 hours but you have to wait 24 hours to apply a second coat. After removing the dragonfly hooks, I applied the first coat of varnish to the cedar table just a couple of hours before nightfall. I had the doors open until it got dark out. This photo was taken that night after I had applied one coat of varnish.
Here's how the potting table looked the next morning. It felt dry but it also felt kind of oily. You can see it looked a little splotchy although it felt dry. I guess different areas of the wood just take the varnish differently.
I waited 24 hours as the can/instructions recommended before applying a second coat of varnish. Before applying the varnish, I lightly sanded the table because the first coat of varnish had raised the grain a little all over the table. You could feel it with your hands.
After a light sanding and a good wipe down to remove any sanding dust, it was time to apply the second coat of varnish.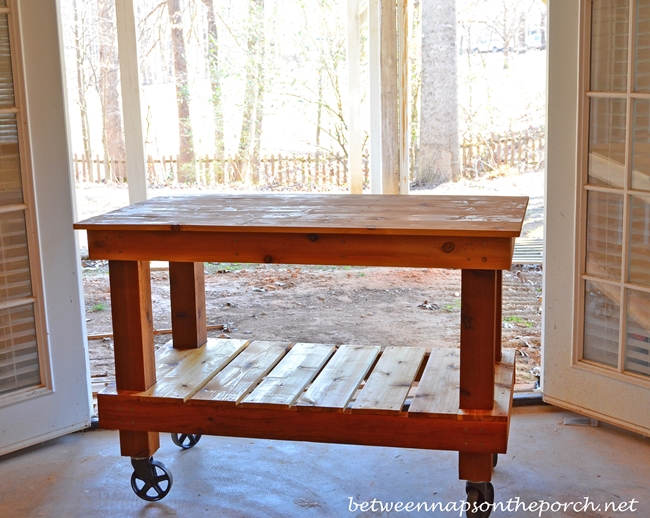 Here's how it look around 6:30 PM last night after the second coat of varnish had been applied. (See photo below) The second coat went on much faster because the wood didn't drink it in like it did the first time around. I used probably 1/3 of the (quart) can the first time, maybe even a little more. I was worried I wouldn't have enough to apply all the coats it would need since it took so much the first time.
I need not have worried because the potting table didn't require near as much varnish for the second coat. The wood just didn't drink it up quite as much as it had the first time. By the way, this stuff is super strong-smelling so I highly recommend you use it either outdoors or somewhere where you have LOTS of ventilation.
I'll check it tomorrow evening (after 24 hours have passed) to see if it needs a third coat of varnish. I will probably go ahead and apply a third coat to the top surface and to the lower shelf, since they will see the most use and weather.
This varnish is available here: Marine Spar Varnish
So that's what I was working on this weekend, well that and a few other things.
How was your weekend? Work on any projects around you house?
Looking forward to all the Before and Afters linked for this Met Monday!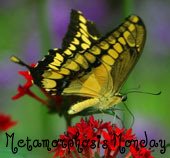 If you are participating in Metamorphosis Monday, you will need to link up the "permalink" to your MM post and not your general blog address. To get your permalink, click on your post name, then just copy and paste the address that shows up in the address bar at the top of your blog, into the "url" box for InLinkz.
In order to link up, you'll need to include a link in your MM post back to the party so the other participants will have an opportunity to receive visits from your wonderful blog readers.
Please observe these few rules:
Only link up Before and After posts that are home, gardening, crafting, painting, sewing, cooking, DIY related.
Do not link up if you're doing so to promote a website or product.
Do not link up a post that was just linked last week since a lot of readers will have already seen that post.
Do not type in ALL CAPS. It spreads the links waaaay out.


*If a post is sponsored or a product was provided at no charge, it will be stated in post. Some links may be affiliate links and as an Amazon Associate, I may earn from qualifying purchases. *