I was looking at some photos recently online showing an original 1940's kitchen. It had been built and installed in 1946 in a home in Adrian, Michigan by Orville Merillat and his wife, Ruth. They built it all by hand since they hadn't started their cabinet making business yet. The Merillats eventually started the Merillat Woodworking Company and it went on to become the biggest cabinet-maker in America.
Amazingly, this 1946 kitchen stayed in the same home for decades. To celebrate the Merillat company turning 50 years old in 1996, some employees of the company purchased it from the current homeowners and gave them a brand new kitchen in return. There's some speculation that the cabinet boxes were originally stained and not painted.
The kitchen was placed on display at a recent Kitchen and Bath show.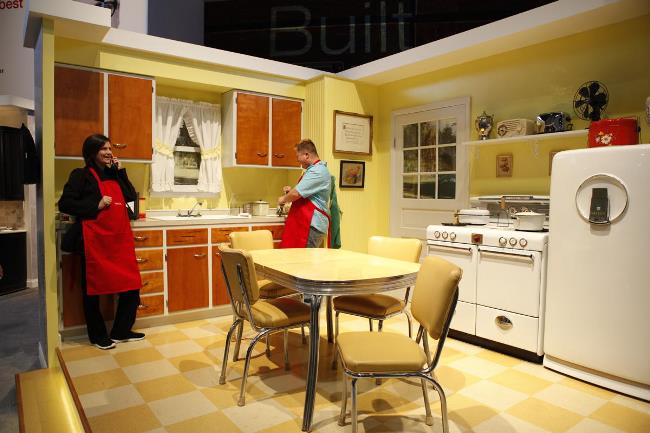 Those in attendance had fun taking it for a spin. 🙂
It's easy to see why the kitchen has always been thought to be the heart of the home when you think about all the meals that were eaten and all the important celebrations and life-changing decisions that were made at the kitchen table.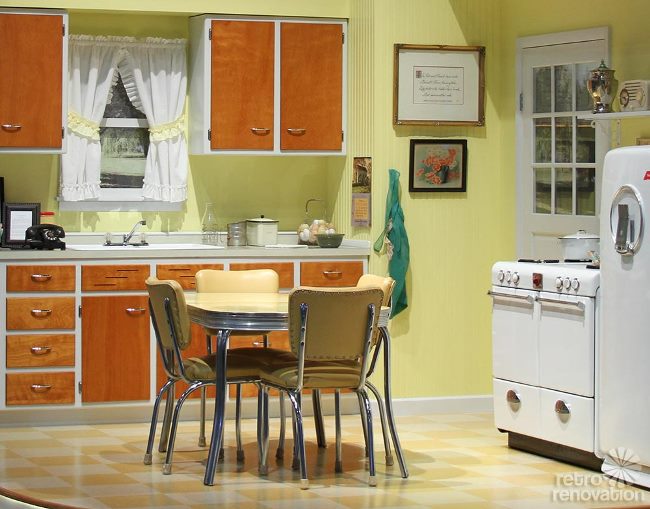 I wasn't born yet in the 1940's but I do remember seeing tables like this when I was growing up.
By the 1960's, kitchens were looking like this. I see a dishwasher!
Along came the 70's and kitchens were taking on a "groovy" modern look. That backsplash/wallpaper is wild!
Here's another 1970's Merillat kitchen when plaid wallpaper was all the rage. Remember the spice racks on the wall? I can't quite figure out what that is hanging down in the center. I thought it might be a vent hood for a cook top, but I don't see a cook top below. Maybe that's where it's supposed to go. Update: Thanks for your help figuring this out in the comments. Several folks said they thought the eat-in counter was raised and the cooktop is lower, so not visible from this view. That makes perfect sense! 🙂
I posted this photo below on Facebook and it stirred up a lot of conversation. I think most folks couldn't believe we ever had kitchens that looked like this. A few folks wondered, "What were we thinking?" Other said they were glad we had progressed and matured beyond this look. Ha! Don't you love her maxi skirt…I miss those! I love her shirt, too!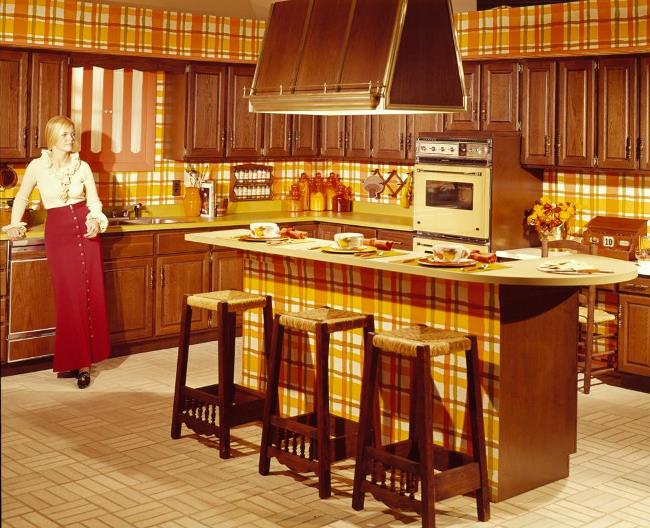 That started me thinking, what are we doing in our kitchens today that will have us one day saying, "What were we thinking?" What do you think will stand the test of time? Will granite or marble countertops still be around in 40-50 years? Will wallpaper be back in kitchens? What color will appliances be?
What do you think we have in our kitchens today that will have us or future generations asking, "What were we thinking?"
Did you or someone you know have a kitchen similar to one of these? 🙂
Photos in this post were found HERE.
*If a post is sponsored or a product was provided at no charge, it will be stated in post. Some links may be affiliate links and as an Amazon Associate, I may earn from qualifying purchases. *