Welcome to the 410th Metamorphosis Monday!
Was hoping to share my front porch decorated for Christmas, but we've been getting some much-needed rain the last few days, so couldn't snap any photos. So for this Met Monday, we'll go on a Christmas Home Tour in Marietta, Georgia to see how others are decorating and transforming their homes for the holidays.
This home reminded me a lot of the cottages you see in some neighborhoods in Atlanta where they look smallish from the front, but are really quite large. The owners of this home have added on several rooms. I wish I could share photos of the inside, but unfortunately, photos weren't allowed inside.
It had a wonderful spot to sit and enjoy the view. What is the view?
This is the view! The owners of the home we toured, also purchased the home across the street when it became available. The house was removed (perhaps it wasn't in good shape or something) and a green space was created giving the neighborhood a small park to enjoy. Such a wonderful idea!
In the backyard of the home, I saw this clever handmade squirrel feeder. Inside the little "house" you could see lots of hull pieces, so there are some fat, happy squirrels in this neighborhood. 🙂
The home also had a wonderful outdoor kitchen. I see a Big Green Egg in addition to another grill. Perhaps the Big Green Egg is a smoker.
Santa was sitting in this shiny blue truck here in the driveway. Do you think this is Santa's new mode of transportation or perhaps he was making a delivery. lol
When I took the Property Brother's Cruise to Key West and Cozumel last year, I saw this Little Free Library in Key West. I just realized today, I've never posted the pictures I took while in Key West. I'll try to create a post soon sharing more of the beautiful homes in Key West, including Ernest Hemingway's home.
Anyway, I had read about these little neighborhood libraries where you drop off a book you have read and take one home to read, but I hadn't actually seen one in person until I ran across this one in Key West. It was located right outside the Green Parrot, a popular bar in Key West. You may remember seeing it when I posted it on Instagram while I was still on the trip. You can follow BNOTP on Instagram here if you like: BNOTP on Instagram. Love Instagram for sharing photos in real time!
A short distance up the street from the home we had just toured, we saw this Little Free Library. You can read more about Little Free Libraries at their website, Little Free Library dot org.
I love the size and style of this one. You could place children's books on the lower shelf, teen books on the middle shelf and more adult type books on the top. I didn't open it, but there may be a bottom shelf behind the red section. That would be a good spot for picture books for the smallest readers.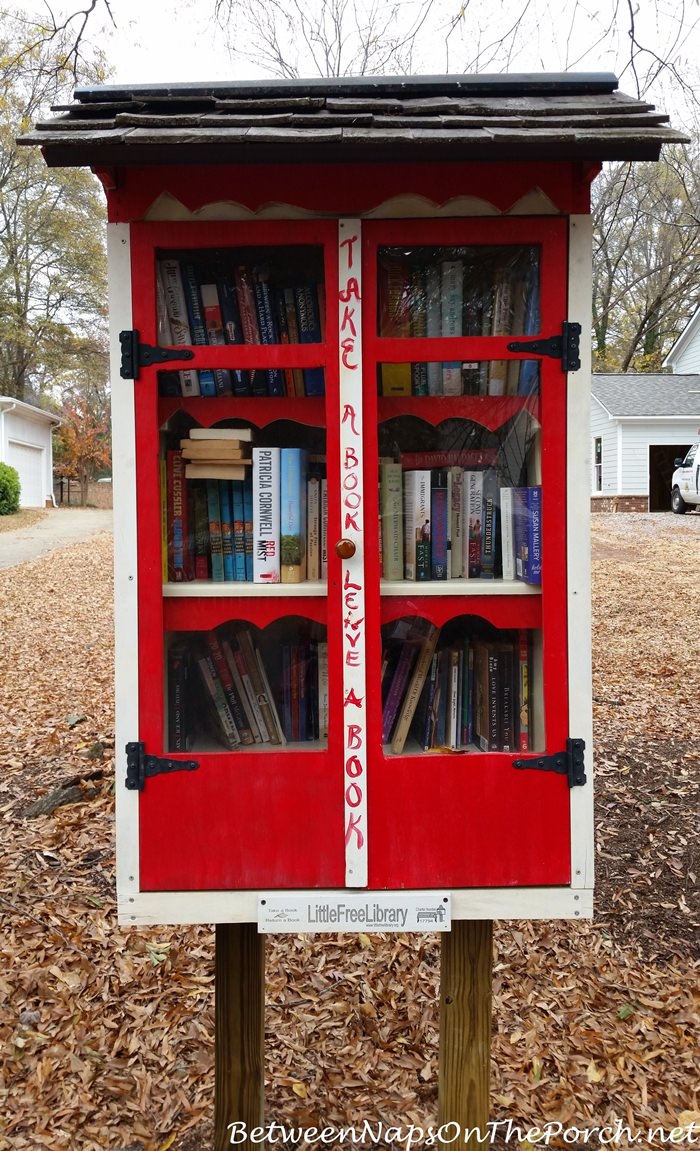 While waiting to go inside another home on the tour, we saw this darling home.
How do you like their cute "window box." Since there wasn't really enough room for a full window box, they added an adorable pot-shaped container. Sooo cute!
We purchased the "combination" ticket that included seeing three homes on the candlelight tour. Look how gorgeous this home is lit up at night! I love candlelight tours because you miss this when you only take the daytime tour.
We also saw a beautiful screened porch on the candlelight tour. We couldn't take photos inside the homes, but at least I was able to capture this wonderful porch for you.
There were tall shrubs on one side and a section of the house on the other, so this is a wonderfully private spot to spend a sunny afternoon reading and sipping a cool drink in the spring and summer.
I loved that they used lamps all around the porch, created such a beautiful ambiance for this cozy spot.
Here's how the porch looked from the back yard.
I'll leave you with this view of another beautiful Victorian cottage we passed while on the tour. They had lit orbs hanging on the porch and in the trees surrounding the house. Sooo pretty!
Love a great Christmas Home Tour? Take a tour of the inside of this beautiful Marietta home all decorated for Christmas: Christmas Home Tour
You'll find additional Christmas Home Tours here: Christmas Home Tours
Metamorphosis Monday
Metamorphosis Monday is a party that's all about Before and Afters. If you are participating in Met Monday, please link up using the "permalink" to your MM post and not your general blog address.
To get your permalink, click on your post name, then just copy and paste the address that shows up in the address bar at the top of your blog, into the "url" box for InLinkz.
In order to link up, you'll need to include a link in your MM post back to the party so the other participants will have an opportunity to receive visits from your wonderful blog readers.
Please observe these few rules:
Only link up Before and After posts that are home, gardening, crafting, painting, sewing, cooking or DIY related.
Do not link up to the party if you're doing so to promote a website or sell a product.
Do not link up a post that was just linked up last week since readers would have already seen that post.
*If a post is sponsored or a product was provided at no charge, it will be stated in post. Some links may be affiliate links and as an Amazon Associate, I may earn from qualifying purchases. *