Welcome to the 388th Metamorphosis Monday!
Happy Independence Day! Hope you're having a fabulous one!
Thanks for sharing all your experiences in the comments on yesterday's post about my Windows 10 update nightmare and the following scam telephone call I received. I learned yesterday from two different readers that someone actually sued Windows over the damage their update caused to their computer files. It will be interesting to see what happens from here out. Hopefully Microsoft will never do anything like this ever again.
I don't have a major Before and After to share, just a small gardening metamorphosis that I have really enjoyed over the last few weeks.
You may remember the tree-form (Standard) Limelight Hydrangea I shared a few weeks back. I purchased one last year and kept it in a large planter all winter since I couldn't decide where I wanted it in my front yard landscape.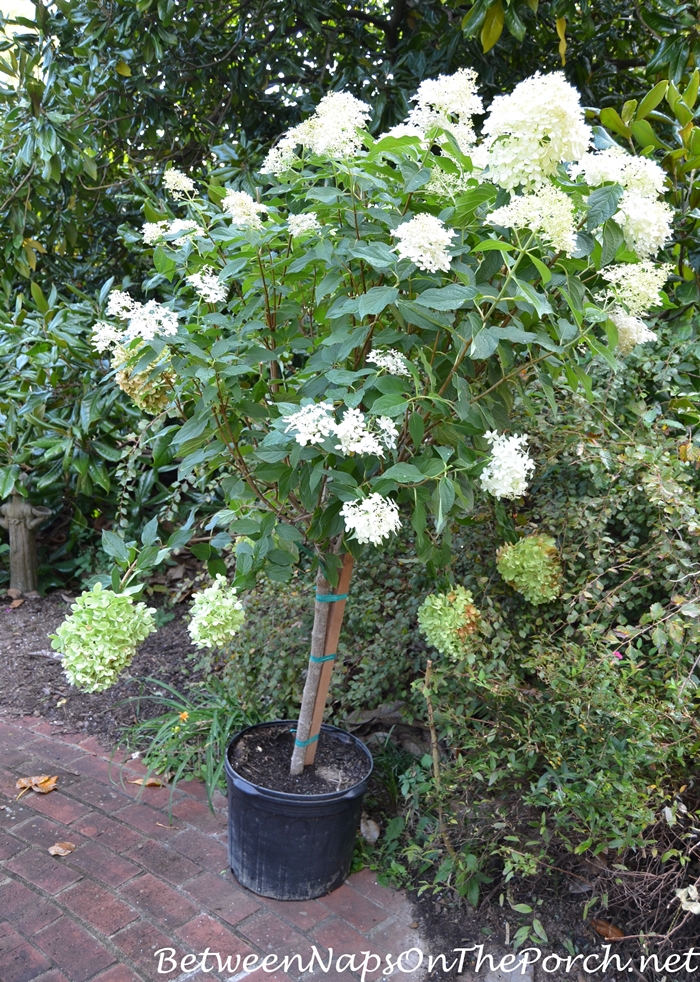 This year I finally decided and purchased a second one along with two large, black planters. I placed each hydrangea between the windows on the front of my home where they are surrounded by boxwood shrubs.
The one I planted this year and placed on the left side of the house, is on a different blooming schedule. When I first put it into its container, it looked like this. Very few of the flowers were really open, yet you could see they had a definite greenish cast.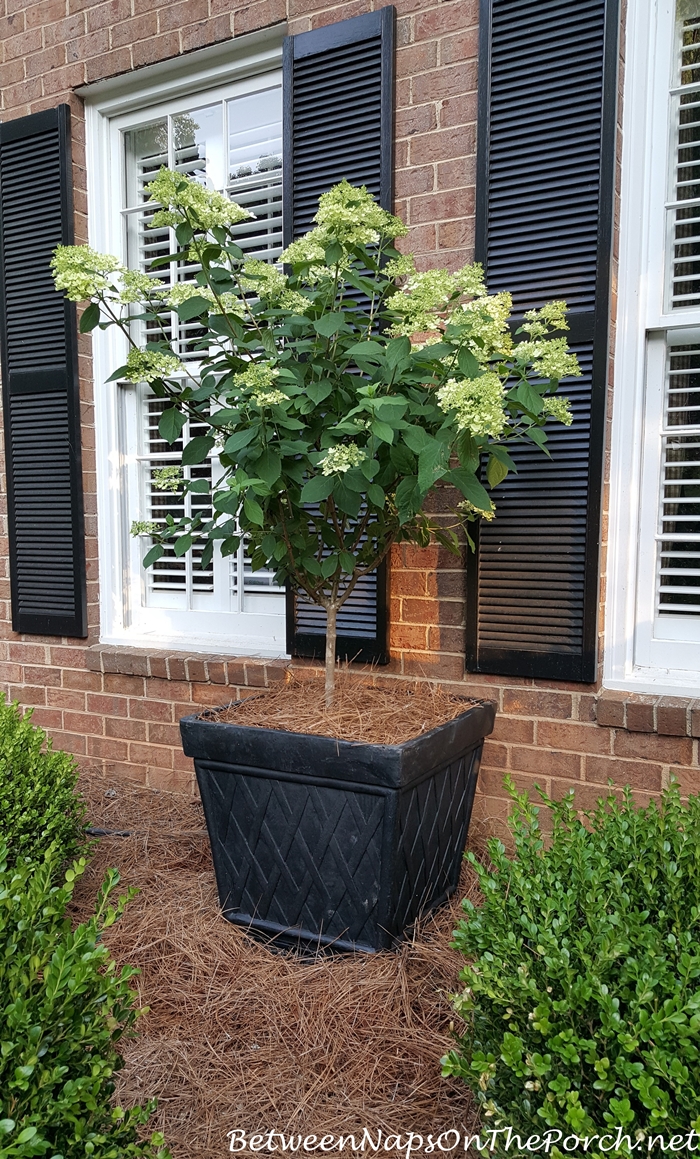 When they fully opened, they looked like this, much whiter in color. I could not believe all the blooms!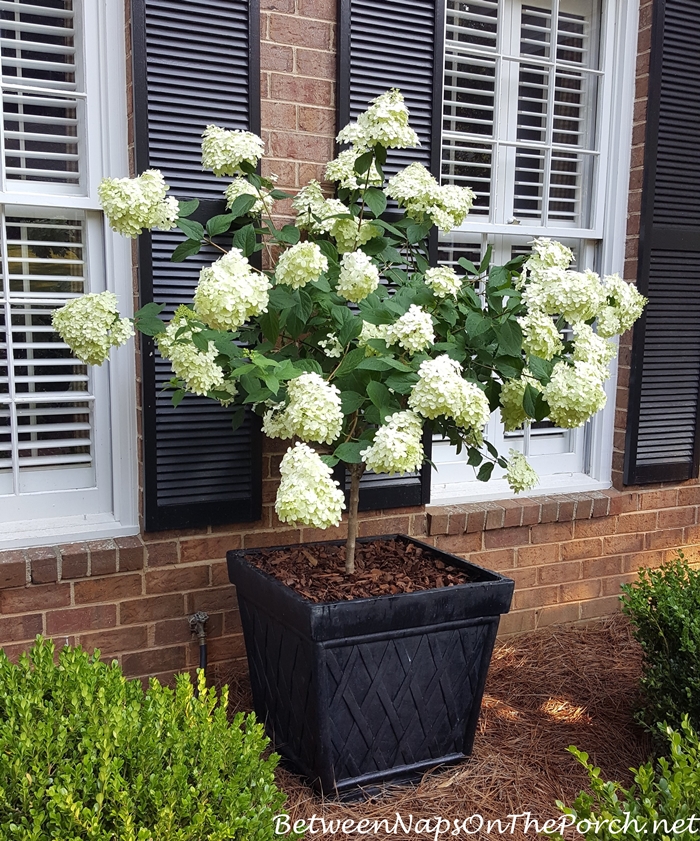 So beautiful! I was so surprised by how white they were since they had looked very lime green in color before opening fully out.
It has been absolutely spectacular all month since these photos were taken in early June. How does it look almost a month later?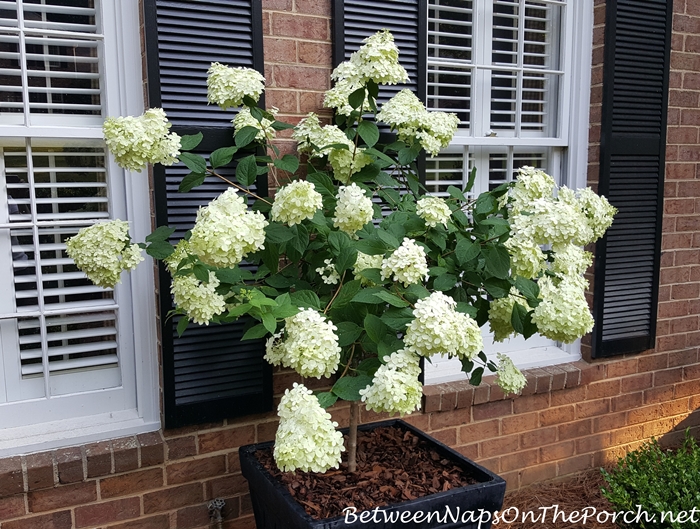 It's now living up to its name and the flowers heads have turned much more lime green in color. It's still absolutely beautiful! Love all the transitions it goes through.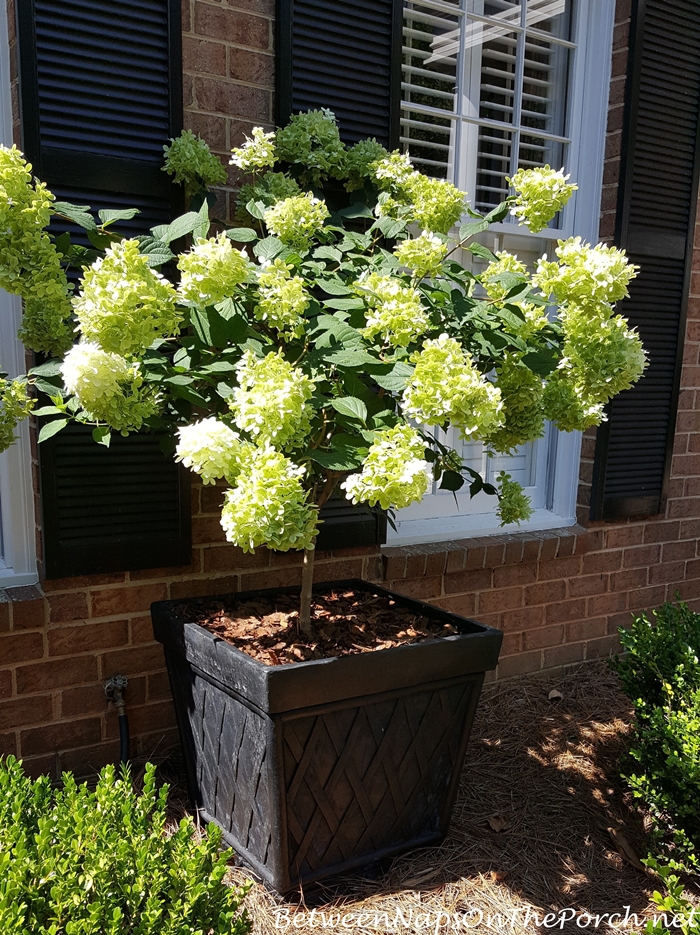 This photo is a good one to show how they start out more white when they first bloom, but gradually move toward more of the lime green color. Notice down in the bottom left corner–see the smaller flower that's still so white? It's much whiter compared to the two large flowers close by that have been open longer. Big difference in color!
I'll share some updated photos as things grow and change out front. Right now everything is still doing well and just holding its own in the intense hot weather we've been having. I water the shrubs almost daily because we aren't getting much rain and I know they'll die if I don't water often in this intense heat.
This is why it's best to plant shrubs in the fall, if you can. It much less trouble to get them established when it's not so blooming hot, plus they have a better chance of survival. I was busy transplanting the Japanese Maple from this area last fall and traveling a good bit, so this spring was the earliest I could add them.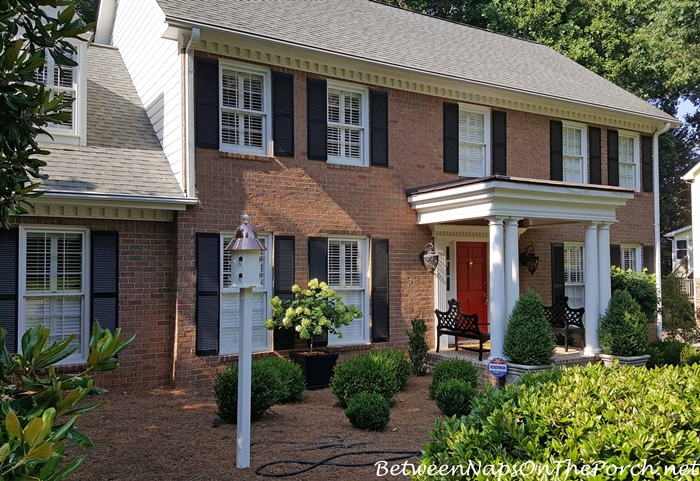 I wish I had a place to mount a flag pole on one of the porch columns. I love round columns but haven't found a mount yet that I think will work on one, and the flat parts of the porch are way too high up for me to reach.
If you know of a flag mount that works for a round column, let me know. I've been searching off and on since I added the porch to my home many years ago. I used to have a flag mount and miss being able to put a flag out front, especially for our patriotic holidays.
Have a great 4th!
Metamorphosis Monday is a party that's all about Before and Afters. If you are participating in Met Monday, please link up using the "permalink" to your MM post and not your general blog address.
To get your permalink, click on your post name, then just copy and paste the address that shows up in the address bar at the top of your blog, into the "url" box for InLinkz.
In order to link up, you'll need to include a link in your MM post back to the party so the other participants will have an opportunity to receive visits from your wonderful blog readers.
Please observe these few rules:
Only link up Before and After posts that are home, gardening, crafting, painting, sewing, cooking or DIY related.
Do not link up to the party if you're doing so to promote a website or sell a product.
Do not link up a post that was just linked up last week since readers would have already seen that post.
Please do not link up more than 3 posts per week.

*If a post is sponsored or a product was provided at no charge, it will be stated in post. Some links may be affiliate links and as an Amazon Associate, I may earn from qualifying purchases. *