Welcome to the 223rd Metamorphosis Monday!
Do you have a room in your home that's your absolute favorite spot to be in the early morning? My upstairs family room is that room for me. You may recognize the next 2-3 pictures since I've shared them before here on BNOTP. This room is a cheerful, bright room, but early in the morning it's truly a sunny, happy spot to be.
One of the reasons this room is so bright during the day is because it has windows down two sides: a pair of windows on the end where the painted window hangs and two dormer windows across the front of the house. One of those is visible in the picture below.
A view of the room looking back toward the door. I'd love to add hardwood flooring in here some day. This is the only room in my home that still has carpeting.
Come Morning: A Beautiful Metamorphosis
Each morning, this room is transformed. I tried to capture it in this photo for you but photos never really do a space justice. The east sun streams in through the double windows all morning long and the entire room is one giant ray of sunshine. You can see hints of that beautiful light across the sofa and rug in the picture below.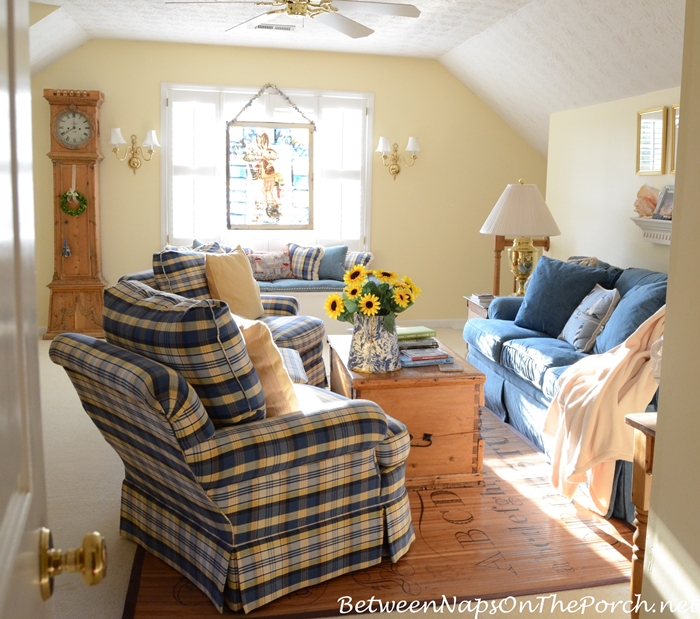 Remember when you were very small and drew pictures in school? One of my favorite scenes to draw over and over was one picturing a house with lots of windows and a big, green, leafy tree in the yard. Always, tucked up into the far corner of the picture, was a bright, yellow sun with lots of long sun-rays shining down. Come to think of it, it looked very much like the banner for this blog. I never thought about that until just now. Some things never change, do they?
Anyway, I really wanted to share with you how this room FEELS each morning. Not just how it looks but how it feels. That can be a tricky thing to do. Somehow I got lucky and the camera captured a few of those magical sunbeams shining down. Do you see them all through the picture below? THIS is how this room FEELS each morning, just like a giant ray of sunshine. When you open the door and enter the room in the morning, the sun wraps its arms around you in a big sunshine embrace.
As the morning wears on, the sun moves higher in the sky but the room stays nice and bright throughout the day.
Do you have a room in your home that goes through a big metamorphosis each day? Is there a special room where the sun shines down on you welcoming you to a brand-new day? I hope your day is filled all the way up to the brim with sunshine, so much sunshine it spills over flooding your soul with an abundance of happiness. Hope your whole week is that way, too!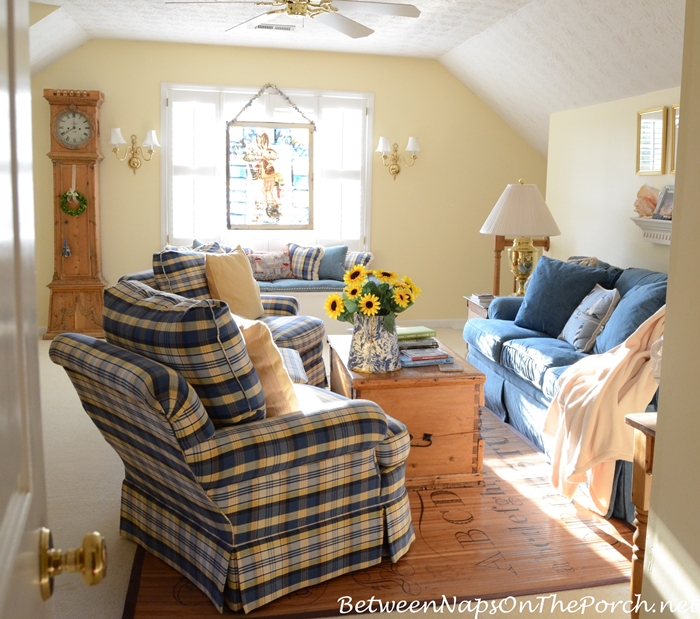 Metamorphosis Monday: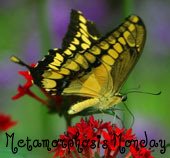 If you are participating in Metamorphosis Monday you will need to link up the "permalink" to your MM post and not your general blog address. To get your permalink, click on your post name, then just copy and paste the address that shows up in the address bar at the top of your blog, into the "url" box for InLinkz.
In order to link up, you'll need to include a link in your MM post back to the party so the other participants will have an opportunity to receive visits from your wonderful blog readers.
Please observe these few rules:
Only link up Before and After posts that are home, gardening, crafting, painting, sewing, cooking, DIY related.
Do not link up if you're doing so to promote a website or product.
Do not link up a post that was just linked last week since a lot of readers will have already seen that post.
Do not type in ALL CAPS. It spreads the links waaaay out.
Let's try something fun today! Please visit the person who linked before you and after you…that way everyone will get some visits.




Welcome! Thanks for coming to the party!
*If a post is sponsored or a product was provided at no charge, it will be stated in post. Some links may be affiliate links and as an Amazon Associate, I may earn from qualifying purchases. *