Welcome to the 234th Metamorphosis Monday!
The Quest for a Comfortable Chair: Take 3
I have a little office update, one I've been meaning to share for a while. As you may recall, when I first put the office together, I started out with this chair (below) from Pottery Barn Teen. I loved how it looked but it turned out to be horrible on zay ole back. Pretty? Definitely. Practical? Definitely not.
I tried and tried and to make it work but after sitting in it for more than a year, I finally decided it had to go. So began the quest for a comfy chair.
I spotted this chair in another blogger's home office and the color was perfect for the Bedford furniture in my office. I purchased it from Staples, assembled it and used it for about a week, but ultimately I had to return it. Why? Well, two reasons: 1. It's deep and I'm short. I couldn't really lean back in it comfortably and type on the keyboard at the same time. I tried placing a pillow behind my back but that wasn't working very well. I would have just made do because I loved how cushy the seat was, but it had one more big issue I just couldn't ignore.
This. The metal arms on the chair kept striking my desk whenever I turned in the chair. My old chair didn't have arms so I hadn't realized a chair with arms really doesn't work so well with the Pottery Barn corner desk design. Between the "too deep seat" problem and the "arms destroying the desk" problem, I sadly decided it just wasn't going to work and returned it.
I returned to sitting in this chair with the search for a comfortable chair on once more.
One day for grins and giggles, I checked online to see if Pottery Barn had any new desk chairs in for their Bedford line of furniture. I was surprised to see they did…the Airgo Swivel Desk chair. It was described as having "linen oatmeal" fabric and it looked pretty comfy. I was very wary of the fact it had metal arms after the problem I'd had with my previous chair. I didn't like the look of the arms anyway, so I called a PB store to see if the chair could be assembled leaving the arms off. The answer was, yes.
Notice how white it looks in these photos from Pottery Barn online. Even though the description said "linen oatmeal," I was hopeful it would be a good match for the "antique white" color of my desk.
It's definitely not as white in person as it looked in the pictures online at the Pottery Barn site. It really is more of an "oatmeal" color as the ad states. It's kind of plain and not as pretty as my original chair (at least to me) but it sure is a lot more comfortable!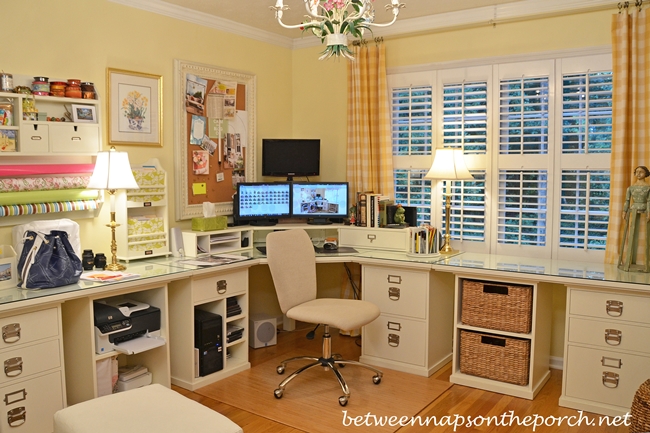 In person, it looks closer in color to this picture I found online this evening. The "oatmeal" description is pretty accurate. I wish it were a little lighter and closer to the color of the desk, but it's not a bad look. The oatmeal color will be more practical in the long run.
I just noticed, in the picture they have of this chair in their most recent catalog, it doesn't have arms. Interesting, huh? It's the same price as what I paid for mine that came with arms. It's funny that it's pictured without arms but you can't purchase it that way. Maybe they just knew arms would not work well with the Bedford corner desk, so they left them off for this picture. Or, maybe they plan to start stocking the armless version eventually.
This same chair comes in different colors at PB Teen, except the whole chair is smaller overall for teens. At PB Teen, the chair is offered with and without arms and the "without arms" version is less $. Ummm, makes you wonder why they don't offer it at their regular PB stores without arms for a cheaper price? I definitely would have purchased that, instead.
I assembled mine leaving the arms off and it works great. It's not too deep and there are no arms crashing into the desk, chipping the paint. Best of all, my back is at last happy! As much time as I spend working at my desk, that's a big relief. It only took three tries but I think I finally got it right this time. If you are interested in an Airgo for your office, you'll find it here: Airgo Swivel Desk Chair
If you have a home office, what kind of chair do you sit in? Is it comfy?
Oh, and before you leave, all you gardeners out there, please share your favorite mulch for shrubs and trees. I found some I like for my annual flower beds but I'm still trying to find something that will work for the larger islands with shrubs. Appreciate your suggestions and where you purchased it. I hope to buy some today and put it out before the sod is in place, at least in a few of the islands.
If you're new to reading BNOTP, to see additional posts about the office, click on the category, "My Nest" at the top, then click on "Office & Craft Room." You'll find lots of posts showing the transformation of the office from a child's bedroom to a home office.
Looking forward to the Before and Afters posted for this Metamorphosis Monday!
Metamorphosis Monday: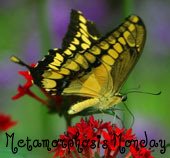 If you are participating in Metamorphosis Monday you will need to link up the "permalink" to your MM post and not your general blog address. To get your permalink, click on your post name, then just copy and paste the address that shows up in the address bar at the top of your blog, into the "url" box for InLinkz.
In order to link up, you'll need to include a link in your MM post back to the party so the other participants will have an opportunity to receive visits from your wonderful blog readers.
Please observe these few rules:
Only link up Before and After posts that are home, gardening, crafting, painting, sewing, cooking, DIY related.
Do not link up if you're doing so to promote a website or product.
Do not link up a post that was just linked last week since a lot of readers will have already seen that post.
Do not type in ALL CAPS. It spreads the links waaaay out.
Let's try something fun today! Please visit the person who linked before you and after you…that way everyone will get some visits.




Welcome! Thanks for coming to the party!
*If a post is sponsored or a product was provided at no charge, it will be stated in post. Some links may be affiliate links and as an Amazon Associate, I may earn from qualifying purchases. *