Welcome to the 421st Metamorphosis Monday!
A couple of months ago I purchased this navy and white shirt-jacket online at J. Crew. I loved it sooo much, I searched and found last year's version in a different color on eBay. Then I turned right around and purchased a second navy/white one because I was worried I'd never find it again when the first one eventually wore out. That's how much I love this shirt! Have you ever felt that way about a favorite sweater or dress or a pair of shoes?
Besides how cute it is, it is amazingly warm and without any bulk. It's 40% wool and 0% scratchy! Hope J. Crew continues to carry it each year, bringing it back in different colors. I could literally wear it everyday throughout fall and winter. I have to force myself to wear something else each day. lol
Update: This shirt is sold out at J.Crew but a BNOTP reader found it on eBay here: Shirt-Jacket.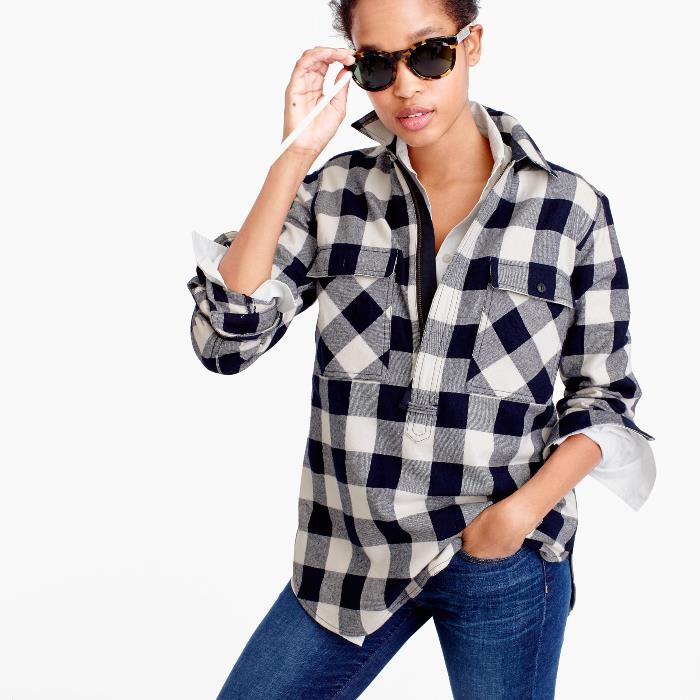 Since it's part wool, the care label recommends dry cleaning. I hate dry cleaning things because when I've done that in the past with shirts, they never look the same again. It often dulled down the colors and changed how the shirt felt. So I knew there was no way I was going to dry clean it.
I did some research and this was the product I saw most recommended for hand-washing fine wool clothing like cashmere sweaters: Wool and Cashmere Shampoo.
I placed the shirt/jacket I've been wearing the most in cold water with two capfuls of the wool and cashmere shampoo. I slowly swirled and moved it around, scrubbing very gently the cuff/sleeve areas. I rinsed it out twice in cold water, then gathered it together, and gently pressed the water out of the fabric by pressing it against the side of the sink.
When washing a sweater, especially a wool sweater, you don't want to "wring" the water out. Wringing out sweaters, especially cashmere or wool sweaters, can pull them out of shape. So it's best to press the water out gently.
If you're worried a sweater will stretch out of shape when trying to squeeze out the excess water after rinsing, you can lay the sweater out on a thick towel, roll it up, then gently squeeze the towel to absorb the water from the sweater. Remove it and repeat with another thick, dry towel, if needed. My shirt didn't feel like it would be prone to stretching, so I just squeezed the water out without "wringing" it out.
After washing it, I placed the shirt on a plastic drying rack that I've had for many years. I wish I had a large, flat drying rack for more delicate sweaters, but this one worked well for this piece. If you have a soft, more delicate cashmere sweater, a large flat drying rack would be better.
Update: I just ordered a flat, drying rack after writing this post. It had good reviews and the legs fold up when it's not in use. The fold up legs will let me tuck it behind the laundry room door when I'm not using it. Also, the legs are spaced the correct distance apart where it is supposed to fit on top of a standard washing machine. It's available here: Flat, Drying Rack with Fold Up Legs.
The Next Morning
My shirt turned out great! There's no fading and it feels soft and plush. I noticed the info about this wool-cashmere shampoo states: "naturally repels bugs and moths." I think that's due to the cedar extracts in the shampoo base. I smelled my shirt and it doesn't have any scent that I can detect. That's good because I don't like for my clothes to have a scent after being washed.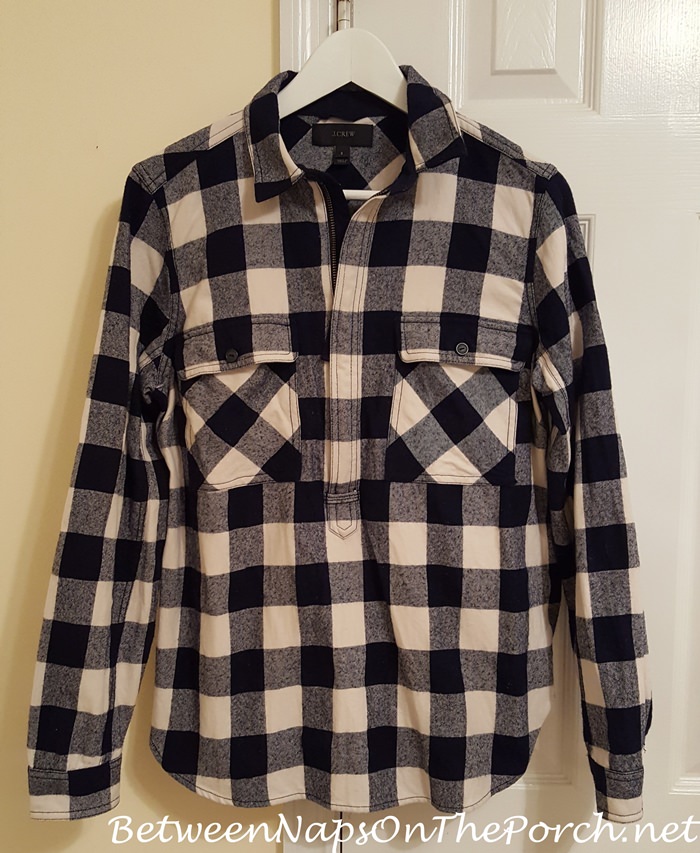 I'm very pleased with this wool-cashmere shampoo and how my shirt came out. If you're in need of the same, you'll find it available here: Wool Cashmere Shampoo.
An Awesome Book
Before I close this post, I have to share the book I'm listening to on Audible right now, it's really good! It's called, Sleep Smarter by Shawn Stevenson. If you're not an Audible member, don't worry, it available on Amazon and Kindle here: Sleep Smarter.
I used to have trouble occasionally falling asleep. That rarely happens now, especially since I started taking spin classes several times a week on my Peloton. I'm usually whipped by the time my head hits the pillow these days, not just mentally but physically, as well. Regular exercise definitely helps with sleep!
Since I used to occasionally have problems falling asleep at night, this book caught my eye so I decided to give it a listen. I noticed it had excellent reviews on both Audible and on Amazon. I'm only on Chapter 3 and I feel like I have learned so much! I love that the author doesn't waste your time and gets right into the good stuff, starting in the Foreword. Just from what I've read so far, I never want to cheat my body of a full night's rest ever again!
This book is not only about steps you can take to get a good night's sleep, it covers a lot more including about nutrition and how sleep and nutrition work together to fight disease and to heal our bodies. The author was in terrible shape at the young age of 15. His doctor told him he had the bones of an 80-year-old! He refused to accept that and turned his life and health completely around.
This book definitely makes you want to eat healthier. It makes you think twice about what you're putting inside your body each day. I really like the author's style of writing and his sense of humor. Give your body the important gift of a good night's sleep! It's so important, if only for the fact it helps our body fight off disease. But it really does so much more! If you tend to be a night owl like me, read this book. It will make you look a sleep in a very different way.
If you're not an Audible member, you'll find it available on Amazon and Kindle here: Sleep Smarter.
Looking forward to all the fabulous Before and Afters for this Met Monday!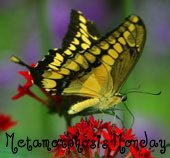 Metamorphosis Monday
Metamorphosis Monday is a party that's all about Before and Afters. If you are participating in Met Monday, please link up using the "permalink" to your MM post and not your general blog address.
To get your permalink, click on your post name, then just copy and paste the address that shows up in the address bar at the top of your blog, into the "url" box for InLinkz.
In order to link up, you'll need to include a link in your MM post back to the party so the other participants will have an opportunity to receive visits from your wonderful blog readers.
Please observe these few rules:
Please link up Before and After posts that are home, gardening, decorating, crafting, painting, sewing, cooking, fashion or DIY related.
Be sure to include a link back to the party in your post, so your readers will be able to find and visit the other bloggers who are participating.
Do not link up to the party if you're doing so to promote or sell a product.
To those who are linking up: If you notice a shop or store linking up to sell products (yes, unfortunately that does happen) please let me know so I can remove their link from the party. No one wants to click a link expecting a Before and After, only to find a spam link to an online business/store.
*If a post is sponsored or a product was provided at no charge, it will be stated in post. Some links may be affiliate links and as an Amazon Associate, I may earn from qualifying purchases. *