I was completely enamored by the wonderful children's bookstore in the movie, You've Got Mail. From your comments on yesterday's post, I could tell you loved Kathleen Kelly's bookstore as much as I did. I decided this sweet shop deserved its own post since it played such an important part in the movie.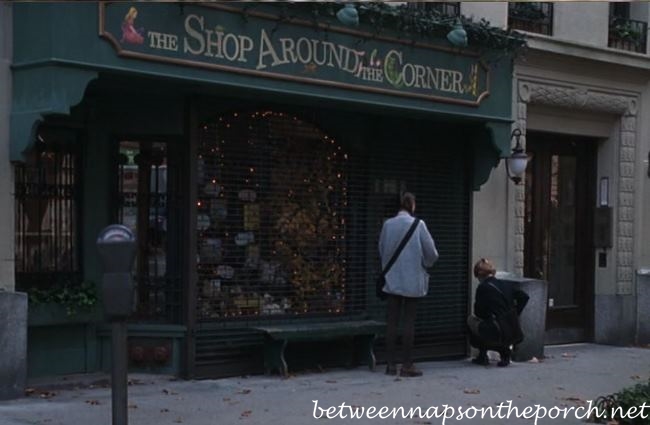 In this view we're looking back toward the entrance. Don't we all wish The Shop Around the Corner was in our neighborhood? It's just the kind of place you want to go when you're a kid or where you want to take you children when they are small.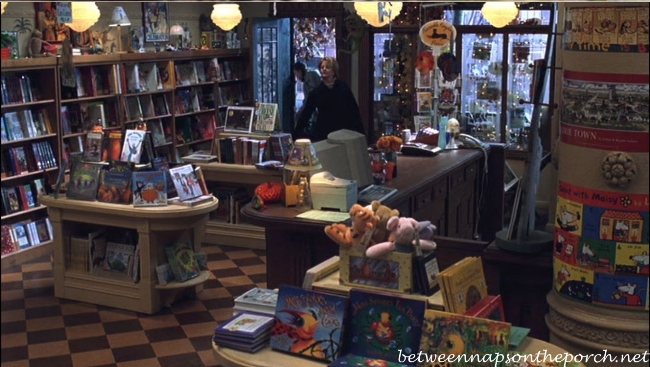 The computer monitor dates this movie, doesn't it? It would be a skinny sliver if this movie were made today.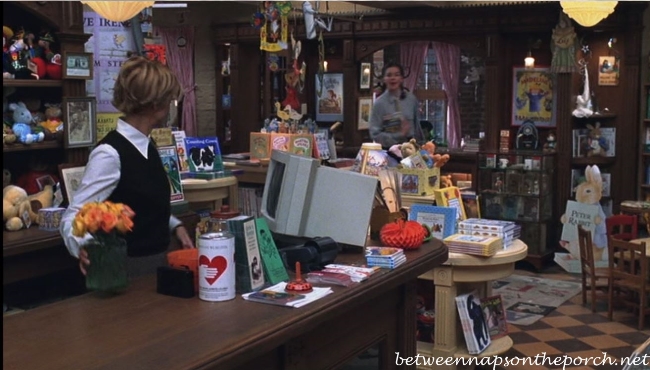 Love the sweet curtains and all that wonderful exposed brick. The contrast of the beautiful wood molding and wood counter against the old brick is so warm and inviting, just the way a bookstore should feel. No wonder this little shop stole our hearts!
Kathleen makes the shop even more inviting with beautiful roses for the counter.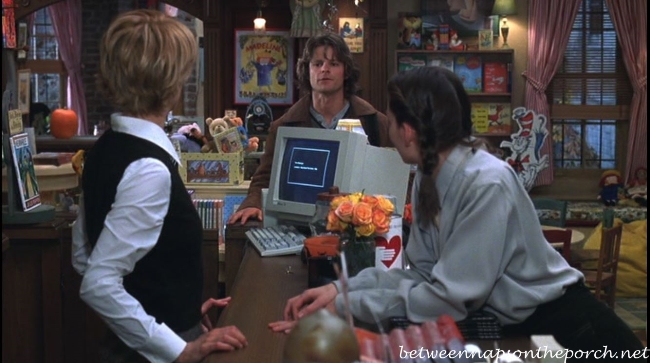 You'll notice little twinkle lights here and there throughout the shop. They light up the shop's main window and run along the bookshelves. Did you notice the old lighting overhead? You'll get a better view of it in a sec. This little shop has so much history.
In this scene we see Birdie, played by Jean Stapleton. Unfortunately, she just passed away in real life about two weeks ago, a great loss. I loved her part in this movie. She's a good friend and a stabilizing force for Kathleen.
Along with twinkle lights, cute paper-dolls and heart garland decorate the bookshelves.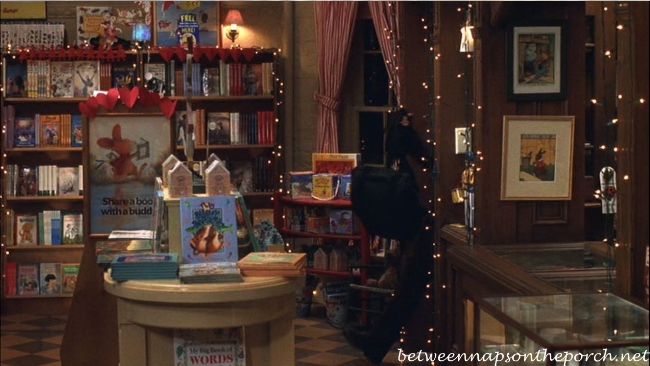 After the shop closes, we see the real structure, the bones of this lovely store.
Shooting this scene at night just added to the sadness of seeing it empty.
You can really see the detail of the lighting in this view.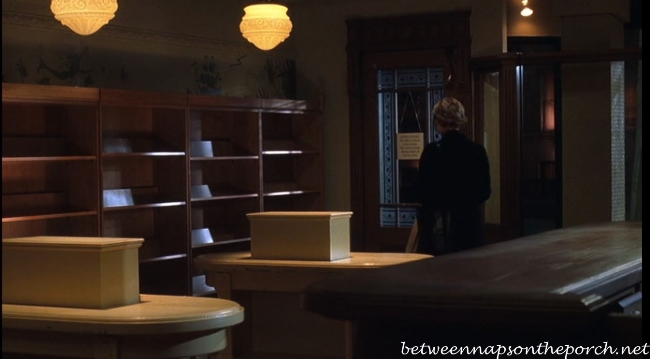 I think this may be the only thing we would all change about the movie. We would rewrite the script so the store would be saved and stay open, right?
If you're wondering about the store today, the store was Maya Schaper's Cheese and Antiques at the time of the making of the movie. They turned it into The Shop Around the Corner temporarily for the movie.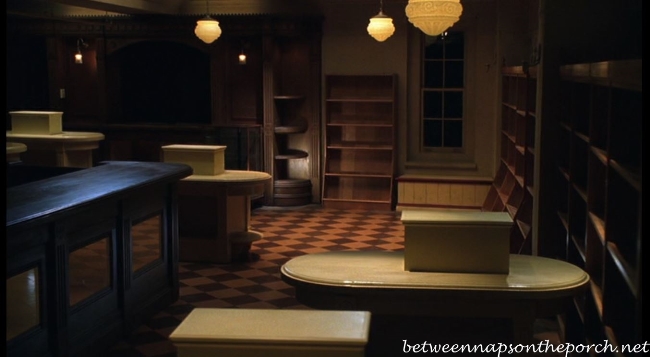 Eventually, the Cheese and antique shop closed and it became Cafe Sonatina. The Cafe didn't last and today it's La Mode Cleaners per an article I read online. In our hearts, it will always look like this, filled to overflowing with wonderful books.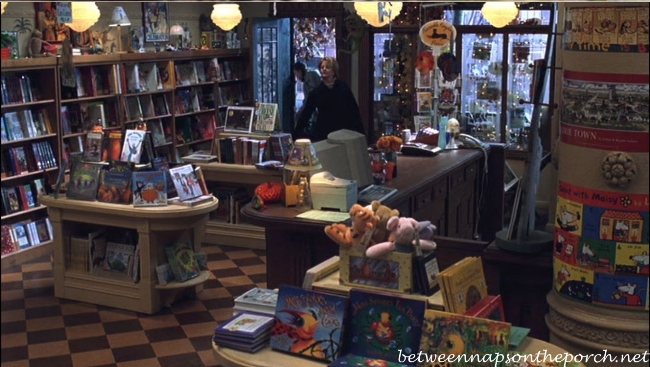 And it will always be story-time. Wouldn't it be great if someone actually bought it and turned it into a bookstore, just like in the movie? Think it would work and be a success?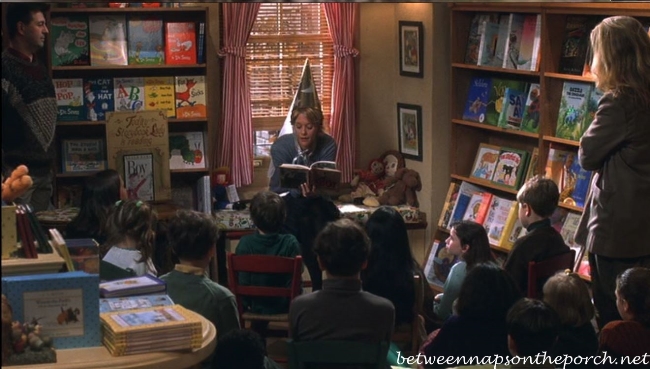 If you missed yesterday's post where we toured Kathleen's wonderful brownstone in Manhattan, you'll find it here: You've Got Mail: Tour the Manhattan Brownstone Apartment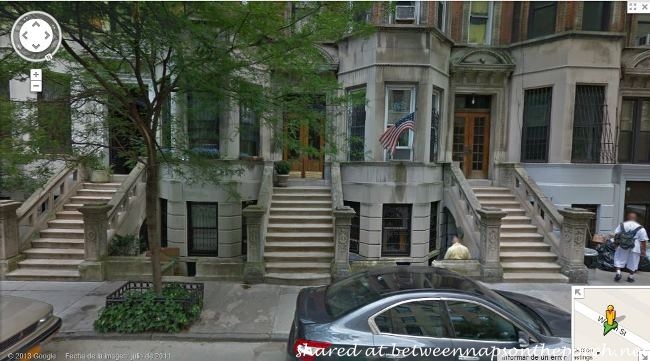 *If a post is sponsored or a product was provided at no charge, it will be stated in post. Some links may be affiliate links and as an Amazon Associate, I may earn from qualifying purchases. *