Yesterday we toured the Beauregard-Keyes home, the home American author Frances Parkinson Keyes purchased and restored with the help of architect, Sam Wilson. (To see a full tour of this home, check out yesterday's post here: Tour The Beauregard-Keyes Home )
During the restoration process, Mrs. Keyes lived in a little studio apartment on the property behind the home.
I was so surprised when the guide told us she preferred living there and continued even after the restoration of the main house was complete. Maybe the home was open for tours back then, too which would have made it difficult for her to concentrate on her writing.
This tour was really two home tours in one because after we finished touring the main home I shared yesterday, we ended up in the back courtyard area leading to Frances Keyes' studio. If I'm remembering correctly, I think we entered the studio through the partially opened double doors seen in the photo below.
It's hard for me to remember now because I was a little confused at the time why she owned this big, beautiful home but we were being shown where she worked and slept out back. Ummm, I just couldn't quite grasp it until we were actually inside.
The section jutting out to the left is currently a small gift store for the Beauregard-Keyes House and Museum.
When we entered into the studio, the very first thing we saw was this–a beautiful old doll house! Mrs. Keyes had a wonderful antique doll collection so it makes sense she would love dollhouses, too.
I wanted so badly to linger behind and look over every single nook and cranny of this doll house, but the guide barely mentioned it in passing and then ushered us on into the rest of the studio. I hung back anyway and snagged a few pics to share with you.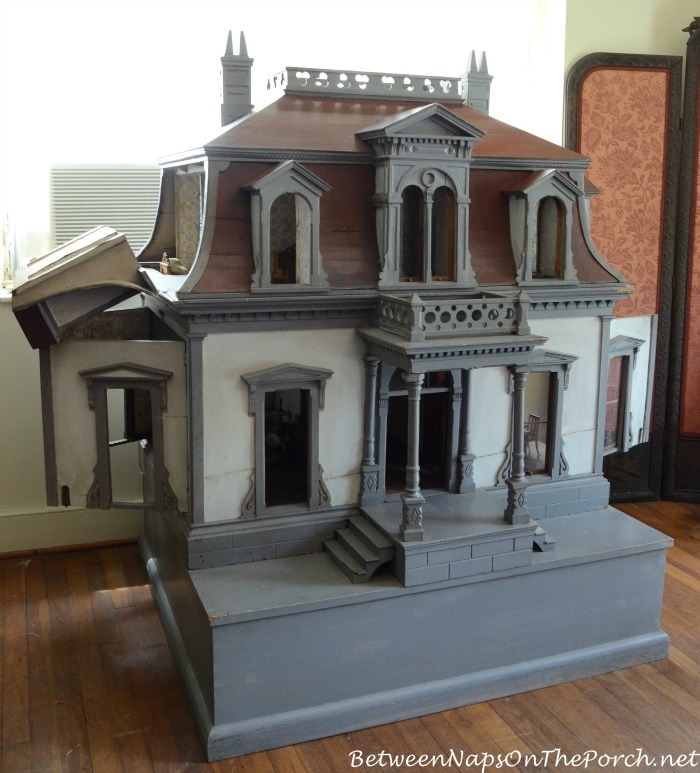 These pics were taken in a mad rush but hopefully if you love dollhouses as much as I do, you'll get a little idea of how wonderful this one is.
A little closer view…
This picture came out a bit blurry (poor lighting and my rushed photography) but the little room is still wonderful isn't it?
I didn't touch the house so these were the only pictures I could get looking in through the areas that were already open for viewing. Looks like the little dollhouse could use some dusting, doesn't it?
I reluctantly left the dollhouse to join the group. Here's a view looking down the length of the studio apartment. It was kind of long and narrow, reminded me of a shotgun house. To get your bearings, you can see the dollhouse off in the distance in the last room. This is where Mrs. Keyes lived, slept and worked in her later years.
Beautiful bed…
Mrs. Keyes' bookshelves, covered with photos of family and friends.
A table nearby displayed some of her books. I purchased Steamboat Gothic after returning home because the cover features San Francisco Plantation, one of the homes we toured while there. I still haven't taken time to read it…have to do that soon.
I was fascinated by Frances Parkinson Keyes' desk. Love, love, love that lamp!
I think back during the time when she was writing her books, writers still wrote their books out by hand, perhaps typing them out later. Does anyone know? I think some writers still do that today, write them out initially by hand.
This manuscript was laying open here on her desk.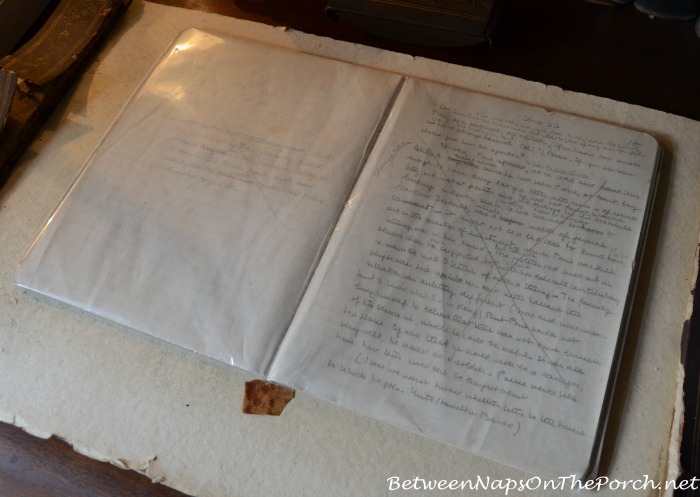 Here's a close up in case you want to try reading a little of it. I'm not sure why it has a big X on it. I used to do that when typing up term papers and reports for school. After I had typed a page, I would often put a big X on it so I could remember that one was done. Do you think that's why this has an X on it?
We also saw a display of the large collection of porcelain veilleuses Frances Keyes collected. A veilleuse was a kind of teapot that could be used to keep tea or milk warm using a small votive light. They were often used around bedtime and thus made a nice nightlight, too. Veilleuses are also used and mentioned a fair amount in Mrs. Keyes' novels.
Outside the home, we walked through the beautiful corner garden Mrs. Keyes had restored. The original garden fell into complete disrepair and was eventually bulldozed to build a macaroni factory. Can you believe that?!
After Mrs. Keyes purchased the home, the factory was torn down and the bricks from the factory were used to rebuild the walls of the garden. The design of the current garden was based on the original plans of Madame Merle, the wife of the second owner of the home.
Love this view looking back toward the side of the Beauregard-Keyes home. (Photo below from Beauregard-Keyes website.)
Hope you enjoyed this tour of the studio apartment where author, Frances Parkinson Keyes wrote so many of her novels. To tour any of the other historic New Orleans and Louisiana homes I've featured from my trip to the area, click anywhere on the collage picture below and it will open to the category page where you can access each of those posts.
*If a post is sponsored or a product was provided at no charge, it will be stated in post. Some links may be affiliate links and as an Amazon Associate, I may earn from qualifying purchases. *