I've noticed a lot of folks are already decorating outside for Christmas this year. I'm going to hang my outdoor window wreaths in the next few days. I normally wait and do it the day after Thanksgiving but I always feel so rushed to get it done when I wait until then. Thanksgiving comes really late this year so I"ve decided to go ahead and get them up this week. I really love this time of year, so why not enjoy the decorations for as long as we can.
If you are wondering the best way to hang wreaths on your exterior windows, check out this old post: The Easy Way to Hang Wreaths from Exterior Windows
Christmas Movie-House Tacky Light Tour
Today I'm taking you on a Tacky Light Tour of some of our favorite movie houses to see how they were decorated outside for the holidays. We've toured the inside of all but one of these houses here at BNOTP.
Home Alone
One of the most famous Christmas movie houses is from the movie, Home Alone. For this 1990 movie, they decorated the exterior in white lights, still a very popular look for the outside of many homes today.
Have you ever outlined all your windows with lights? Can't imagine how long that takes! The trick would be hiding the electrical cords for each window. Maybe you could bring it inside the window and close the window down, although I see some stray lights on the roof in this shot below.
It kind of gives the home a "Gingerbread House" look, doesn't it?
Tour the inside of this Christmas Movie House here: Home Alone Movie House Tour
Mystery House
I've never featured this movie house at BNOTP. Do you recognize it or the movie it's from? (Cue Jeopardy Music while you think.)
Hint: All those Snowmen on the roof is a big clue. Yup, definitely qualifies for a tacky light tour!
Did you guess? It's the home from the movie, Christmas with the Kranks. Christmas with the Kranks was the movie version of John Grisham's book, Skipping Christmas. We read that book in our neighborhood book club and it was funny, so I'm not surprised it was made into a movie.
Here's a panoramic view of the neighborhood.
I don't quite get the "snowman on the roof near the chimney" thing. Wouldn't that make a bit more sense if it was a Santa? lol
Christmas Vacation
Of course, no "Movie-House Tacky Light Tour" would be complete without the most lit up, tacky movie house of them all, the one from Christmas Vacation.
A rusty, run-down motor home out front completely finishes out the look! 😉
Do you remember Clark's trials and tribulations as he tries to figure out why the lights are not working? Definitely an iconic Christmas movie and one of the funniest of all!
One of my fave scenes is where they show the overhead view of the city just as Clark flips the switch to light up his home. Of course, the meters at the power company madly spin as Clark's home drains the whole city of power! The whole city goes into a blackout while Clark's house, of course, stays beautifully lit! 🙂
The power company throws the switch for their nuclear powered generators to restore light back to the city and all is well. So funny!
Tour the inside of this Christmas movie house here: Christmas Vacation Movie House Tour
A Christmas Story
Another great Christmas movie house is the one in the movie, A Christmas Story. This was one of my son's favorite movies, he watched it every year growing up. Thank goodness he never asked Santa for a Red Ryder BB Gun!
The house wasn't really tacky at all until….
The LEG! Who can forget the infamous "Big Award" that turned out to be a lamp in the shape of a woman's leg–in fishnet hose, no less.
Yup, that leg definitely pushed this movie house into qualifying for a tacky house tour, although it doesn't last long since zay leg meets with an untimely demise in the movie.
Tour the inside here: A Christmas Story Movie House Tour
The Holiday
There's absolute nothing tacky about this adorable cottage from the movie, The Holiday, but there was just no way I could leave Rosehill Cottage out of a tour of Christmas movie houses.
Tour the inside here: The Holiday Movie House Tour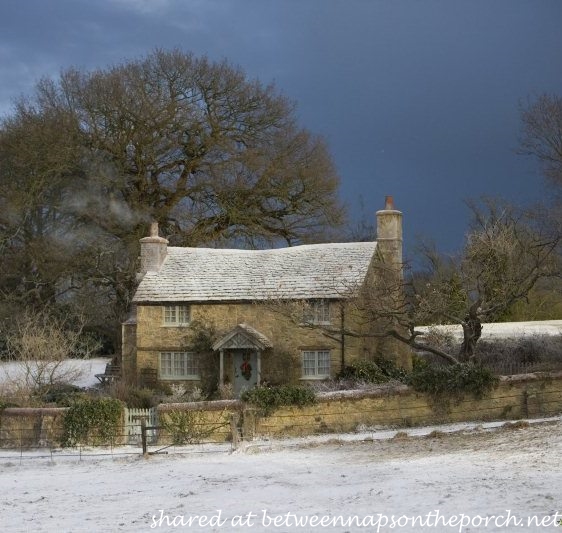 You can tour the inside of any of these movie houses here: Iconic Christmas Movie Houses.
Do you have a favorite Christmas movie house? If so, leave it in the comments and I'll try to post a tour of the inside between now and Christmas.
Not just counting Christmas movie houses, what's your favorite movie house of all time?
*If a post is sponsored or a product was provided at no charge, it will be stated in post. Some links may be affiliate links and as an Amazon Associate, I may earn from qualifying purchases. *