Conversation with my son via phone today:
Me: Hey, I want to run something by you. I have some really neat things I'm considering buying you for Christmas, but I want to see what you think.
Son: (Laughs) Ooookay.
Me: So, you know how L.L. Bean is famous for their duck boots, well they finally seem to be caught up with their production and for once they are actually available during the wintertime! Usually they are out of stock and not available to ship until spring, but right now they actually have them in stock during the winter for once. They are really comfortable and very much in style! Would you like a pair?
Son: Thanks Mom, but I already have a really good pair of duck boots.
Me: Are you sure because these are normally really hard to find. It's the first time I've seen them available this time of year!
Son: I'm sure. (Pauses, hear him getting something.) Yup, got mine right here. (He checks the brand.) They're Sperry and they've been great, so I'm fine on duck boots.
Me: Oh. Yeah, that is a really good brand. Okay, well how about this! I found these really beautiful sweaters online. They are actual Irish-made sweaters, made of soft merino wool in Ireland! They have a snowflake design, nothing too feminine, just a single row of snowflakes across the front. They are really beautiful!
Son: Thanks, Mom…but I'm not going to wear a sweater with snowflakes on it. I know you and Dad like that kind of thing, but I'm just not there, yet. Maybe one day I'll like it, but not right now.
Me: Okaaay, but remember how you used to hate the music we listened to on all those road trips to the beach when you were little, and now you love that music. Sooner or later we're going to lure you over to the dark side with the clothing, too!
We both laughed.
Son: I know, I know. I'm sure I'll like sweaters like that one day, but not yet.
Before we hung up, he suggested I make my gift the same thing I gave him last year, a gift certificate to Brooks Brothers, his favorite place to shop for dress shirts and suits. I reluctantly agree, thinking how impersonal gift certificates can be, but they are definitely practical and he'll for sure get what he wants that way.
I do have a few things already purchased that I know he'll love, one being a Georgia Bulldog shirt from Brooks Brothers that he dropped a hint about a few weeks back, but it looks like there's not going to be any snowflake sweaters from Ireland under the tree for a few more years. lol
Anyone else have trouble shopping for their adult children? I used to think that it would ruin all the fun if you actually asked folks what they wanted for Christmas. Where's the surprise in that?
Over the years I've come around to realizing that it's a lot more fun to get something you actually want, than something you're going to stick in the corner of the closet and probably end up donating one day. Being close to the pickiest person in the world regarding what I do and do not like, you'd think I would have figured that out long ago, but I was kinda slow coming around to it.
♫ You Can't Always Get What You Want ♪♫
Speaking of not always getting what you want (that song will be stuck in my head for the rest of the night!) every once in a while you do get a do-over. Something you wanted but hesitated and then missed out on, turns back up available for purchase the following year. Those do-over moments are pretty rare, though–at least from what I've seen.
Here are a few things I was hoping to find this year, but missed out on. Actually, one I did finally track down, but the other two are a no-go for this year.
Land's End Chunky Cable Faux Fur Peruvian Hat
Truth be told, it rarely gets cold enough to wear a hat like this in Atlanta, but I was pretty sure I could conjure up a reason to wear it some this winter. I just love how it looks!
By the time I discovered it at Land's End this year, it was already long gone, "Sold Out" as customer service representative told me after I called in case by some miracle they had one stuck back in a dark corner somewhere.
This photo…
…along with this one below are still on the Land's End website, but they are apparently now being used to advertise the coats and the vests. Shouldn't there be some unspoken retail rule that you can't torture your customers by showing things on your site that are no longer available? 😉 Since it sold out so early, maybe they'll bring it back next year. Do you hear me, Land's End?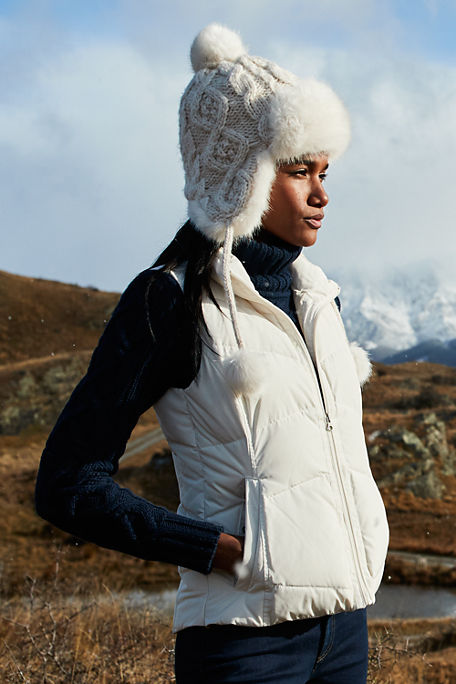 Bath and Body Works Pumpkin Woods Candle
I purchased several candles during a Bath and Body Works sale earlier in the fall season. Out of the ones I purchased, this one called Fresh Balsam was my favorite at first. If you don't put up a live tree each year, get this candle and you'll think there's one right there in your living room!

As much as I loved Fresh Balsam, Pumpkin Woods is the one I'm completely obsessed over. Bath and Body Works had a sale for Black Friday, so I hopped onto their site thinking I'd buy a few more. Rats! They were all gone! I guess a few more folks liked them besides just me.
Fortunately, I was able to find some on eBay but didn't get to take advantage of the sale at B & B W. I bought two on eBay, so at least I have a few to get me through the winter. The one I've been burning in my office this fall is about 3/4ths gone now. Update: If you would like to try this candle, you'll find it here: Pumpkin Woods Candle.
Do you have a candle that you always try to keep on hand? I've discovered I don't care for sweet or food scented candles, but I do love the woodsy type or the fire-burning-in-the-fireplace scented candles.
For summer, I like a light, fresh, clean-smelling scent. The year I added on the screened porch, I purchased one like that at Kohl's. By the end of summer, it was almost gone and they were no longer available in the stores. Don't remember the name of it now, but it smelled like a breezy day on a sun-filled porch. Funny, I still remember that candle eight years later! Left quite an impression, didn't it?
Bow Box Sled Charm
My 3rd often-stalked-but-never-found wish list item is the Tiffany and Co. Bow Box Sled Charm that was available for purchase several years ago. I was late in life discovering Tiffany's charm bracelets. I think I've always assumed their jewelry would be completely out of my budget, but surprisingly they carry a broad range of jewelry in various styles and metals, and many are very affordable.
For example, their Heart Tag Charm Bracelet is just $300, pretty reasonable for a Christmas gift for a loved one. If you want to surprise someone this Christmas with one of those iconic, blue Tiffany boxes but would like to stay under a certain price point, use the filters at the Tiffany and Co. website and focus on the "silver" jewelry pieces. They have a lot of beautiful sterling silver jewelry in the $250-$400 range, some even less.
So a few years ago when I discovered their silver charm bracelets, I purchased one for myself and have been gradually adding a charm each year. One charm that I'd really love to add, but it hasn't been in production in several years, is the Bow Box Sled Charm.
Side note: Why it's called that, I'm not sure. I think "Bow Box Sleigh Charm" would have been more appropriate. Doesn't it look more like a sleigh than a sled?
Anyway, this charm was apparently in production several years ago, long before I ever purchased one of their charm bracelets. I've been hoping they would bring it back out of retirement– apparently, they do that sometimes, but alas, it has not happened.
A couple of years ago I came across the charm on eBay, but the seller wanted 3 x the amount for which it originally sold. Still hoping one day it shows up on eBay for a more reasonable price, but not holding my breath.
Was there anything you hesitated and missed out on this season? Any folks in your family for whom it's a challenge to shop?
*If a post is sponsored or a product was provided at no charge, it will be stated in post. Some links may be affiliate links and as an Amazon Associate, I may earn from qualifying purchases. *