Welcome to the 197th Metamorphosis Monday!
Have you ever done this? Sunday I drove over to the dollar store in search of a clear glass vase or some clear glass votives for a little project I had in mind for Met Monday. I found votives that were just right but didn't put them in the shopping cart immediately. I thought I'd look around the store a bit to make sure they were what I really wanted to use.
While shopping I found some black goblets, perfect for a Halloween tablescape next year. I picked up a few batteries, some snowflakes for another little project I have in mind and found 4 small bottles just right for filling in some areas on my bottle tree.
Half way home, it hit me. I never bought THE thing I went to the dollar store for…the glass votives. Please tell me you've done that before so I don't feel like a total dummy! lol
After my misguided, but somewhat productive trip to the dollar store, I headed over to a local hardware store in search of storage bins. I finally decided this year, I'm way tired of climbing up into the eaves to pull out all the Halloween goodies I use for decorating each October. You may remember THIS post when I shared where I keep all my Christmas and Halloween decorations. See those little doors.
Those little doors are in the upstairs family room dormers.
I have a basement. It's time to use it. But that's a post for another day.
Tool Storage
While shopping for storage bins, I decided it was past time I remedied another storage issue I've had for years. I'm kinda embarrassed to share this but here's my tool storage. Great, huh? I didn't even try to spiffy it up, just took the pic as I found it. Sad.
A recycling bin on the other side of the garage holds my Dremel, drill and a sander. I only recently corralled all those into the bin. They had been stuffed away in various areas of the garage. It was a regular fishing expedition whenever I needed the drill or Dremel to work on a project. So sticking them all in this bin was actually an improvement!
I had a $75 gift card and decided today was the day to use it. It went toward a better storage system for the few tools I have and use regularly. I thought about having the tool cabinet delivered but they charge $79 for that. Ouch. I decided I could do it…somehow I always find a way.
A few weeks ago I was hauling home corn shocks and pumpkins for decorating a Halloween front porch.
A year ago it was heavy Pottery Barn furniture for a home office. Next, an Expedit from IKEA for a office closet makeover.
Today it was a tool storage cabinet and let me tell you, that baby was heavy! I climbed in through a back door and inch by inch, slowly pushed it out, lowering it gently onto the ground.
I got a bit of a workout today. There wasn't a lot to do but what there was involved a lot of bending, squatting, lowering, raising, pushing, pulling…you get the idea. After getting it out of the box (that took a while) I followed the directions and attached the handle. I discovered later, I really should have removed the whitesh/grayish film you see in the pic below first. It's a protective film and once I installed the handle, there was no pulling that stretchy stuff out from under it. I wouldn't have cared if it was just behind it, but it was sticking out all around the handle from where I tore it away. I had to remove the handle to totally to get all the protective film out from under it. So, if you ever buy something with the protective film on it, don't attach anything on top of it because it's impossible to get off if you do.
The nice guy at the hardware store told me the wheels that go underneath the unit just pop into place underneath the bottom. I had visions of just lifting up each end and sticking them under there where they would snap into place.
Surprise! Each wheel has to be attached to the bottom with 4 screws/washers. Time to whip out some muscles and turn it over. I rested it down slowly onto a big, fat, fluffy down duvet. The holes you see there on the side…those can be used as a peg board to hang additional tools.
Next, I attached all the wheels. This wasn't hard, just time-consuming since the screws were a bit tricky to reach for tightening.
Once the wheels were on, I turned it back up on its "feet" and it was time to remove all of that super sticky, stretchy protective film. It pretty much covered the entire unit. In this pic below I was pulling off the strip from around the top edge.
Here's how it looked once all the protective film was removed. The box describes it as a: 46 ", Stainless-Steel, 5-Drawer and 1 Door, Mobile Work Center. I totally forgot to take a pic of the wood top. The wood top has a heavy protective coating that almost makes it look like plastic, but it's actually wood. I really liked this unit when I saw it in the store because it wasn't just all drawers but had a small storage cabinet on the right. I knew just what I'd tuck away behind that door. Can you guess?
It was almost time to leave for a dinner party at a friend's home, so I didn't have time to fill any of the drawers, but I did take a minute to put away the Dremel, drill and sander. The shelf is adjustable and this height was just right. Much better than the recycling bin, huh?
I still need to add some kind of liner to the drawers, don't want them to get all scratched inside, even if it is a tool cabinet. I need to Google and see if they make something for that. I bet they do.
So, that's my metamorphosis for this week. Can't wait to see the Before and Afters for this Met Monday!
Metamorphosis Monday: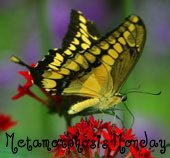 If you are participating in Metamorphosis Monday you will need to link up the "permalink" to your MM post and not your general blog address. To get your permalink, click on your post name, then just copy and paste the address that shows up in the address bar at the top of your blog, into the "url" box for InLinkz.
In order to link up, you'll need to include a link in your MM post back to the party so the other party participants will have an opportunity to receive visits from YOUR readers.
Please only link up Before and After posts that are home, gardening, crafting, painting, sewing, cooking, DIY related.
Do not link up if you're doing so to promote a website or product.
Do not link up a post that was just linked last week since a lot of readers will have already seen that post.
Do not type in ALL CAPS. It spreads the links waaaay out.
Let's try something fun today! Please visit the person who linked before you and after you…that way everyone will get some visits. Hope you'll visit more, of course.




Welcome! Thanks for coming to the party!
*If a post is sponsored or a product was provided at no charge, it will be stated in post. Some links may be affiliate links and as an Amazon Associate, I may earn from qualifying purchases. *