Welcome to the 387th Metamorphosis Monday!
Greetings! How was your weekend? I think a lot of folks must be on vacation around here because traffic has been much lighter for the last few days. Maybe they got a head start on the long 4th of July weekend that's coming up.
I don't have a Before and After to share this week. If you saw my "list" in Friday's post, you'll know I've kinda been on a "Before and After" spree for the last 6-7 weeks. The only metamorphosis I could share this week is one you wouldn't want to see, and that's the swelling of my left foot after my toe was viciously attacked by a yellow jacket on Saturday. Wow, are those things mean!
I've read that the pain and swelling usually improves after 48 hours so that means I should be getting some relief by Monday evening. Looking forward to that!
In the meantime, I have a wonderful storybook house to share. Storybook homes are always my fave. In my head I live in a world where all homes are storybook houses surrounded by beautiful gardens. I love it when I actually come across that vision in the real world!
This storybook cottage is located in Lebanon, NJ and it's actually available for purchase. It has three bedrooms, two baths and is charming through and through. Let's go in and take the tour!
The living room has a wonderful stone fireplace and look at those beams in the ceiling. They must date back to 1730 when this home was built.
The kitchen is really special. We see a gorgeous fireplace and more of that wonderful beamed ceiling.
The kitchen is outfitted with the best appliances including a Viking gas stove and a SubZero refrigerator.
The listing states that this home has a library, do you think this is it? You can really see just how thick the walls are when you look at the depth of the window sills. Wow!
I could spend all day right here in this spot with a great book. I'd put a bird feeder right outside that window, then I'd read and bird watch all day long. Everything else could wait. 🙂
There's also a wonderful sunroom.
This is the master bedroom. I love all the wood paneling, plus it has a fireplace!
The master bath…don't you love the exposed rock! Just an amazing home with so many unique features.
The gardens are absolutely stunning! I love all the brick walkways.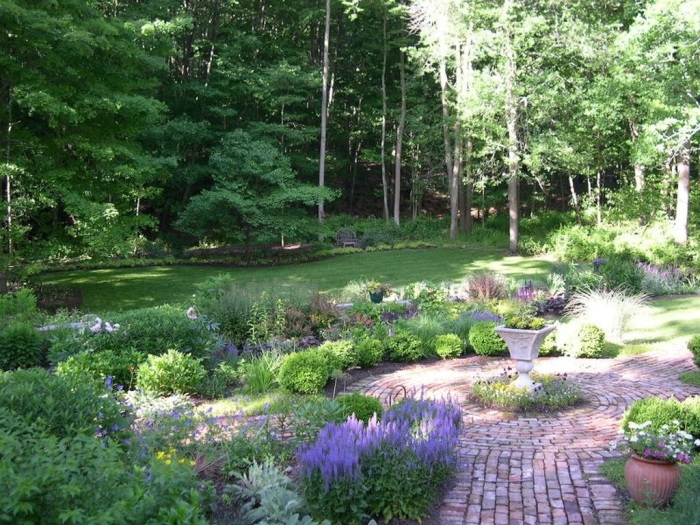 There's a really pretty red barn on the property, too.
You can see much more of this home (including the other bedrooms) where these pictures were found here: 1730 Storybook Stone Cottage
Happy start-of-a-new-week to you! Hope it's an awesome one. Oh, and look out for hidden yellow jacket nests in the ground because they will definitely put a crimp in your style! Trust me on that! 😉
Metamorphosis Monday
Metamorphosis Monday is a party that's all about Before and Afters. If you are participating in Met Monday, please link up using the "permalink" to your MM post and not your general blog address.
To get your permalink, click on your post name, then just copy and paste the address that shows up in the address bar at the top of your blog, into the "url" box for InLinkz.
In order to link up, you'll need to include a link in your MM post back to the party so the other participants will have an opportunity to receive visits from your wonderful blog readers.
Please observe these few rules:
Only link up Before and After posts that are home, gardening, crafting, painting, sewing, cooking or DIY related.
Do not link up to the party if you're doing so to promote a website or sell a product.
Do not link up a post that was just linked up last week since readers would have already seen that post.
Please do not link up more than 3 posts per week.

*If a post is sponsored or a product was provided at no charge, it will be stated in post. Some links may be affiliate links. *