This beautiful cottage designed by Tom Stringer Design Partners had me at the front porch. I didn't even have to go inside to know I was going to love the interior. You know when a home starts off this lovely on the front porch, the interior is going to be just as fabulous!
This home doesn't disappoint…just look at this wonderful family room decorated in a blue and white color scheme. Feels so clean and crisp.
I have a love for decorating in blue and white. One whole shelf in my office is dedicated to nothing but books on the subject. I've added a couple more books since this pic was taken. 🙂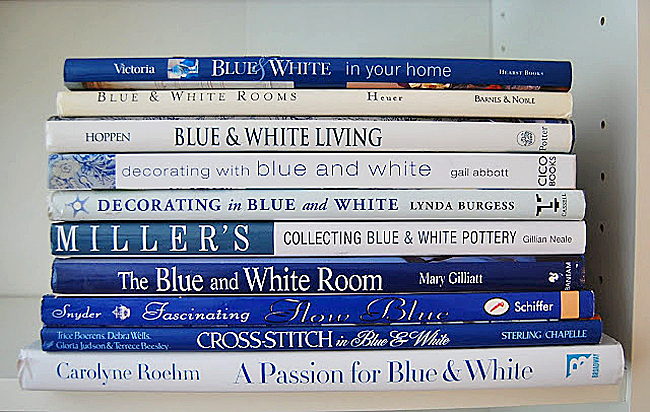 Notice the accents of yellow in this room. Blue and white rooms are gorgeous alone, but if they feel a little too stark, add a few touches of yellow to soften them. You can see how it softens this family room. It did the same for my guest room and upstairs family room.
The other thing I noticed about this room is the symmetry. It has just enough with the matching built-in bookcases, vases/plates above the bookcases and the blue/white chairs. Too much and a room starts to feel stiff or contrived. This is juuust right.
This lovely seating area may be across the room or nearby since it has the same window treatments. I don't always like a painted-brick fireplace but these look great with this design. Keeps the room light and airy.
Beautiful eating area with a bay window. How do you like the painted floors? I love them in this space!
Love all the wainscoting and fabulous built-in shelves for displaying collections. Such a cheerful, happy house!
I love so many things about this entry space, especially the warmth of the wood chest against the crisp white walls. The blue and white color scheme continues here, too. Now, help me figure this out…is that a round window there on the left or a mirror.  What do you think?  So far, the consensus in the comments is that it's a mirror.  Must be reflecting a column through a window on the front of the house or maybe there's another column in the entry.
Upstairs the bedrooms are all just as beautiful.
Our color scheme has switched to green and white here. Again, bright, light and beautiful!
Another beautiful bedroom…we only get a small view of this space, a little tease.
Another beautiful bedroom…did you notice all the walls in this home are painted white? They don't feel at all boring or plain though because of the depth, interest and texture the wainscoting, molding and plank walls add to each of the rooms. If you google "plank walls" you'll find lots of inspiration online for this wall design.
Hope you enjoyed this little tour. All the photos in this post were taken by Werner Straube and you'll find additional pictures of this beautiful home here: Tom Stringer Design Partners
*If a post is sponsored or a product was provided at no charge, it will be stated in post. Some links may be affiliate links. *