You know that little yellow cottage I'm always dreaming of–the one that's actually a playhouse but I'm just so sure could be built to real-life size? Well, hold onto your knickers because I think I found it in real life form. Yep, I'm pretty sure I have and we can actually go inside!
It's available for purchase but unfortunately not in an area where I can move. Plus, it's a bit outside my budget. Okay, it's a lot outside my budget, but it's definitely a dream cottage and proves this darling playhouse could be built in real life. Yes it could!
Here's a picture of my dream cottage…that's actually a playhouse and completely adorable.
So, what do you think? Notice the similarities between this charming, historic (105 year old!) Connecticut cottage below and my dream cottage above. They both have a sweet porch and dormer windows. Both have a window boxes overflowing with flowers and a gate with an arbor overhead. Both exude cottage charm–not too big, just the right size. Look! The real cottage even has the fireplace I had mentioned I would want in my dream cottage.
Ummm, wonder how it would look painted yellow and surrounded with a little white picket fence. 🙂
Let's go inside and check it out!
You know I love that red door…got a thing for red doors! Beautiful hardwood floors and soft yellow walls. Wonder if the yellow paint is Sugar Cookie? Now that would be spooky wouldn't it…if it was painted with my fave, yellow 'Sugar Cookie' paint.
Love the field stone fireplace! Imagine curling up here in front of the fire on a cold winter's night, hot chocolate in hand as snow softly drifts down outside the window. ~~~sigh~~~
Looks like there are some built-in cabinets there to the left of the fireplace. Let's check out the reading nook.
I could see this little nook outfitted with a couple of plush, comfty chairs, a shared matching ottoman and a table with a lamp in between. I can't help myself, I'm decorating this storybook home in my mind as we go. Do you do that?
The kitchen has cottage charm written all over it.
Notice the handy storage bins built into the cabinets. Love a hidden fridge!
There's a little desk for cookbook perusing and planning out the week's menu.
Here's another little nook for lettering writing and dreaming. Let's go upstairs…I think you're going to love the upstairs.
A little place to sit and enjoy the waterside view out back. Just wait until you see the view! Notice the wonderful paneled doors…love those in lovely old homes.
A darling bedroom with a darling dormer window…love! A room like this requires a bit of creativity for placing the bed. I like how they have in on an angle. I love seeing beds done like that. I have a similar layout for my guest room.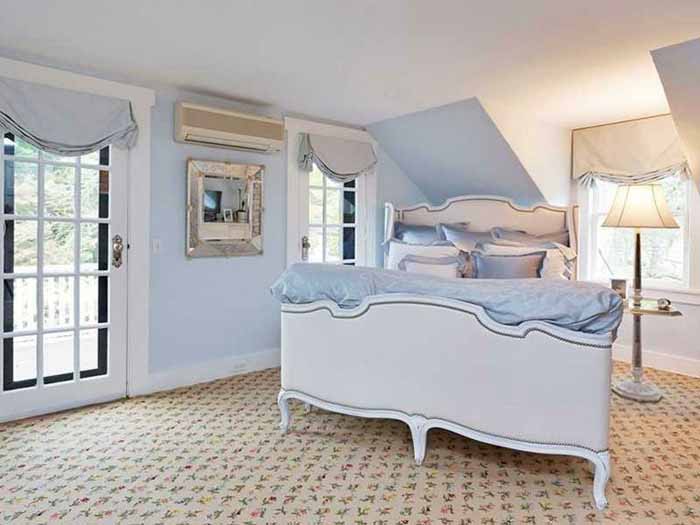 There's even a fireplace in the master bedroom, the one I mentioned in my dream post. It's uncanny how close this home resembles my dream home!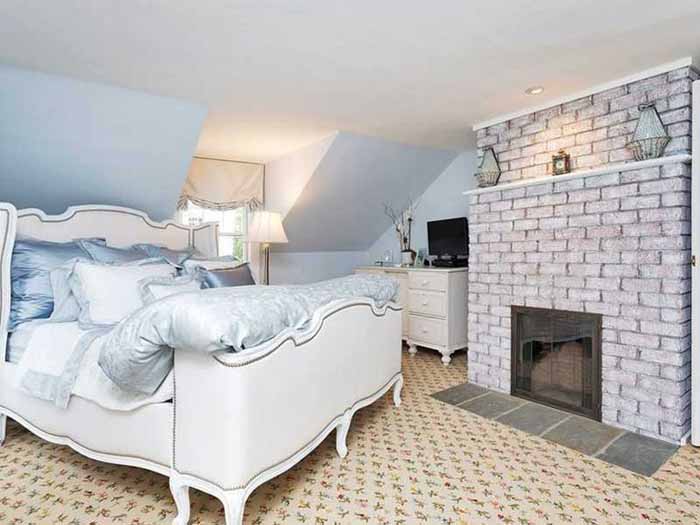 The other bedroom is just as charming!
The bath appears to have been fully renovated. I think this home has two baths, per the listing. Okay, let's go check out the view.
I'm not sure there's room for that big screened porch I envisioned, but this porch is pretty awesome.
Ohhh, there's an upstairs porch and the front porch is a wrap-around porch, too. Very cool! Love all the porches!
Wow! Could the view be any more beautiful?! Yep, it's a dream cottage!
You'll find additional photos of this wonderful cottage at Houlihan Lawrence where the pictures in this post were found.
Love a great storybook cottage? Take a tour of this French Country Cottage here: French Country Cottage With A Dream Kitchen
*If a post is sponsored or a product was provided at no charge, it will be stated in post. Some links may be affiliate links. *