It's the year 1930 and Ethel is sitting at the kitchen table of her best friend, Lucy. It's their morning ritual, they always start their day visiting over a steaming cup of Lucy's amazing coffee while feasting on a big plate of Ethel's homemade biscuits.
This morning is different, though. Ethel has some news, some really big news! This news is so big she's thinking if she doesn't get it out right now, she's going to bust!
Lucy, knows something is up, she's never seen Ethel so fidgety, so talkative. Not able to stand it another minute, she asks, "Ethel, what is going on? You're hiding something, something big! C'mon! Spill the beans!"
Unable to contain her excitement any longer, Ethel blurts out, "We did it! We ordered our home last night, right from the Sears catalog! We're getting, The Lexington!"
It wasn't just the kids pouring over those Sears catalogs back in the day! From 1908 to 1940, you could order a home from Sears, Roebuck and Company through their mail-order Modern Homes program. Sears sold between 70,000-75,000 mail-order homes during that time period.
The Modern Homes designs ranged from fancy three-story versions known as Honor Bilt that were sturdy enough for areas of the country where the winters were snow-covered, to less expensive models (Standard Built) better suited for southern states where the winters weren't as brutal and where the summers were hot. There was even a 2-room style (Simplex Sectional) that was just right for a cottage at the beach or on the lake.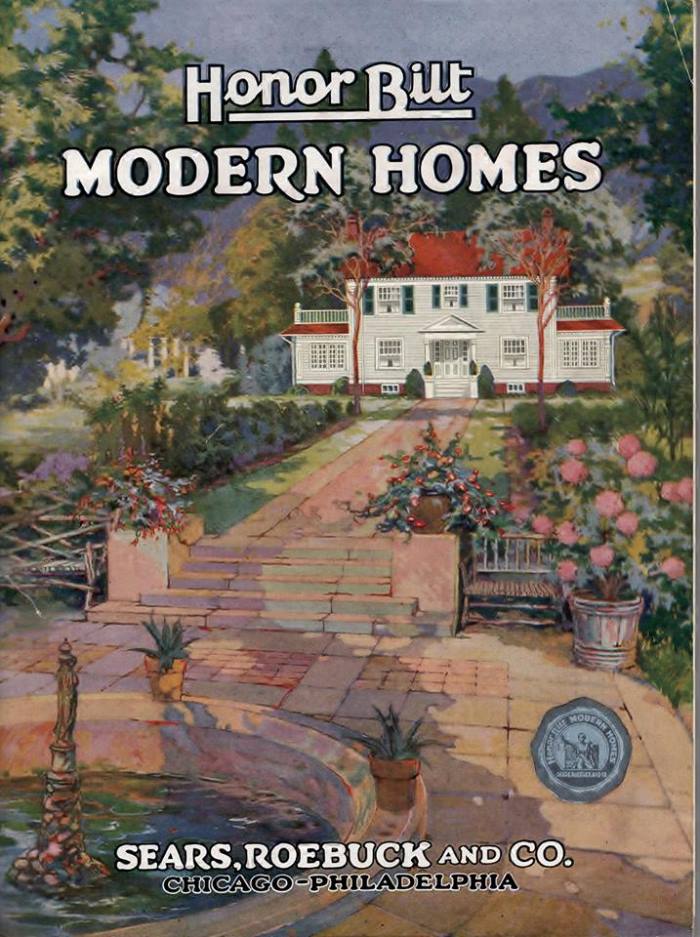 Are you as fascinated over the idea of building a home from a mail-order kit as I am? Is that not just the most amazing thing! I wonder how long it took the average family to save up to buy their Sears, kit-built home?
Today we're going inside a Sears & Roebuck Craftsman in the Venice area of California. The listing says, "This home–originally a 1923 Sears & Roebuck craftsman–has been completely rehabbed and now combines period detail with contemporary convenience." (See print screen of real estate listing below)
Isn't it an adorable home! Sears mail-order homes can sometimes be a little tricky to recognize because homeowners were encouraged to add their own touches to make them their own. So the homes can be as different as the owner, with extra dormer windows added, a bigger porch, extra trim, etc….
It makes me feel almost teary-eyed to think of the hardworking families who ordered these kits and put their homes together with their own hands, creating a safe haven for their family.
Let's go inside and take the tour!
No entrys back then, you would have walked right into the living room. I wonder if there used to be a wall separating the living area from the dining space. Would love to see the original floor plan for this home.
Cute kitchen!
The listing says it's a "period kitchen." I wonder if these are the original cabinets. Love the flooring!
It looks so much bigger inside than I expected!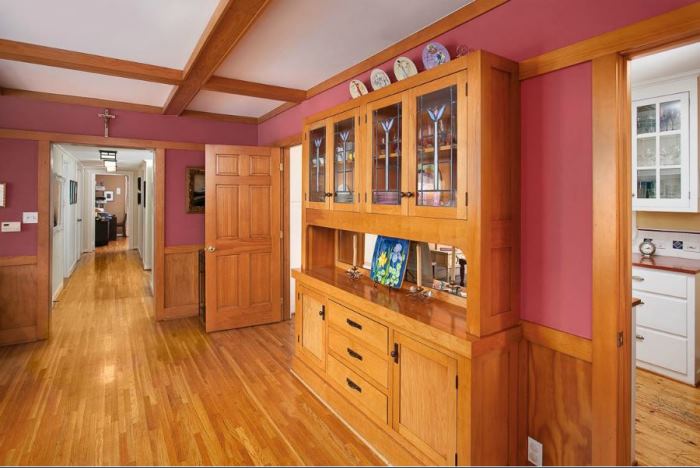 Love how so many of the rooms have access to the beautiful gardens.
This Sears Craftsman home has 3 bedrooms and 2 baths. It has four sitting porches…love that! We can just see one of the porches through the open door.
Huge room…love that it has a fireplace.
A sweet nursery or child's bedroom.
Here's the third bedroom. I hope the windows are original although I'm guessing that would be pretty rare to find.
Pretty bathroom with double sinks…the flooring looks original.
Loving the size of the rooms in this house!
The second bath. Such great bathrooms!
Looks like there's a cute building out back, too.  Notice the stone/rock patio…really like that!
What a great home! Notice how it looks around the roof-line, particularly on the corners. In my research I read that the way the corners were designed is one way to spot a Sear's Modern mail-order home. Apparently the corners look very different on non-kit houses.
I'd love to learn more about these houses! I just ordered two books on Amazon about them…this idea of mail-ordering a home from a catalog just fascinates me!
Do you know anyone who lives in one of the Sears, Roebuck and Co. Modern Homes sold during the period 1908-1940? Do you live in one? Wonder what it would cost to mail-order a house today! Wonder how many are still standing…I hope a lot!
You'll find more information about this home in the listing HERE where the pictures in this post were found.
*If a post is sponsored or a product was provided at no charge, it will be stated in post. Some links may be affiliate links. *