So, you know how we sometimes talk about how we would love to live in a "storybook" house…a cottage so wonderful you would think it came right out of a fairytale? Well, now you can! Someone has built a real, live storybook home and we're going inside today to see it in all its adorable whimsy.
A view of the outside and you already know this house is special. Look at that roofline! I'm pretty sure if you look up "whimsical" in the dictionary, you'll find a picture of this precious cottage.
Check out the chimney…straight out of a fairytale, isn't it? Love that window beside it! It reminds me of an eye! I've seen eyebrow arched windows on historic homes but this one really has the shape of an eye.
Not sure if this is the front door or a side/back door but if we knock, I'm pretty sure Snow White will answer. Look at the design of the rock all around the door! Oh my gosh…sooo cute!
Okay, let's go inside! Do you think elves live here? You go first…I insist. 😉
The inside is just as whimsical as the exterior. This home is thirty+ years old and the article I found said the home was recently rebuilt from the ground up. They invited the original stone mason back to do the work so the home would retain its original character and authenticity.
Beautiful fireplace! Wow, I could spend all day in this spot.
Did you notice this window in the larger view of the living room? A whimsical window for a whimsical house.
The kitchen is beautiful with cherry wood cabinets.
Great view for dining!
The home has two bedrooms, I'm guessing this may be the master bedroom.  The cottage is 1,435 square feet and there's also a guest house that's 910 square feet in size. The floors are wide-plank hardwood flooring…pine, cherry and ash.
Such a sweet bedroom…love those windows!
Even the bathroom has a whimsical feel with its fairytale stone and brick work.
A view of this storybook cottage at night.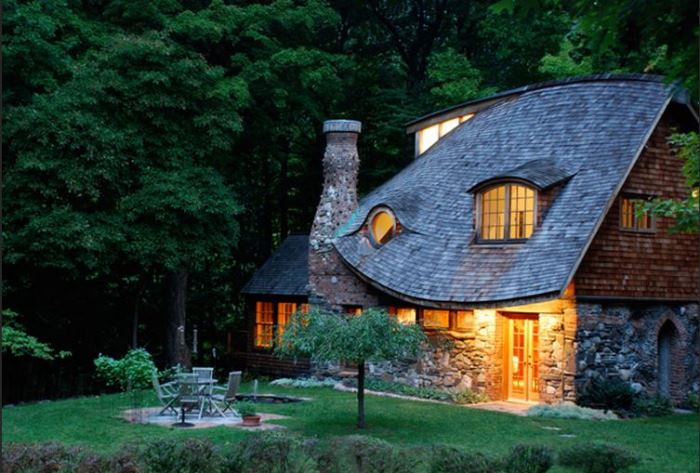 Such a sweet home! This home is located in Rhinebeck, Hudson River Valley, just  1 1/2 hours from New York City. Would make a great weekend getaway, wouldn't it?
There's a website with information about this storybook house. You'll find it here: Storybook Cottage
Love a storybook cottage? Me, too! Another one of my faves is Fig Tree Cottage pictured below. Take a tour of Fig Tree Cottage in the Tamborine Mountains here: A Storybook Cottage Reminiscent of Rosehill Cottage in the Movie, The Holiday
*If a post is sponsored or a product was provided at no charge, it will be stated in post. Some links may be affiliate links. *