Welcome to the 580th Metamorphosis Monday!
I was hoping to share a little cabinet Before and After with you for this week's Met Monday, but as usual, there was some kind of glitch with the delivery. CabinetGate continues.
I never even got to see and reject the chipped and broken pieces this time. After staying home the entire day to await their arrival, they never showed up despite tracking showing they were, "Out for Delivery." When I checked the UPS website the following day, tracking showed this below. Grrrr.
I'm guessing they were damaged again for the millionth time. I can't imagine the shape they must have been in this time since in the past UPS delivered them no matter how badly broken up they were. ~~~sigh~~~
If you would like to read a bit more about this never-ending issue, check out this previous post: CabinetGate: Progress Has Been Made.
Historical Brookfield Plantation
So, how about a beautiful home tour instead?! Brookfield Plantation is an 1875 Victorian Italianate Estate surrounded by 16.78 acres, located in Griffin Georgia. In addition to the main house, there's a party barn, horse stable, two guest cottages and "the Old Mills Smoke House."
I love this view of the home…just look at all that gorgeous molding! The wide cornice with brackets is one of the main features of Italianate Architecture. It makes me think of a beautiful, multi-layered wedding cake.
Brookfield Plantation is listed on The National Historical Registry. Let's go inside and take a tour.
Such a beautiful entry!
Looking back the other direction, you can see that the home has both a front and back entrance. Reminds me so much of the beautiful historical homes I've toured along the James River near Colonial Williamsburg. Those homes needed two "front doors" since they also received visitors from the river side of the home.
Here's how that second entrance looks. It's just as pretty as the front entrance!
Just look at those gorgeous heart pine floors. So beautiful!
I love the 12-foot ceilings throughout this beautiful home!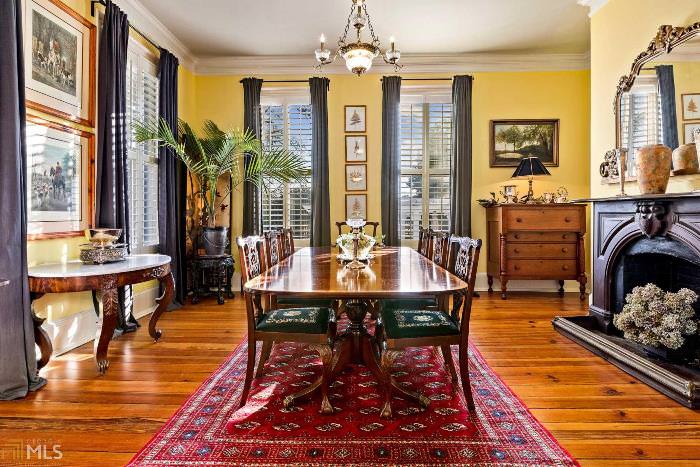 I noticed the home also has plantation shutters throughout. I love those so much and have added those throughout my own home.
Notice the dining room chairs with their beautiful needlepoint seats. That's an old southern tradition, having needlepoint seats for your dining room chairs. I remember my mother-in-law had beautiful needlepoint chairs in her dining room, I think done by her mother-in-law.
Love the fireplace here in the kitchen!
Don't you just love when the refrigerator is hidden from view! The cabinetry reminds me of those beautiful heart pine floors we saw in the other rooms of this home.
There's a butler's pantry!
The master bedroom is located on the main level of the home. Love this gorgeous antique 4-poster bed. It reminds me of Bunny Williams's bed in her book, An Affair with a House.  If you don't already have that book, order it! You will love it!
Let's head upstairs and check out the other bedrooms.
This home appears to be in such beautiful condition. I love that the heart pine floors haven't been covered up with carpeting.
Another cozy bedroom…
I wish bedrooms were still this size in homes today.
The other thing I love about old homes is how there are always windows on two (sometimes three) sides of the room. I guess they were designed that way to create nice airflow since the homes weren't air-conditioned back then.
These gorgeous floors are killing me! I would buy this home just for the floors! Seriously! Have you ever seen more beautiful floors?!
There are a lot of buildings on this property, including two guest cottages and this wonderful party barn.
Can you imagine all the fun parties this barn has seen!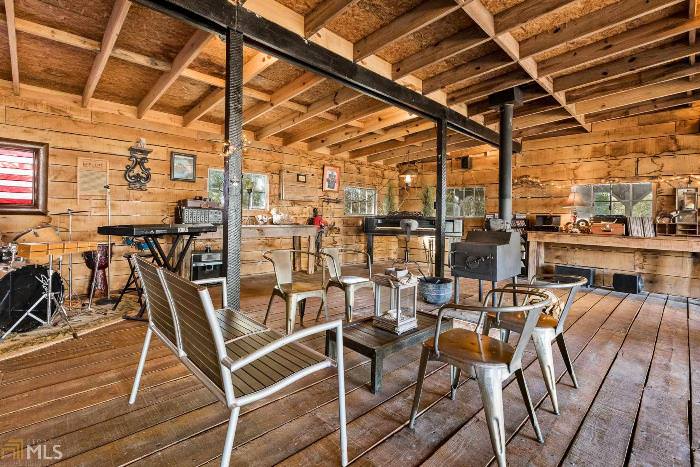 There's even a built-in kitchen!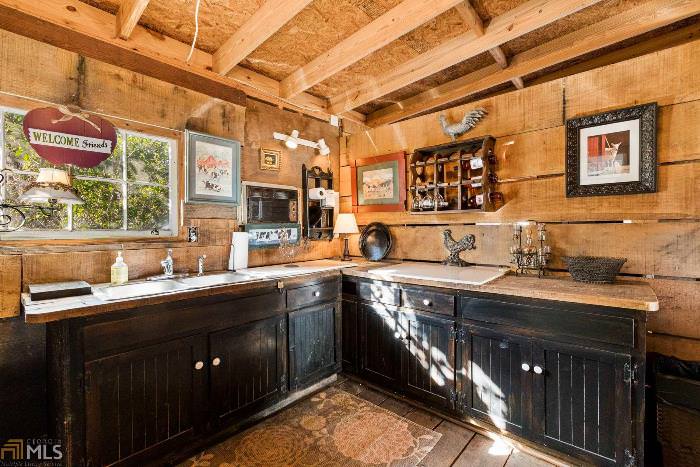 This is one of the guest cottages, both cottages are adorable!
If you would like to tour the two guest cottages and the other rooms inside the main home that weren't shared in this post, you'll find many additional photos here: Brookfield Plantation.
Looking forward to all the wonderful Before and Afters linked for this week's Met Monday!
Pssst: Did you know Between Naps On The Porch is on Instagram? You'll find me on Instagram here: Between Naps On The Porch.
Like to know when a new blog post is up and available to read? Subscribe for email updates, it's free and your email will never be shared.
Subscribe here: Subscribe for free post updates via email here: Subscribe.
Metamorphosis Monday
Metamorphosis Monday is a party that's all about Before and Afters. If you are participating in Met Monday, please link up using the "permalink" to your MM post and not your general blog address. To get your permalink, click on your post name, then just copy and paste the address that shows up in the address bar at the top of your blog, into the "url" box for InLinkz when prompted.
In order to link up, you'll need to include a link in your MM post back to the party so the other participants will have an opportunity to receive visits from your wonderful blog readers.
This party has ended, click button below for the links to all who participated.
*If a post is sponsored or a product was provided at no charge, it will be stated in post. Some links may be affiliate links. *