Annie Potts, does that name ring a bell? It sounded so familiar to me when a friend sent a link to her adorable Spanish Hacienda-Style home located in Tarzana, a neighborhood in the San Fernando Valley of Los Angeles, California. The home is currently on the market for $6.459 million dollars.
In case your memory is a little fuzzy like mine was, Annie got her first big break as the hilarious receptionist in the movie, Ghostbusters. She is also well-known for her role as Mary Jo Shively in the popular TV sitcom, Designing Women. (In the picture below, Annie is the first one on the left.)
The very first thing you'll notice on a tour of Annie's home is this is a woman who isn't afraid of color. And surprisingly, the bold colors really work in this casual, happy home.
In this photo showing the front of the home, the front door is located just to the left of the green bench. It's kind of hidden behind a column.
Loved this view of the front porch area…soooo pretty! Let's go inside and take the tour!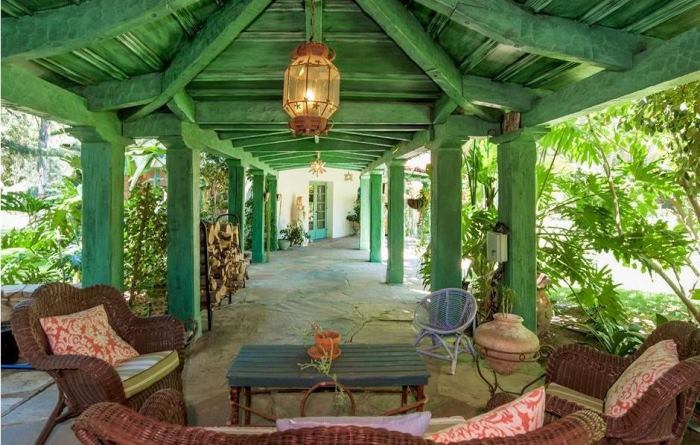 The arched doorway beautifully frames this entrance to the living room. Notice how you can see right through to that large wall of windows, and on through to the outside! What a stunning view!
In addition to an obvious love for color, Annie isn't afraid to mix patterns, either.
A colorful kitchen works well for this Spanish Hacienda-style home. I bet she uses Fiestaware dishes…would be perfect for this kitchen!
While doing a little research for this article, I read when Annie was overseeing the renovation/restoration of her home, she made sure every single detail was done exactly as it should be…down to the last screw and nail.
She was quoted as saying, "I'm a deeply demented person and I had to do that." lol I love that quote because it hits close to home. I'm sure some of the folks I've hired over the years to work in my home would describe me that way! 🙂
I wonder what kind of stove/oven this is here in the kitchen. I've never seen one like that. It doesn't really appear vintage but it looks like it should be vintage, doesn't it!
A view looking across to the hearth room or keeping room. What ARE we calling the hanging-out spot that's just off the kitchen these days?
Love the dining room! What a fabulous chandelier!
A cozy home office! Hey, I think Annie has the same little organizer I have…see it there on her desk on the left.
What do you think? Are they the same? If not, I think they are very close. I still haven't changed out the pictures on the front of mine…need to do that! (Home office can be viewed here: Organization & Storage For The Home Office)
Annie Potts' home is light and bright. Even the bedrooms have an open, airy feel!
Nothing feels matchy-matchy, Annie's home feels as if pieces were collected over time and she filled it with treasures she discovered and has loved over the years. I always prefer that style of decorating because it feels so real and yes, that much over-used word…authentic.
Another fun bedroom. This one may have been a child's room…I see trophies on the bookcase.
Hey, I know those pillows on the bed!
They are the same ones I have on my porch swing! Looks like I'm not the only one who likes to shop at IKEA for their down-pillows. 🙂  (Sprucing Up The Porch For Spring)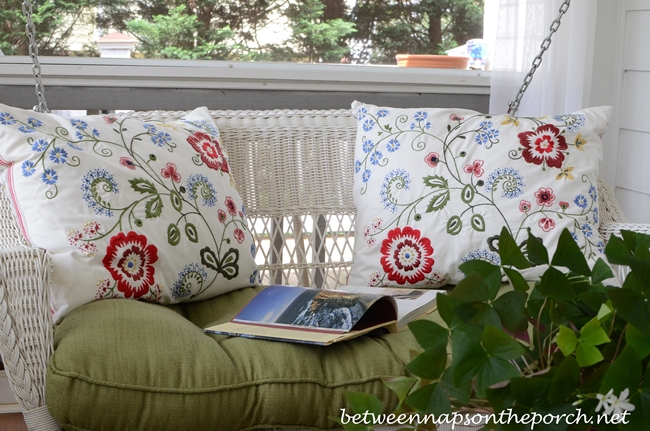 Have you noticed the mix of antiques throughout Annie's home? You can tell this home was put together with a lot of caring and love. I don't know Annie personally but in seeing her home, I have a feeling she is someone who takes the time to carefully choose every piece of furniture and decorative piece for each room.
You also get the feeling this is not a "show" home but a real home where real people live and enjoy life. Love the floor in this room and the view is gorgeous! Let's go outside and check it out!
Shhh, l think it's siesta time!
Wow! What a great outdoor kitchen! Notice how the breakfast room opens up to this outdoor area. Beautiful with all the fairy lights!
I've seen the Moravian Star pendant lights in several stores online…this one looks right at home in this outdoor space. I didn't realize they could be used outdoors. Maybe this is a special outdoor version of the light.
Wow! Okay, this is where you'll find me all day!
Everything becomes more magical at night, especially when twinkle lights are involved! Now if I could just get the dastardly squirrels who live in my backyard to quit chewing through mine!
A view looking back toward the home…this is paradise, isn't it?
Hope you enjoyed this tour of Annie Potts' Tarzana home! Here are couple more you may enjoy:
Take a tour of Kirstie Alley home here: Kirstie Alley's Maine Home on Islesboro Island
Tour Ron Howard's Greenwich Connecticut Home here: Ron Howard's Greenwich Connecticut Conyers Farms Home
You'll find many more pictures of her home where I found these pictures here and here.
*If a post is sponsored or a product was provided at no charge, it will be stated in post. Some links may be affiliate links. *