Welcome to the 337th Metamorphosis Monday!
When Frances Schultz, a contributing editor for House Beautiful, purchased a little cottage in East Hampton, she knew it had great bones, but it hadn't been updated in a very long time.
Frances herself had been going through a rough patch, having been diagnosed with breast cancer in 2004, followed by her mother's passing a year later. Frances threw herself into the renovation of her home and in doing so, healed herself and her sweet cottage that she affectionately named, Bee Cottage. Is that not the cutest name for a cottage!
Frances went on to incorporate a little bee design into many areas of the home, including this cute gate in her back yard. If I ever buy that cottage I'm craving, I'll have to think of a really cute name for it. How about Dragonfly Cottage? Too long? 🙂
Here's how the exterior of Bee Cottage looked when Frances first purchased it. I see hedges like that a lot in some of the neighborhoods in my area. Eventually, they just get too tall and leggy and it's time to pull them out and start anew. That's exactly what Frances did.
And a storybook cottage was born! By the way, this is kind of what I have planned for my front yard foundation plantings. I'm planning on using lots of boxwoods. I love the simplicity of this and especially love that it will be just this beautiful all winter long.
Unfortunately, when I priced the boxwoods I want to use, they are super expensive and I need a good many. I'm determined to get it done, though. Soon! I'm saving this picture as inspiration, absolutely love how this looks!
Let's go inside and see what Frances did to the interior of Bee Cottage. The "Before and After" pictures are nothing short of astounding!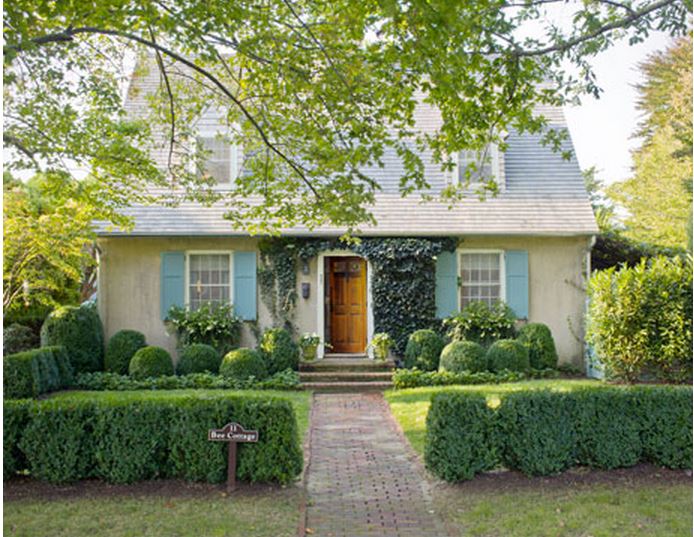 The rooms in Bee Cottage are modest in size as you might expect in a cottage home. The ceilings are a normal 8 foot in height. This was the living room before Frances worked her magic.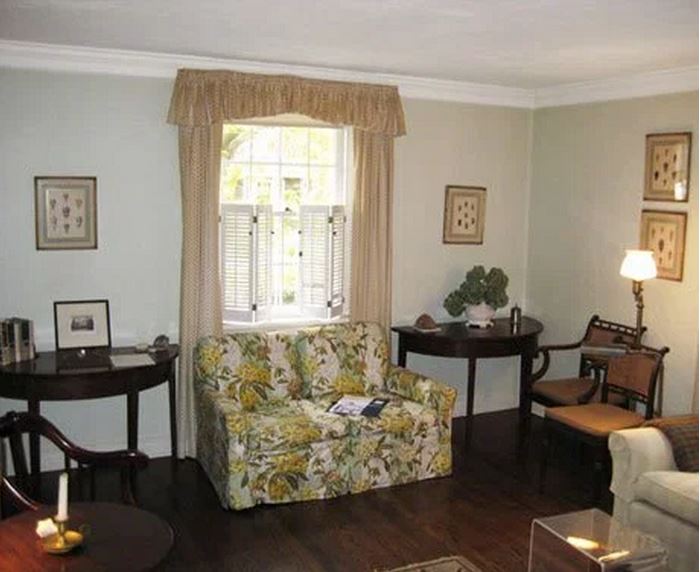 How this for a beautiful transformation! I love, love, love this color of green! So beautiful!
This room in the home was referred to as the Garden Room.
Here's how it looked after its makeover. At first I thought the sofa was the same as the one in the living room, but they are different styles. It looks like Frances may have used the same fabric, though. I'm guessing these rooms are visible to each other and that may be why they coordinate so well together. That sofa looks so comfortable…like you could just sink into it!
One look at the kitchen and you can see it has great potential. Just look at all that natural light pouring in! I love all those windows! So what did Frances do with the kitchen?
Wow! Such a big improvement!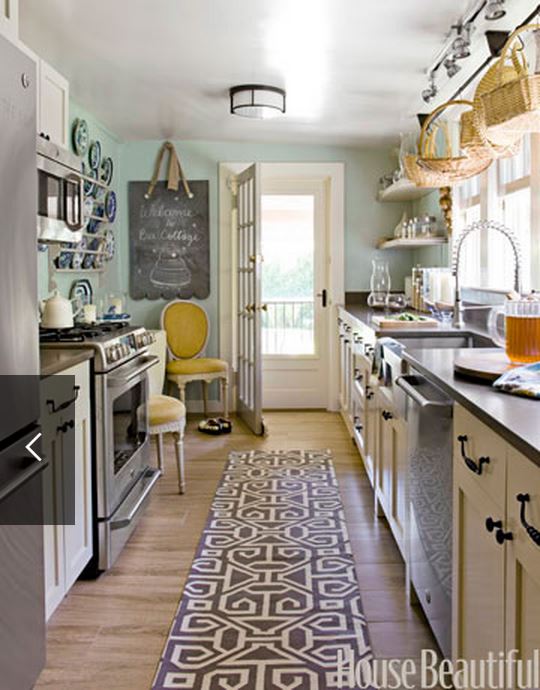 There's even room for a little breakfast nook in one corner.
This really is my dream cottage, it even had a Butler's Pantry! Unfortunately, the pantry had been turned into a laundry room so it wasn't really being used as pantry.
Here's how the Butler's Pantry looked after Frances got hold of it. Fabulous! Look at those beautiful wood counters and the wonderful blue ceiling! What a great room! I wonder where the washer and dryer ended up.
The dining room before its makeover…
And here's the After! Bright and beautiful! Let's go upstairs and check out the bedrooms!
Great built-in storage here in the upstairs hall.
This was how the Master bedroom looked before Frances gave it a makeover.
Notice how she camouflaged the slanted wall behind the bed. That's a bee motif/design on the coverlet…so cute!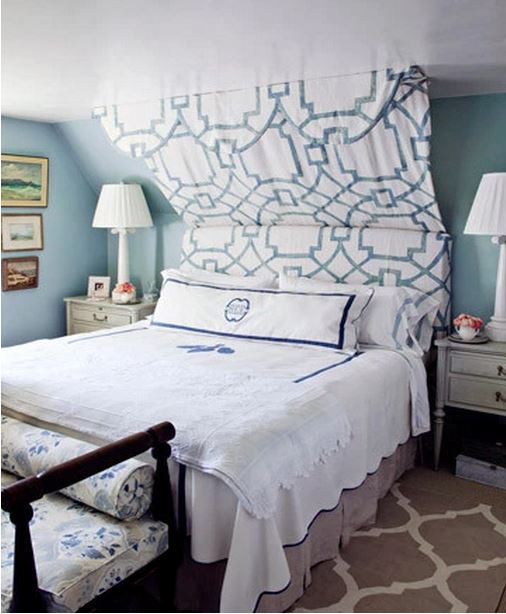 Frances included a little reading corner in her bedroom. I like the tiny shelf built in to what is normally dead space. Love the window seat!
I'm not sure what purpose this little niche here in the master bedroom served in its previous life.
Frances put it to work as a vanity/dressing table. Brilliant!
The guest room got a bold paint treatment using a gloss paint to catch and reflect the light.
The guest bath…
The back of Bee Cottage is just as adorable as the front! And look at that beautiful cottage garden!
Frances has written a book about her journey renovating her home and how the process brought her back to life. I have the book and it's a wonderful, heart-warming read. You'll find it here: The Bee Cottage Story: How I Made a Muddle of Things and Decorated My Way Back to Happiness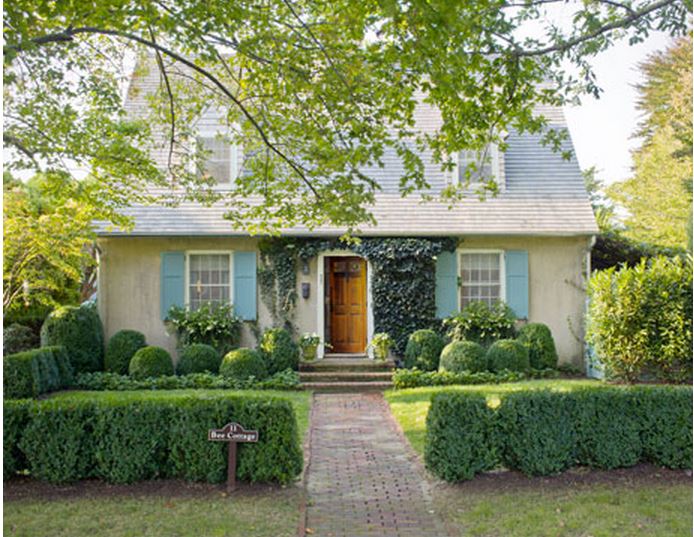 All the pictures in this post were found at House Beautiful online.
Looking forward to all the fabulous Before and Afters for this Met Monday!
Metamorphosis Monday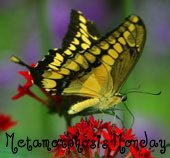 If you are participating in Metamorphosis Monday, please link up using the "permalink" to your MM post and not your general blog address. To get your permalink, click on your post name, then just copy and paste the address that shows up in the address bar at the top of your blog, into the "url" box for InLinkz.
In order to link up, you'll need to include a link in your MM post back to the party so the other participants will have an opportunity to receive visits from your wonderful blog readers.
Please observe these few rules:
Only link up Before and After posts that are home, gardening, crafting, painting, sewing, cooking, DIY related.
Do not link up if you're doing so to promote a website or product.
Do not link up a post that was just linked last week since a lot of readers will have already seen that post.
*If a post is sponsored or a product was provided at no charge, it will be stated in post. Some links may be affiliate links. *