When I read that E! host, Giuliana Rancic, was leaving the E! show and moving to Chicago where she and husband, Bill, currently own two restaurants (RPM Italian and RPM Steak) I wondered what kind of home they would choose. Their last home was decorated in a fairly traditional style so I couldn't wait to see what Giuliana had in mind for her new home. The Rancic's chose a wonderful old brownstone dating back to 1880 and asked designer, Lonni Paul to help with the interior.
A brownstone home can sometimes feel dark since they are often sandwiched in between other brownstones which prevents having windows down either side. To keep things light and bright during the cold rainy Chicago winters, Giuliana and her designer went with a light palette for the interior, combining linen fabrics in soft blue with lots of white. The draperies are linen with a light, blue floral pattern.
There's a lot of symmetry going on in this room with matching wall sconces, windowpane wingback chairs and urns for the fireplace mantel. You'll see a lot of contemporary art as we tour the home. It creates a fun contrast with the traditional furnishings.
The kitchen is beautiful with gorgeous Calcutta marble for the countertops and backsplash. You know right now this kitchen will never feel dated or out-of-style. This is a timeless design that will look great in twenty years.
I see a pot filler over their Wolf range, so convenient! I wonder if that's a wine cooler or sub-zero glass-front refrigerator to the right of stove? As close together as the shelves are inside, I'm guessing it may be a wine cooler. I wonder where the refrigerator is…must be out-of-view in this picture. Oh, I see the breakfast room there in the distance; let's go check it out!
A built in banquette was added to the breakfast area. This is a nice spot for breakfast with lots of great wake-you-up sunshine streaming in.
Giuliana and Bill enjoy collecting art and chose a mix of eclectic pieces for their home. I think I would have preferred a grouping for this wall above the sofa. This piece seems to mimic the shape/length of the sofa too much, it just doesn't feel right to me. I can envision a beautiful arrangement of paintings or prints above the sofa or maybe a mix of family photos. What do you think? Do you like the limo print here?
Love the ottoman coffee table. I saw one that looked so much like this in Marshalls a few months ago and the price was a steal. I was so tempted to buy it, but I resisted since I really had no place for it.
I'm crazy about the damask pattern they chose for the wall! At first I thought it was wallpaper but the information I found doesn't say if it's wallpaper or hand-painted. I'm leaning toward wallpaper because the pattern is so regular and consistent. What do you think?
One of the things I love about the design is it feels wonderfully old, like a paper that could have been original to the home and was uncovered during a restoration. The beautiful chandelier is from Windfall Contemporary Crystal Lighting.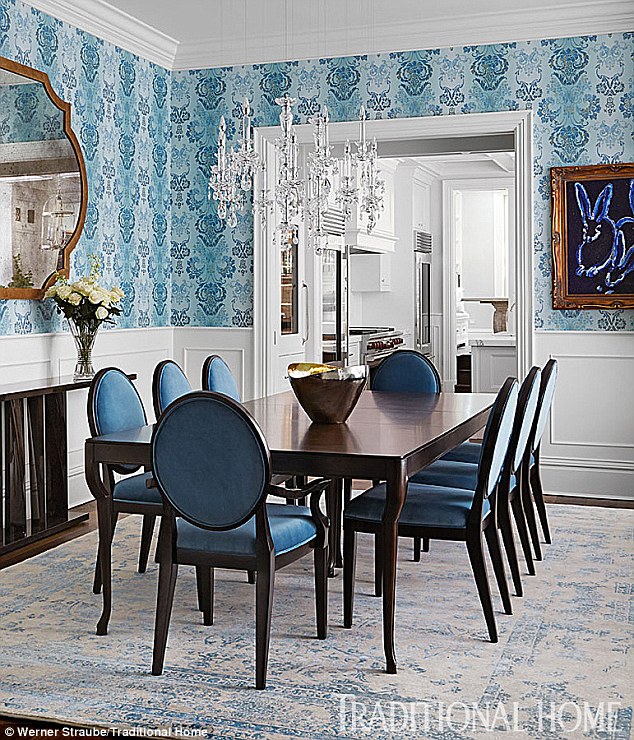 The Rancics added a cozy library to their brownstone.
The blue pallet we saw in the living room continues here in the master bedroom with silk wallpaper from Phillip Jeffries. The wood and iron bed is from Bernhardt, as are the side tables.
The master bedroom also has a sitting area.
Their bathroom and master closet is two stories tall! I've never seen a design like this. The bathroom is huge and what a fabulous shower. Their designer, Lonni Paul, created the tile design seen on the shower wall.
The upstairs has additional closet space and storage. If they wanted to keep this area open to the downstairs, I wonder why they didn't glass in that section of the floor so you could walk across it. I've seen that done before in some of the "extreme" homes showcased on HGTV. They either used a really strong glass or plexiglass, something like that, and you could walk right on it. Has anyone else seen that done?
This just seems like so much wasted space, having it walled off this way. I probably would have just kept it closed and put a big island with drawers, etc… in the middle, but then I'm super practical when it comes to closets. I'm sure they wanted the extra light streaming into the bathroom below from the skylight above.
Duke's nursery/bedroom is adorable! He must really be into planes. So cute!
Duke has his own playroom, too!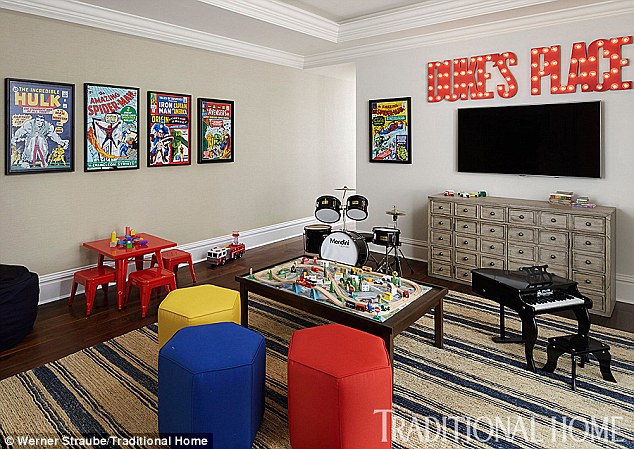 The guest room has a feminine feel and is soft and serene with pink wallpaper from Mary McDonald for Schumacher..
The media room includes a pair of chaise lounges for comfortable movie watching.
The back of the Rancic's home was designed for entertaining. Look at those great lanterns! Wouldn't it be awesome if they were electrified and automatically came on in the evening. Wouldn't be surprised!
I love the combination for the red brick and wood in this space. I wonder if they have a grassed backyard behind this area. Since it's not open at all to the back, it may not face out onto a yard. It looks like that back wall may have been designed to block the view of whatever is behind it.
Heat lamps were installed in the ceiling so this area can be used even during the cold Chicago winters. Amazing!
You can see more of this beautiful home and read more about its design at Traditional Home where these pictures were found.
*If a post is sponsored or a product was provided at no charge, it will be stated in post. Some links may be affiliate links. *