Recently, we toured Turkey Hill, a home that's well known for having once belonged to Martha Stewart. Today we're touring a home she currently owns called Cantitoe Corners. Cantitoe is located in Bedford, New York.
The outside has a monochromatic color scheme.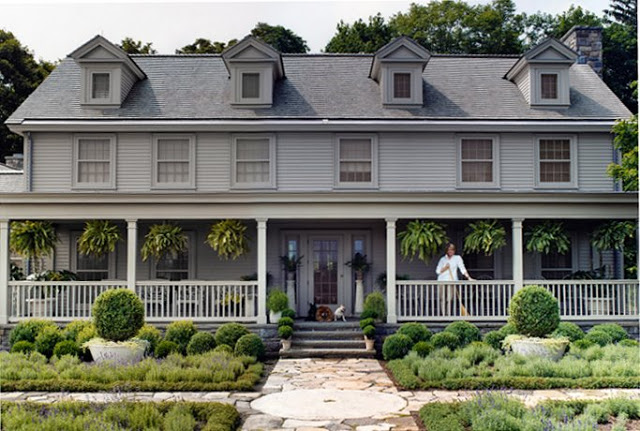 Remember this photo from the early years at Turkey Hill?
The kitchen… Martha has traded in her copper cookware for stainless.  I guess stainless does look better with the stainless appliances than the copper would. Update: Amy mentioned in the comments that Martha has her copper cookware in her stable kitchen. Thanks, Amy! So glad she didn't get rid of it!
Love the double islands…can never have too much space for cooking and prep.
Such a unique way to store spices…
Fancy set up for coffee. Since I'm not a coffee drinker, except for the occasional glass of iced coffee, I'm not up to date on coffee machines. Is this an espresso machine? You coffee lovers out there will have to help me out with this photo. 🙂
While we're touring kitchen's let take a look at Martha's kitchen in her home in Maine.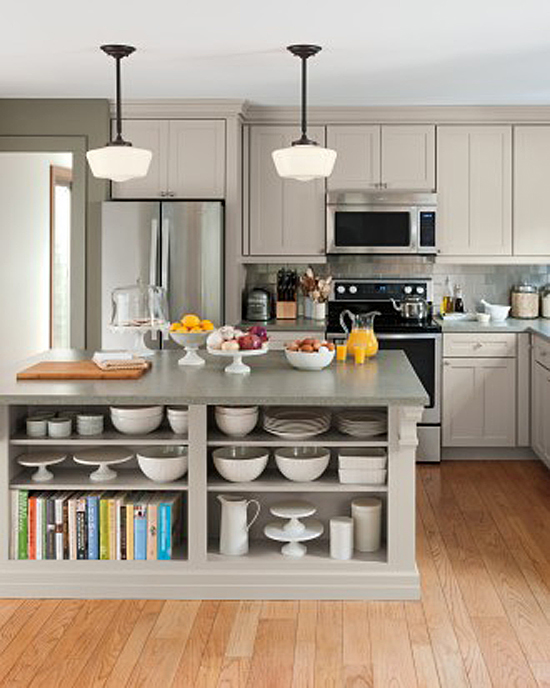 Looks like Martha knew we were coming and is busy baking us some oatmeal cookies! Her canisters look so much like the ones I purchased a while back when I was sitting up my mini version of the baking center from the movie It's Complicated. Remember that? If not, you'll find that older post here: Kitchen Tweak: It's Complicated Baking Center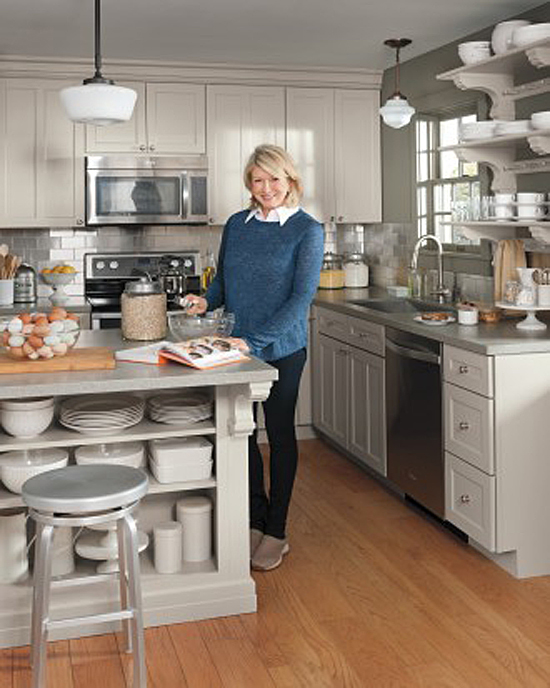 Another view of the kitchen showing some open shelving. The lights remind me of the lights we had in my grammar school…back in the dark ages. Anyone remember those? Google "schoolhouse lights" and you'll find quite a few that look very similar.
And there's our hostess, now. Thanks for letting us stop in today, Martha. Is it okay if we tour a few more rooms? I think she nodded and said, yes. Let's go quickly before she changes her mind!
Love this bed in the master bedroom from Martha's site. It's from her Skyland home.
This may be my fave room of all, the craft room. What a great layout for this space with its quirky ceilings.
Martha always has some of the most beautiful cats! Don't you love this craft space?! Actually, all this furniture is available through Home Decorators Collection online.
Hope you enjoyed this tour of Cantitoe Corners.
Check out Martha's beloved Turkey Hill home here: Turkey Hill, The Newly Renovated Iconic Home of Martha Stewart
Photos in this post were found at Martha Stewart dot com
*If a post is sponsored or a product was provided at no charge, it will be stated in post. Some links may be affiliate links. *