Paula Deen is moving. y'all! She's put her beautiful Savannah river home, Riverbend, on the market, saying she's craving a simpler way of life when she's at home.
Her home is located alongside the Wilmington River and if you're ever in Savannah and want to catch a glimpse of it, the address is 818 Wilmington Island Road, Savannah, Georgia. I'm not sure if it's visible from the road since the listing describes it as being "secluded."
The home was designed and built in a style known as "French Caribbean." It has 8 bedrooms, 9 baths, 2 guest cottages, a large barn and an 8 car garage. It also has a gourmet kitchen with commercial grade appliances (of course!) and a wonderful English style pantry.
Let's take a tour of Paula's beautiful river home currently on the market for 12,500,000.
Looking at the front porch entry, you get a sense the home is going to have an elegant look and feel before you even step inside. Beautiful lanterns!
The flooring just inside the front door is gorgeous! I wonder if that's wood inlaid with tile or a faux finish. It looks more like a faux finish, what do you think?
I can just make out a trifold Venetian glass mirror hanging there on the right. Notice the washed, beadboard ceiling!
You're going to see a lot of shutter design in this main area of the home. I guess that's part of the French Caribbean style. In a real French Caribbean home, I bet the shutters were opened and closed to control the breezes blowing through the home.
The living room is done is soft neutral tans, creams and aquas.
I wonder if the pedestals are made with river rock? Would be fitting for a home along the river. Every thing about the finishes in this room is soft and soothing. Even the walls have a soft treatment, almost looks like water, doesn't it?
Love the color of the floors. Really dark stained floors would have felt too harsh for this room since it's done in such a soft palette.
Here we get a better view of the room as a whole. Looking at the outside of the home, you would never guess the ceilings soar upward in this way!
Paula's kitchen was designed with lots of custom touches including commercial grade appliances. In this HGTV interview, Paula says her show wasn't filmed in this kitchen but was filmed in a different home.
The copper stove hood was custom-made. Notice all the different finishes used in the design of the kitchen. You have light painted cabinetry, green painted cabinetry and stained cabinetry. Ummm, on second thought, looking at the picture above and this one below, I think the cabinets that look green above are actually a cream color.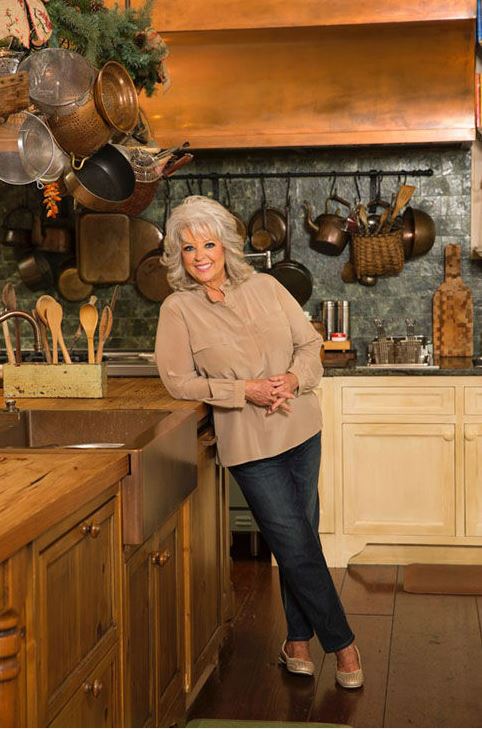 This kitchen feels like a mix of old and new to me…how do you like the pot rack directly above the stove?
The house has a Butler's/Dish pantry and I would love just five minutes in this spot! 😉 The brown shelving piece on the left is a Swedish antique that dates back to the 1400's. It's held together with wooden pegs and was originally used to let bread rise or cheese ripen.
Looks like she has a collection of Jadite, although that could be milk glass that just sort of looks green in the picture. The Elvis on the counter cracks me up! I wonder if he's a cookie jar? I love a ladder in a dish pantry, such a great way to access those hard to reach cabinets. This really shows you how tall the ceilings must be throughout the home.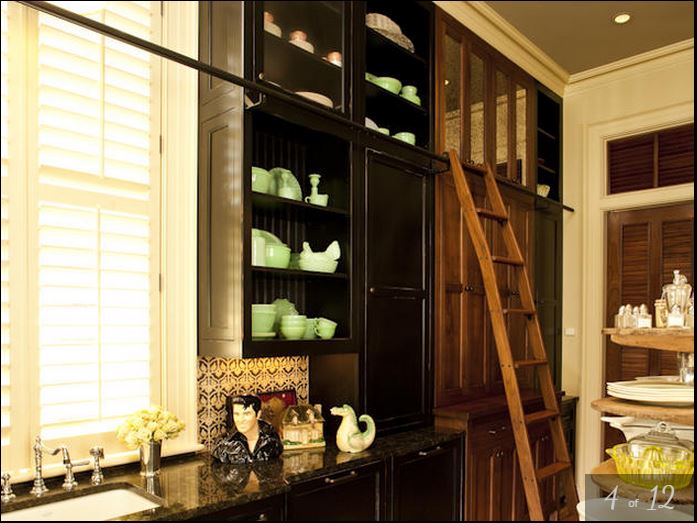 I think Paula has a pretty impressive dish collection. You may remember this picture I shared of her Christmas table when she still lived in her previous home. Shhh, don't tell anyone but I think I liked her first home better than her current one.
For this table setting, she covered the table in moss, creating a moss tablecloth.
The dishware she used is my favorite holiday/winter china by Lenox called "Winter Greetings." Wouldn't we love to get a peek into her dish collection!
Okay, back to our tour, this is the laundry room. Again, I think the cabinetry is probably a cream color, though it looks kind of greenish in the picture. Wonder where the washer and dryer are…maybe under the counter we see on the right.
The dining room has a fireplace for cozy dining in the winter.
Paula's bedroom is a serene oasis.
Such a beautiful bed!
This room is just off of Paula's bedroom. It's a large sitting area/dressing room/office. Such a beautiful chandelier!
Paula wanted her bedroom to be her hideaway, a sanctuary. Originally her designer put a big tub in the center of the room. Since she prefers to shower, she had it removed and added a fireplace with the seating area you see below. She also uses this area as her office and the French doors open out to the garden.
Another beautiful bedroom…the home has 8 bedrooms and 9 baths.
Of course there's a sweet nursery for her grandchildren.
The entertaining areas out back are amazing! There's an outdoor kitchen. Actually, this reminds me of one of her shows I did see. I remember Paula was cooking outdoors on some kind of grill, I think. It was for a gathering she was having with family and you could see the river in the background, as I recall. I really enjoyed that show because the scenery and outdoor setting was so pretty. Seems like I remember it being super windy that day and it was creating issues for her. Anyone else remember that episode?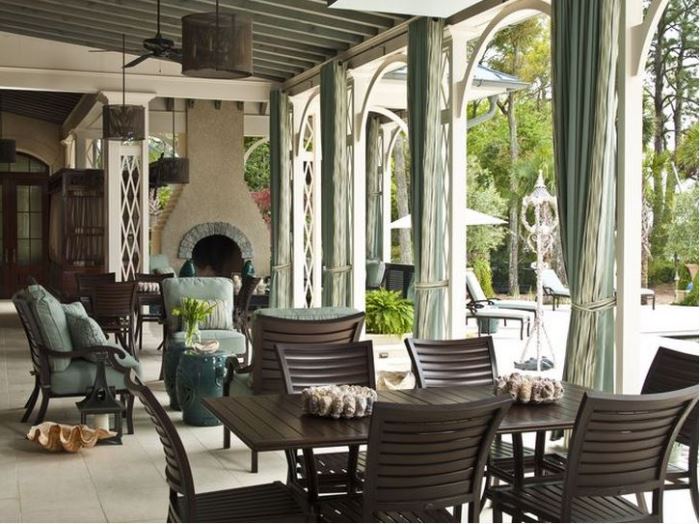 The beautiful pool, hot tub and sauna…
The gardens are just beautiful!
A darling guest cottage on the property…
Riverside dock and pier….
Hope you enjoyed this tour of Paula Deen's river home in Savannah, Georgia.
It's a beautiful home but I think I may have liked her previous home even more. It was a bit more homey, not quite as elegant as this house.
See more of this home at Seabolt Brokers where the majority of these pictures were found: Paula Deen's Savannah Home
Other pictures were found HERE and HERE
*If a post is sponsored or a product was provided at no charge, it will be stated in post. Some links may be affiliate links. *