I think I remember when my love affair with beach houses started. It was a few years ago when I flipped on the tv and Sarah Richardson was right in the middle of creating the most charming beach cottage I'd ever seen. Sarah's hubby had purchased the island home several years before, long before they met. Though very pregnant (already 6 months along) she decided to take on the challenging job of giving it a full makeover while filming it for a TV series. As I watched, I was amazed by how sure she was in her vision for their summer house and how beautiful it was turning out.
Sarah was truly fearless that summer. Despite being so far along in her pregnancy, she was often out scouring antique shops and flea markets for just the right pieces, all while overseeing the work being done on their home. Just the effort it took to get all the construction supplies and the furniture to her remote island home was a feat by itself!
Every room is a dream. I could totally buy a beach house, turn it over to her and walk away. There aren't many designers I can say that about but I love every happy, light-hearted room Sarah created in her island summer-house.
Sarah wanted the living room to be a room where the weather, good or bad, could be viewed fully. She wanted this room to feel light-filled and open and to take advantage of the great ocean views. In an article I read about her this home, Sarah said she was going for a "solarium" feel in her living room. To get that she included lots of great windows.
Sarah chose linen and twill upholstery fabrics for her living room furniture so the pieces in here would be comfortable, yet durable.
In an interview I read online, Sarah said, "The big change we made during the renovation was moving the entire east wall of the cottage out four feet – this allowed us to install a proper front entry and storage area, and it also meant the bedrooms were separated from each other by a hallway for a greater sense of privacy."
Sarah kept the walls of their cottage light but instead of going with white walls, she went with a soft neutral wash. I love how it looks with the floors and furniture. I especially love the warm wood look of the floors…so gorgeous! Notice the mix of seating around the table…a fun, casual look for a beach house.
A view looking back toward the kitchen…
I love the candelabra there on the counter because to me it symbolizes perfectly the feel of this summer cottage: a mix of rustic beach house with plenty of luxury built in for comfort.
Sarah used painted, chippy boards on the front of her eat-in bar area, perfect for that beach cottage look and feel.
The lanterns are perfect, they look like something a lighthouse keeper or boat captain might carry around.
One of Sarah's favorite areas of her beach cottage home is this sitting area. Ummm, I just noticed there's a door up high. Not sure where that goes but if there's a room on the other side, that first step through the door could be quite a surprise.
Sarah uses this area for curling up with a good book after a fun-filled day of swimming and boating.
I've seen this done before in an entry, and I love it! I'm keeping this in mind for that cottage home I'd love to live in one day.  I bet those kerosene lamps come in handy during bad weather.
Sarah's hubby loves the color red and he was super excited when Sarah agreed to use red in the master bedroom. Love the red and white life buoy hanging on the wall! Sarah recommends adding real pieces (like a vintage life buoy) to a room to give it a little extra charm and character. Notice the storage underneath the bed…brilliant idea for a small cottage home.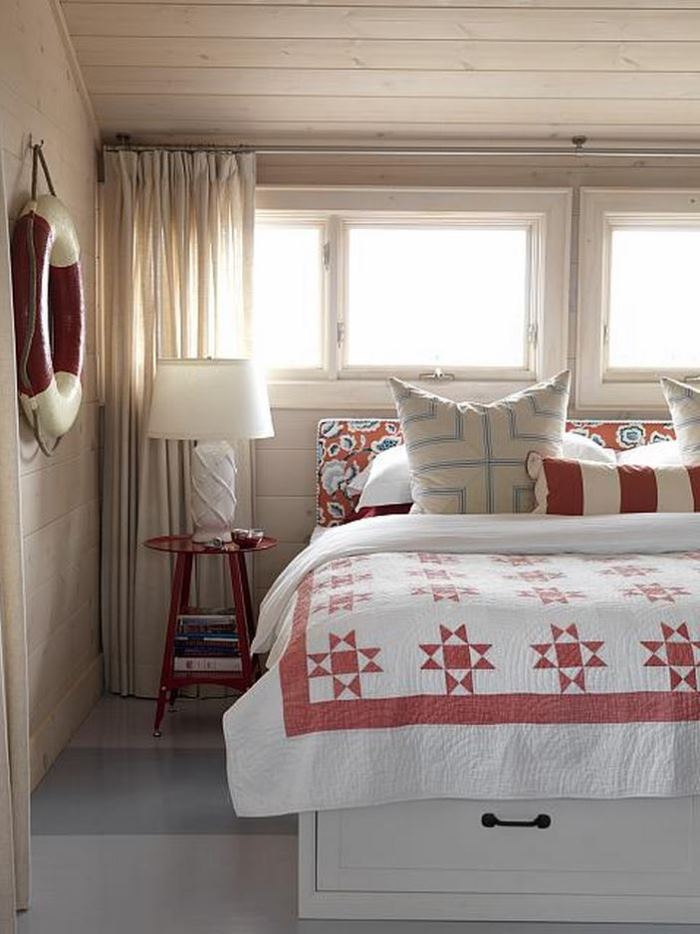 I captured this shot from an episode about the home. It shows the other side of the room with a vintage writing desk. The fabrics Sarah chose are so vibrant and pretty. Just because it's a beach cottage, doesn't mean you can't use some upscale fabrics. I love the subtle touch of blue and white in the striped pillow on the chair.
Notice how the chest adds so much warmth to this space, in addition to providing great storage. Is that red mirror not perfect?! Love!
Sarah said that their master bedroom didn't really have much of a view at all. She wanted to fix that and figured out a way to add a walk out deck just off the master bedroom.
Check out this magnificent view from the deck…Wow! I think she totally fixed that "lack of view" issue.
All the guest rooms are completely charming! I love the quilt hanging on the wall. Guests won't have to worry about wondering where to find a blanket in the middle of a cool night. Can you just imagine sleeping here with the windows open a bit, listening to the sound of the waves all night. Yes, please!
Another wonderful bedroom with great views.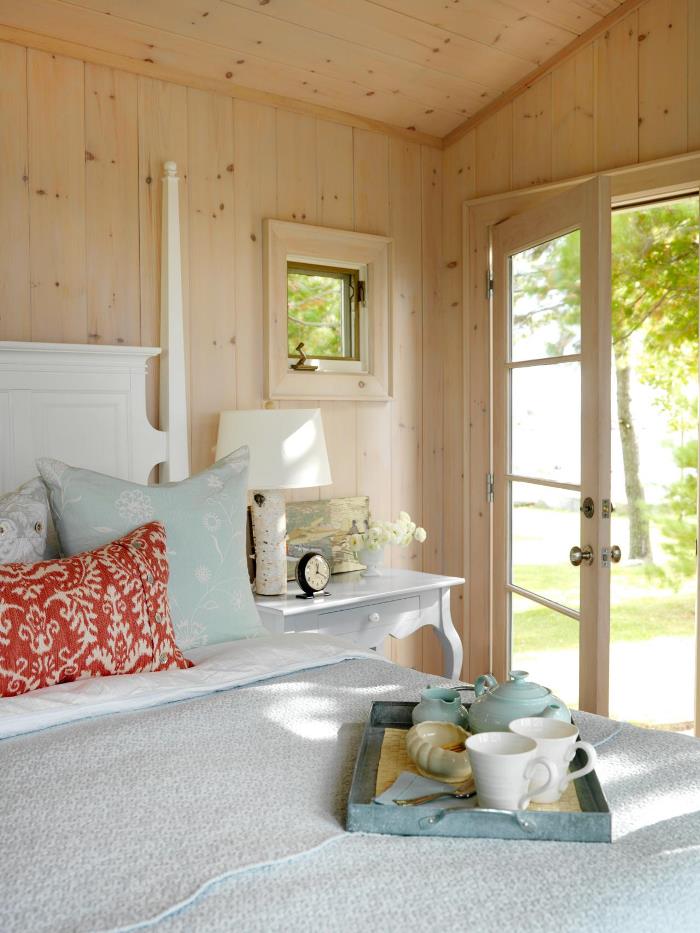 I think this cottage home only has one bath, but Sarah made it extra special. Notice the Venetian glass mirror…more of those touches of glam that make this cottage home feel extra luxurious in just the right spots. If I'm remembering correctly, I think Sarah and her sidekick, Tommy, found the vanity table while antiquing/thrifting and she had it made into a sink. That was one of the episodes that I really enjoyed and got me hooked on the series.
Love the colors Sarah used in this guest room. The next time someone tells you that every room in your home needs to be in the same color scheme so your house "flows," remember this cottage with its red and white master and blue and green guest room…not to mention the children's loft room yet to come.
In that same article mentioned earlier in this post, Sarah said, when rooms are small, fabric and pattern are important tools for giving it a lot of personality and interest. She followed that up by saying, "I want every room to have its own story and character. We've always referred to these rooms by their orientation, dubbing them "East" and "West" so I wanted the decor schemes to look completely unique and play on their views and exposure. "
Love, love, love all the painted pieces Sarah used throughout her cottage home. I never would have though about hanging quilts and throws on the wall but if you live in a cottage style home with fairly small rooms, it's a great idea for creating some additional storage. Plus, they can be really pretty…like art that can be put to work. 🙂
Sarah created a darling bedroom in the loft area of their beach house.
One of my favorite parts about this area were the two green buckets she hung on the wall at the foot of the bed. They are hidden by the wingback chair but they were adorable in the tv series stuffed with toys and other fun, kid-friendly goodies.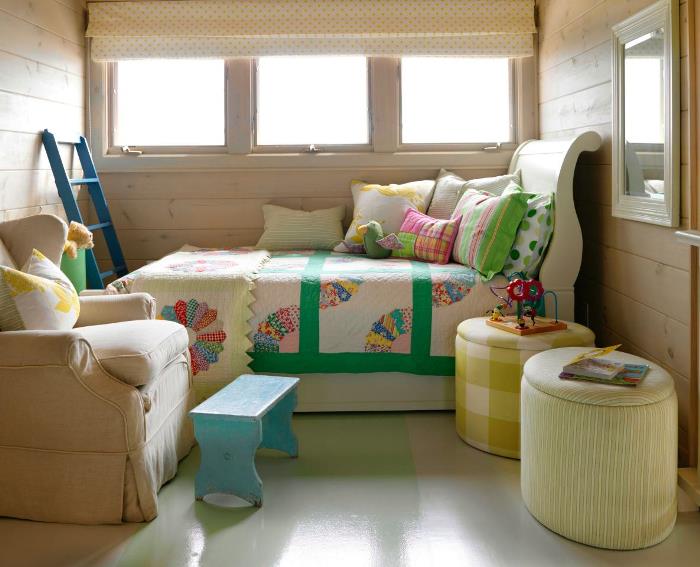 I love that Sarah included a wonderful screened-in porch for her cottage home. There is so much to love about this wonderful cottage that Sarah calls her summer-house. With fairly short summers in Canada, Sarah really created a special oasis for her family to make the most of all their summers to come.
Sarah has another island home that she's fully renovated that's available to rent for your summer vacation. You can tour it in this previous post: Vacation in Sarah Richardson's Island Cottage Home
It's an amazing Before and After!
Sarah has also written her first book! You can read more about it here: Sarah Style
Update: Sarah has a new book coming out! Going on my wish list! It can be preordered at a savings here: At Home: Sarah Style
Pssst: I post almost daily to Instagram. Follow Between Naps on the Porch on Instagram here: Between Naps On The Porch.
Photos in this post are by Stacey Brandford and were found here: Sarah's Summer House
*If a post is sponsored or a product was provided at no charge, it will be stated in post. Some links may be affiliate links. *