Recently I stumbled across a short, little video online and I was smitten. It was an interview with Sir John Patrick Richardson, a British art historian who has written three serious tomes chronicling the life of Pablo Picasso whom he came to know very well when he moved to southern France (Provence) in 1952. At the age of 90, (WOW, 90!) he's currently working on his fourth and final Picasso biography. I'm just hoping I can still write my name by the time I'm 90!
The interview takes places at Sir Richardson's country home in Connecticut and it's a fun read, even made me laugh out loud a few times.
But it was the video that really got to me. Sir Richardson has created a little paradise for himself, the gardens are wild and wonderful.
My most favorite quote from Sir Richardson during the video interview is when he's talking about his garden and says, "Hideous things, I think it's important to have a few really hideous things, otherwise it looks like too much ghastly good taste." I am so memorizing that line and using it every chance I get! Ha! I love it!
In 1960, Sir Richardson moved back to New York where he created a "nine-gallery Picasso retrospective."
He also opened the New York office of Christie's and ran it for the next nine years. It was in 1980 that he began writing.
Sir Richardson's garden feels very natural and free-flowing. He mentions in the video that the garden was not created from a plan, he's just added to it as he wished over the years.
It looks so private doesn't it?
There are two homes on Sir Richardson's Connecticut estate. One is a guest home he purchased in 1970 from an interior decorator. The home was originally modeled after an 18th century garden folly found on the ground of Syon House in London.
Beautiful entry…
As I toured the guest house and the other one-room home on Richardson's estate, I kept thinking how much it reminded me of another home I just read about this past summer…that of Furlow Gatewood seen in the wonderful book, One Man's Folly.
Inside the guest house are two, very large 18th century Dutch landscapes that came from one of the Vanderbilt houses.
At first I thought that might be a teacup collection we see in the background, but I think those are actually bowls.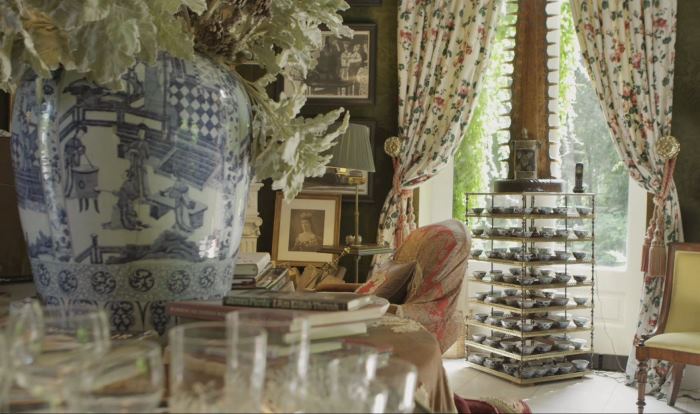 The dining room…
The other home on the property is a single room where Sir Richardson actually lives. He refers to it in the video as "the library." He designed it himself with the help of an architect and it was inspired by an early 19th century villa in Berlin. Inside it has the feel of a grand English country house.
In the video Sir Richardson says two of the most important things in his library are the two "hugely tall columns from Rome by Piranesi." You'll notice a lot of columns throughout the home in both the architecture and in the art he has collected. Sir Richardson's style of decorating is dramatic and somewhat theatrical.
I loved seeing his desk. Notice how he has two lamps on his desk, though the space is limited. Even though it's a workspace, it's still styled and decorated to the hilt! 🙂
It's also nice to see little worn spots on his desk chair. It reminds me of what Bunny Williams said in her book, An Affair With A House, about living with things you love even when they become a bit worn.
Another view of the desk from the video.
Sir John Richardson's bed is marked with the Versailles stamp. I love how they left it kind of messy for the photo shoot.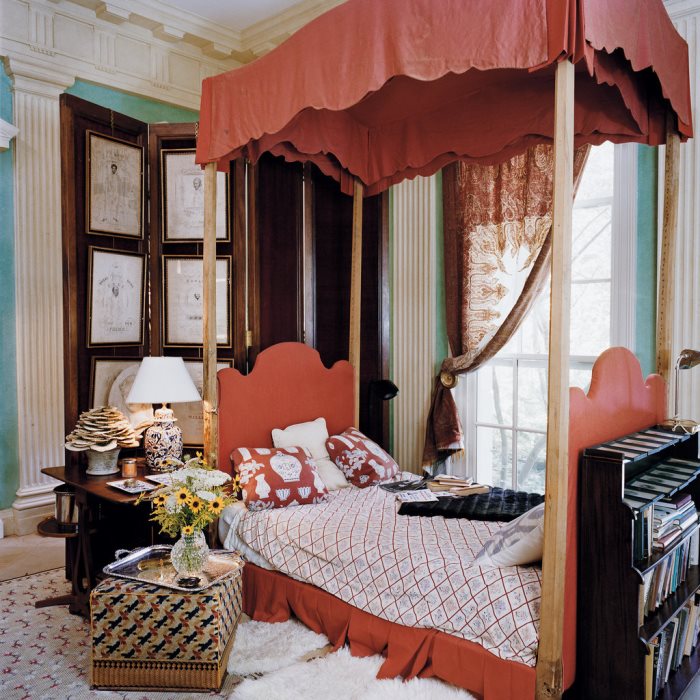 Be sure and check out the video here: Tour Sir John Richardson Connecticut Country Estate, Homes and Gardens You have to hear him say my favorite quote for yourself! 🙂
Pictures in this post are from the article and video found at the link above.
*If a post is sponsored or a product was provided at no charge, it will be stated in post. Some links may be affiliate links. *