Welcome to the 310th Metamorphosis Monday!
The only "Before and After" I have to share this week would most likely put you to sleep. Once the rain stopped, I spent the weekend taking down and storing away Christmas decorations. Big snore!
I have something way more fun to share, a tour of this year's beautiful HGTV dream home on Martha's Vineyard! When I read it was located on Martha's Vineyard, I knew it was going to be amazing!
This home located at 15 Crocker Drive in Edgartown, looks as if it might be two-story, but it's not. The three dormer windows you see across the top are part of the two-story great room. I'm not sure what's above the wings on either side, perhaps just attic space. I'd love to see one of those as a home office…just thinking out-loud.
Here's a floor plan of the home. The home was built in the style of "Cape Cod Architecture." The only two things that I'm not overly wild about in this year's dream home is: 1. It doesn't have a separate entry or foyer; it opens up straight into the great room. 2. It only has a 1-car garage. Do folks who live on Martha's Vineyard normally just have one car? Maybe there's a good reason for the one car garage. If you live on Martha's Vineyard, help us out with that part. Are there restrictions on how many cars each household can possess on the island.
Oh, the lifestyle of living on a relatively flat island. It would be great to live where one could walk out the front door and head out for a bike ride. Too hilly where I live for bike rides, unless you are really well-fit for the hills and don't mind dodging cars right and left.
The great room has beadboard walls and a soaring ceiling with reclaimed wood beams. Notice all the wonderful built-in cabinetry.
As we tour this home, you'll notice one of the predominant colors is a beautiful, nautical blue. You'll also be seeing a lot of rugs with graphic designs.
You can see the front door and the open floor plan of the home in this view standing in the kitchen. The front door is in the center of the photo, between the two gray chests with paintings overhead.
There's a beautiful kitchen with lots of white subway tile. I noticed they didn't use contrasting grout in the backsplash like we saw in another home we toured recently here at the blog. It may not be as practical, but I do love the white grout with the white tile. I've never been known for being practical! 😉
The island countertop is mahogany while the other countertops are Carrara marble. The mahogany is so beautiful contrasting against the creamy-white cabinetry.
The dining area is located between the kitchen and great room…a great layout for this casual, island home.
There's a front and back hallway in the home, each one leads to the bedroom areas. Let's go check those out!
The master bedroom is a sea of blue. It looks aqua here but in the videos on the HGTV website, it doesn't come across as aqua, just more of a soft blue. The weathered, driftwood look of the chests on either side of the bed look great with the blue. If you're ever in doubt about what colors work together in a room, take your cues from Mother Nature. Seriously! The colors we see together in nature are normally gorgeous together inside our homes, as well. The graphic design of the quatrefoil rug really makes a statement in this room, doesn't it? Pretty chandelier!
Love a fireplace in a master bedroom! There's also a patio off of the master. This home doesn't have a waterside view but it looks like it does in this picture, doesn't it.
Beautiful master bedroom closet. I was just thinking, a long island in the center would add some additional drawer space to this room. Love the color of the hardwood flooring…so rich and warm!
Such a beautiful master bath! Notice the pretty barrel-shaped ceiling.
At first it kind of bugged me that the master bath was right on the very front of the house, then I realized, even if the bathroom was on the back of the house, there would be no way I'd take a bath with the drapes/windows open anyway. So I guess it doesn't matter where the master bath is located in the house. What do you think? If it were on the back of the home, would you bathe with this triple window wide open as shown here?
The guest room has a nautical feel with another graphic-design rug. I'm not especially loving that comforter with that rug. It's kind of a mix of two graphic designs. They are similar but different. What do you think?
Love the blue and white beadboard walls in the guest bath!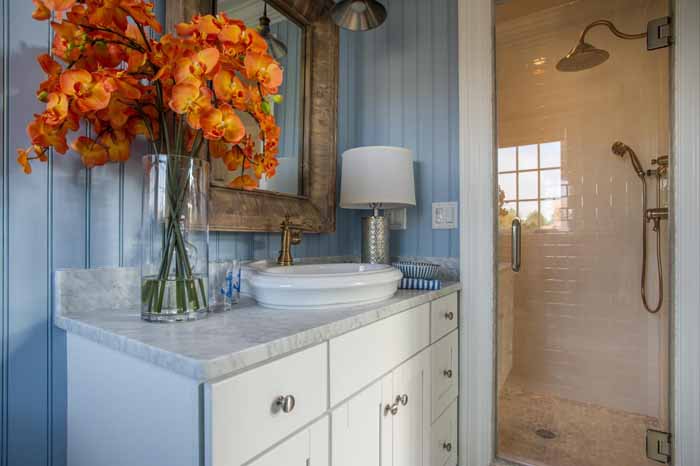 The kid's room was a delightful surprise! Have designers finally let go of the idea that every. single. room. in a home has to "flow" into the next one. I've always balked at that idea (unless the rooms are open to each other) because I love too many different looks/color schemes to limit my home to one pallet. Now you know why I'm not a designer. 🙂 I love the colors in this room for a child's room–how much fun is this! Those beds are adorable!
Another great take away from this room is the placement of the beds. A room with this many windows can be intimidating for furniture placement. They made this work and I think it looks great!
The children's bathroom…
Great mirror!
Though not very big, I really like the laundry room. I wonder if the mahogany countertop is a practical choice here? I do love how it looks! If it's sealed well, I would imagine it would work well in this space. What say you?
Here's a question…I don't have a front loading washing machine so not sure how this works. When you add bleach to a front loader, where do you add it? Is there a spot just inside the door?
The back patio…see that area off on the right?
That's an outdoor shower…
Cutest dog house ever! I was thinking how those little windows boxes on the front are just the right height to hold food/water. I wonder if they do? That could be water on the left and food on the right. Notice the weathervane! 🙂
So how did you like this year's Cape Cod inspired HGTV dream home? Pretty awesome, right?!
See the before/construction photos and more of this year's HGTV Dream Home here: HGTV's 2015 Dream Home on Martha's Vineyard
Looking forward to seeing all the wonderful Before and After for this Met Monday!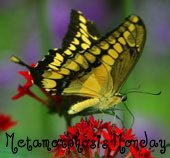 If you are participating in Metamorphosis Monday, you will need to link up the "permalink" to your MM post and not your general blog address. To get your permalink, click on your post name, then just copy and paste the address that shows up in the address bar at the top of your blog, into the "url" box for InLinkz.
In order to link up, you'll need to include a link in your MM post back to the party so the other participants will have an opportunity to receive visits from your wonderful blog readers.
Please observe these few rules:
Only link up Before and After posts that are home, gardening, crafting, painting, sewing, cooking, DIY related.
Do not link up if you're doing so to promote a website or product.
Do not link up a post that was just linked last week since a lot of readers will have already seen that post.
Please do not link up more than 2 Before and Afters each week. Thanks!
*If a post is sponsored or a product was provided at no charge, it will be stated in post. Some links may be affiliate links. *