When you're standing in the grocery store or book store, flipping through all the latest decor/design magazines, do you sometimes wonder where they're hiding all the homes decorated in classic, traditional style? Shhh, don't tell anyone but just between you and me, I think I may know. They are hoarding them all up in Greenwich, Connecticut! They must be because I've discovered some real gems there in recent months, including the beauty I'm sharing with you today.
Ever since I add the book Classic Greenwich Style to my decor library, I've been intrigued with the beautiful homes in Greenwich.
The Greenwich home we're touring today is a newer home built in 2009, but it definitely has that "old home" charm. If I didn't know better, I would guess that it was a much older, maybe even historic home.
The architecture and moldings are beautiful, starting right here in the entry. This is understated elegance at its best. I love the wainscoting/paneling and the beautiful staircase. The staircase balusters and newel post are so pretty!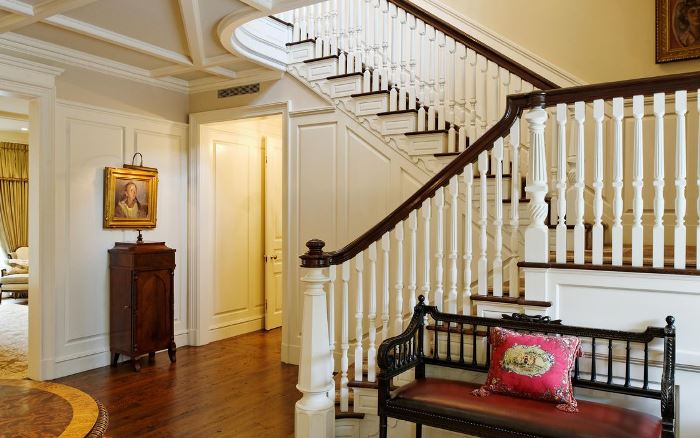 The entry leads into a lovely living room in soft, muted colors. Great wall color, would love to know what it is. Notice the beautiful coffered ceiling.
Lots of great natural light comes through a wall of French doors. Love the lighting above the fireplace.
I think this may be the den/family room. It's so hard these days to find traditional, pleated lamps shades. When I find them, the quality isn't always that great.
BTW, I just discovered Cree LED light bulbs in "soft white." Have you bought any of those? They are the only light-bulb I've found that I like as much as an incandescent light bulb…and I am super, super picky about lighting. They also last, per the box, 20+ years!!!
I found some in Home Depot. If you buy them for your lamps, get the "soft white" bulbs because they are the closest to the incandescent bulbs, nice and warm! I like the 75 watt bulbs for lamps. The Cree "daylight" bulbs are much cooler…so probably not want you want in a lamp. I'm not affiliated with Cree in anyway, just crazy about their light bulbs so sharing the good stuff with you!
Notice the wood muntin patterns in the transom windows…love! I wasn't sure if those were called mullions so I searched and ended up finding a site selling transom windows in all styles and types. At that site, they referred to the wood pieces as "wood muntins" and this particular style on that site was called "Tudor."
This home has lots of wonderful fireplaces!
Beautiful kitchen!
The kitchen and breakfast room have a French Country feel with the choice of fabrics on the chairs and windows.
Love the dining room…absolutely stunning chandelier!
A rich paneled study with more of those beautiful transom windows with French doors. Love that red, brass lamp.Wonder what the large white thing on the desk is? Could it be a big speaker for conference calls?
I have a serious weakness for blue and white rooms, especially blue and white bedrooms. This bedroom continues the French style we've seen in other areas of the home with its toile wallpaper and French style bed.
Wonderful French doors lead out to a veranda. The more I look at this room, the more I love it! I think this is one wallpaper I would never tire of and I can't say that about most wallpapers.
Such a pretty bathroom. I wonder if the floors are heated. That would be heaven, heated floors in the bath.
A great room for the little ones or for guests.
Has there ever been a window that wasn't made even better with the addition of a window seat?!
Are you up for a game of poker?
I think this may be a screened in porch with window inserts for the cooler months.
A view of the back…
Here's an overhead view of this beautiful Greenwich estate. You'll find additional pictures of this home HERE where the pictures in this post were found.
Did you know Ron Howard had a home in Greenwich Connecticut? I think it has sold now, but here's a view of his home's beautiful sunroom/conservatory. Take a tour of the home in this previous post: Ron Howard's Greenwich Connecticut Home
After you have finished touring Ron Howard's Conyer's Farm home, here's another Greenwich home you shouldn't miss. This 1929 home is located in the historic Khakum Wood area of Greenwich.
It actually has a conservatory/sunroom that reminds me a lot of the one in Ron Howard's home. You'll find the tour of this Greenwich estate here: Greenwich Home Built In The Style of A Grand European Manor Home
*If a post is sponsored or a product was provided at no charge, it will be stated in post. Some links may be affiliate links. *