Greetings! How has your week been? Are you ready for the weekend…the last weekend before Thanksgiving? Doing any baking or cooking in advance? Cleaning and readying the house for family? This next week is going to be a busy one for many folks.
Last week I wrote about a little "upgrade" I'm giving the chandelier in my dining room. You can read the story of how I found/purchased this chandelier in this previous post here: Beeswax Candle Covers and Satin-Wrapped Bulbs for Chandeliers.
I've had my dining room chandelier for 15+ years and over that time the candle covers had really darkened. I hadn't even noticed it until I recently learned they make honest-to-goodness, real wax candle covers. I looked at mine and was shocked at how awful they looked. You may remember in the previous post mentioned above, I purchased one wax candle cover to see how it would look on the chandelier. The wax one is the one right up front, slightly to the right.
Here's a close up of the wax candle cover from that previous post. I was seriously thinking of buying some of these until I talked with David, a local antique and lighting expert who heavily cautioned me against buying them. He said wax covers are prone to melt unless you use very low wattage bulbs and they are difficult to keep clean. David told me he will not even order them for customers because of all the problems they can cause.
I hadn't even thought about how I'd clean them until he mentioned it. Also, I'm pretty obsessed with having the lighting in the rooms of my home at the level I want. I love lighting, love everything about it. It can completely make or break a room. You can have a beautifully furnished/decorated room and it can be ruined with bad lighting. The opposite holds true, too. An average-looking space can feel and look much better with great lighting.
Besides my concerns of having a dimly lit dining room, I had visions of dust stuck to the wax of the candle covers. David suggested I use resin covers because they look just like the wax ones with the "drips" running down the side and are much easier to keep clean. Plus, you can use whatever watt bulb you wish. Like that idea!
He had several chandeliers in his shop with the resin covers and they were all beautiful. A few days later I located a company online that sells them and will cut them to the exact height you need for your chandelier. I decided to order them, keeping my fingers crossed I'd like them when they arrived. They arrived today and I love them! They actually look better on the chandelier than I ever expected. Let's do a little comparison and check them out.
Oh, I should mention, I've also swapped all the bulbs out in my chandelier for the silk/satin wrapped bulbs. You can read more about those in that previous post, too. (I'll link to that post again at the bottom of this post.) The picture above shows the chandelier with regular chandelier bulbs.
I ordered 60-watt, silk-wrapped bulbs since the wrapped finish quietens down the wattage a bit. I had 25-watt bulbs in the chandelier before but David suggested going with 60-watts when I changed to silk-wrapped bulbs. I'm glad he suggested that because my chandelier is on a dimmer and the 60-watt bulbs are perfect. If you buy silk-wrapped bulbs and your chandelier is not on a dimmer, you may want to stick with 4o-watt bulbs. I think 60-watt bulbs would be a bit much without a dimmer. They are great turned up full-blast for task lighting, but you wouldn't want to keep them there full-time, at least not in an average size dining room with normal height ceilings.
I love the new bulbs. They were in the chandelier when I took pics of my Thanksgiving tablescape for this post: Thanksgiving Tablescape with Rustic Turkey Centerpiece and Turkey Tureens
Back to the candle covers…below you'll see the yellowed, darkened, 15-year-old plastic candle covers. That's what I just replaced today. To capture these pics for the post, I left the chandelier off and brought in some additional lighting. Hopefully there's enough light for you to get a good comparison. See how badly the plastic covers had aged. I love aged furniture, but not so much aged plastic.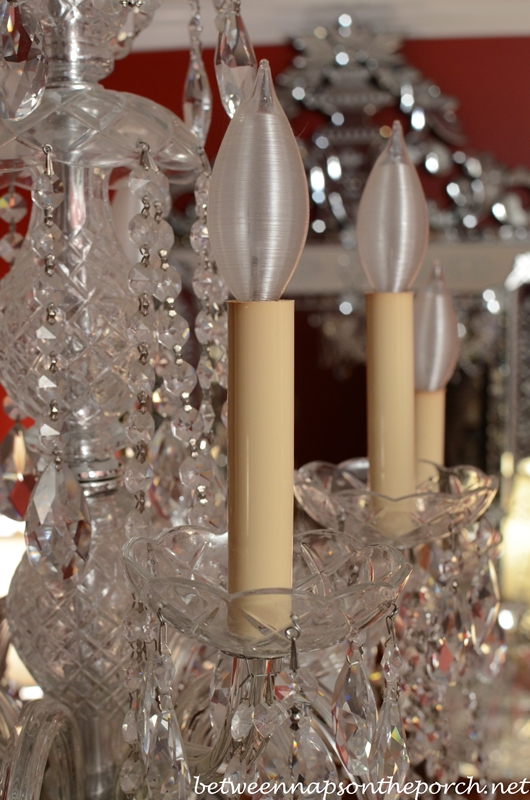 Here's the lone, wax-covered candle cover I bought from a lighting store in Atlanta before I knew about some of the drawbacks of using wax covers. This one is a tad too tall and fat, but it was all they had in stock at the time. I bought it so I could see/test how this style would look on the chandelier. It was pretty pricey at $10.50 each.
And here is one of the new resin covers that arrived today. It was cut to the exact height I specified, which was the same as the yellowed, plastic covers.
Here's a view of all three styles on the chandelier. I ordered the resin covers in "ivory" from a company called Lumiere Candles Inc. They also carry wax candle covers. The resin candle covers were $5.45 each + an additional .50 cents for a custom cut size. That's much less than then the cost of the wax covers.
Update: Lumiere Candles saw this post and emailed to say, when ordering from them, if you use the code BNOTP at checkout, you'll receive 10% off your order. (I'm not affiliated with Lumiere Candles, just sharing the link in case it's helpful.)
They also told me the covers looked a tad too tall in the photo. I guess the height of the plastic covers wasn't the ideal height for the new covers, probably because the resin covers are thicker. So I sent all the covers back to Lumiere and they cut a tiny bit off and sent them back. They look great! I'm thrilled with them and wish I had known about the resin covers years ago! So, the pics in this post were taken prior to the covers being shortened a tiny bit.
I was hoping the resin candle covers wouldn't look yellow against the silk-wrapped bulbs and they don't. I'm very happy with the color. Notice how you can see the "drips" on the resin cover much better than you can on the wax cover. Love that!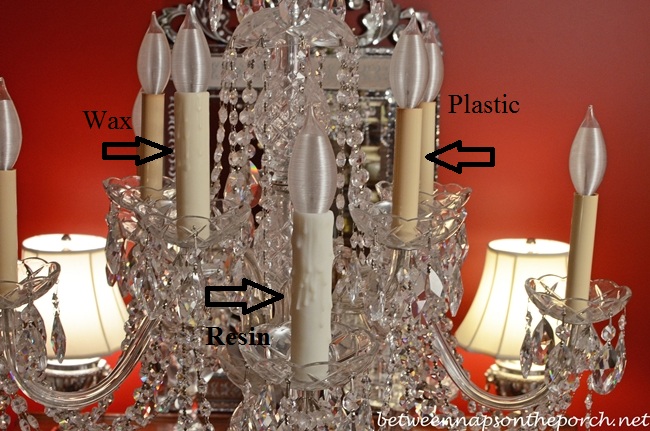 Here's the chandelier with all the plastic covers replaced and the new resin covers in place. All the bulbs have been replaced with the silk/satin-wrapped bulbs. These photos were taken tonight after dark. I'll add a picture tomorrow so you can see how the chandelier looks in daylight. It feels soooo romantic! In this photo, a few of the covers look darker, but they are really all the same color. Not sure why they came out looking darker in the pic.
David said the resin covers would take a chandelier to a whole new level in appearance. He was right! I can't believe it has taken me this long to discover resin candle covers! I'm really enjoying the silk-wrapped bulbs, too. They are so much easier on the eyes than the regular chandelier bulbs.
Update: Tried to capture a pic this morning with it lit up. It's hard to take a picture of a lit light fixture! lol Hopefully this will give you a little idea of how it looks when blazing away. Excuse the ladder that's reflected in the mirror. I've been working on another little project here in the dining room…hope to share it soon. (Update: You'll find the other dining room project here: Dining Room Addition: French-Pleated Check Draperies)
If you would like to read the story about where I found this chandelier, additional info about silk-wrapped bulbs and "wax vs resin" candle covers, you'll find more information in this previous post: Beeswax Candle Covers and Satin-Wrapped Bulbs for Chandeliers.
Happy Weekend, sweet friends!
*If a post is sponsored or a product was provided at no charge, it will be stated in post. Some links may be affiliate links and as an Amazon Associate, I may earn from qualifying purchases. *