Welcome to the 431st Metamorphosis Monday!
Happy New Week! Hope you had a great weekend! I spent part of mine working in the yard and I still have so much more to do out there. For the last couple of years I've known that I should trim-reshape the Green Mountain Boxwoods I placed in planters on either side of the front porch a few years back, but I've been worried I would totally mess them up.
Here's a photo of how they looked right after I placed them in the planters in September 2013. (See that previous post here: Boxwood Topiaries for a Traditional Landscape)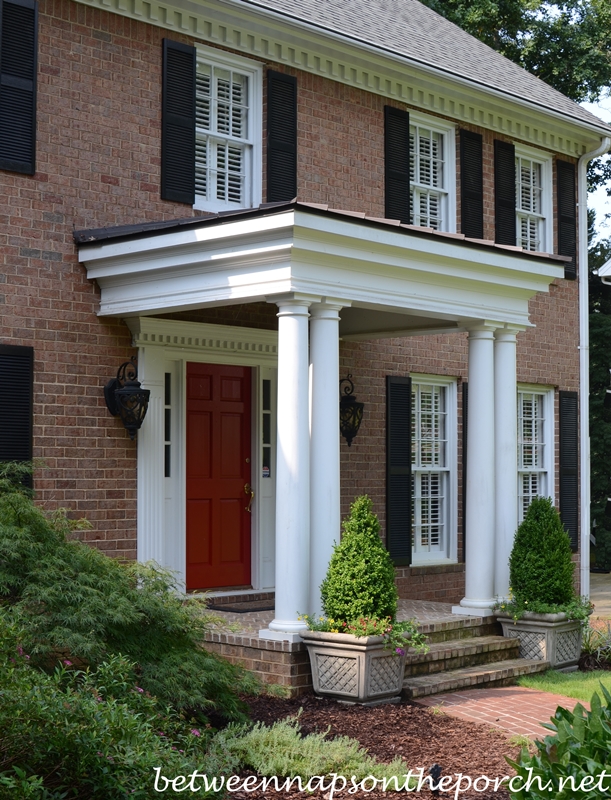 Another view at Christmastime…they were quite small back then. Not anymore!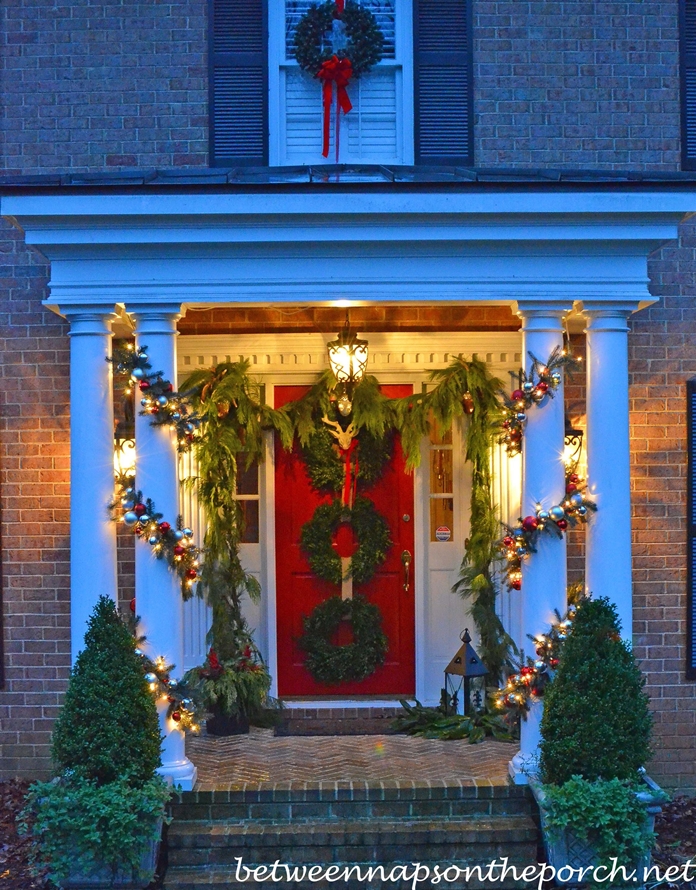 I'm not sure why I was so worried, it's not like they are in some complicated topiary shape like a giraffe or something. Ha! But I was still skeered!
I don't know what got into me yesterday, I was out front trimming some of the other boxwood shrubs and the next thing I knew I started working on one of the Green Mountain boxwoods. Since I just dove into trimming the one on the right side of the house without taking a "before" picture, here's a photo of the one on the left to give you an idea of how big they had grown. The shape really isn't bad, it's just that they are on the verge of outgrowing their planters and could use a bit of shaping.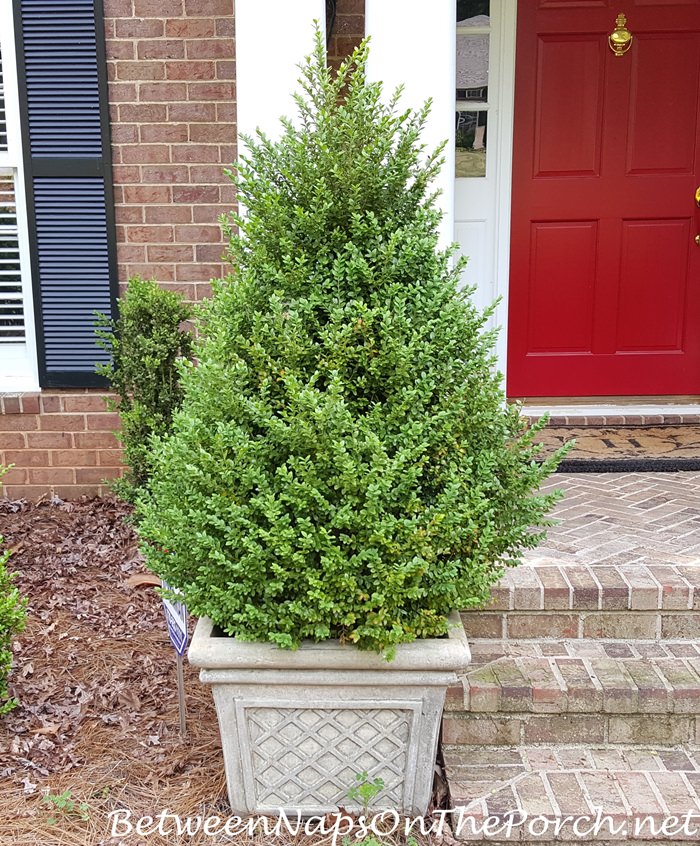 Here's one more "Before" photo taken right after I added benches to the porch last summer.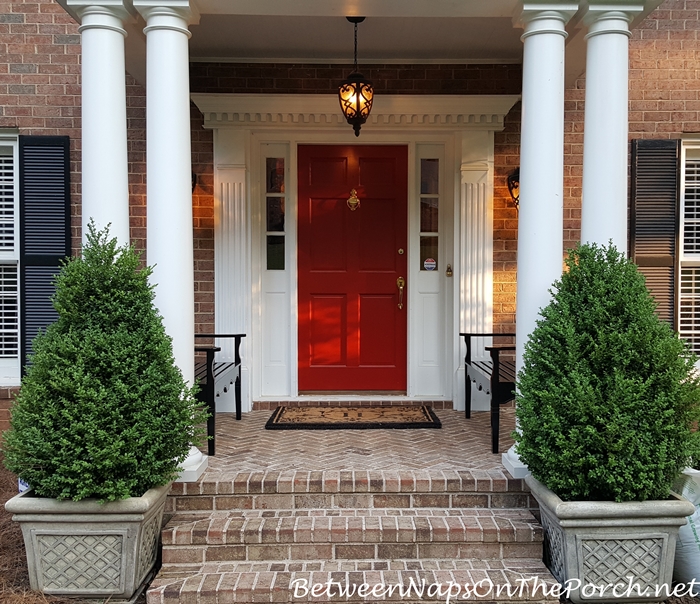 Here's the one on the right after I trimmed and reshaped it back into its pyramid/Christmas tree shape. I didn't make that gap on the left side, it was already there. It think it's from when a big chunk of ice slid off the porch roof after a horrendous ice storm hit the Atlanta area a few years ago. Both Green Mountain Boxwoods got an unwanted shearing that year as the ice began to melt. I was not happy!
I kinda like letting them grow naturally, but it is nice to reshape them every once in a while. I'm guessing in another couple of years, I'll have to take them out of the planters and place them somewhere in the yard and buy new boxwoods for the planters. Sooner or later they are going to outgrow these planters. I sure do love having them here. They've done very well these last 4 years in this spot.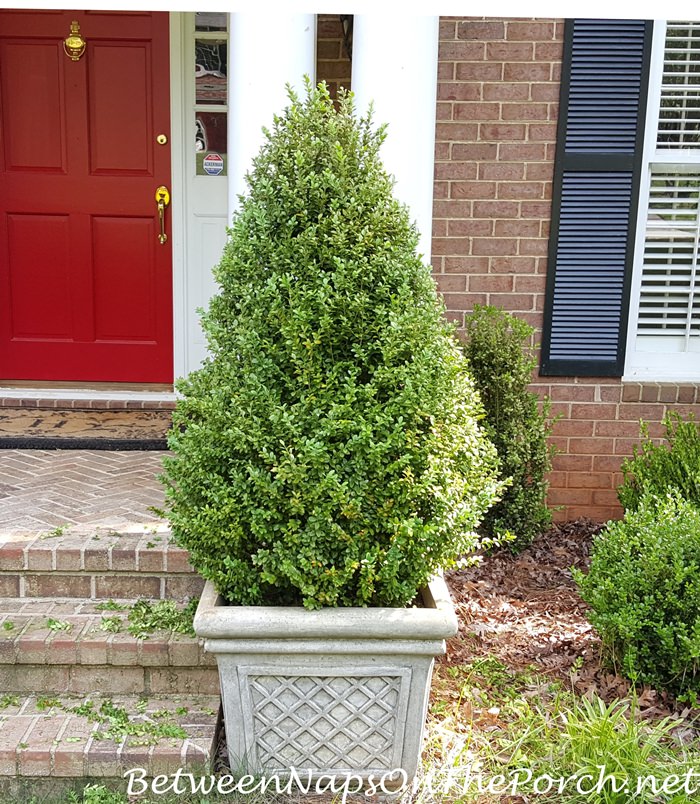 Spiderwort Hell
Never, EVER plant spiderwort in your yard. I've been battling this stuff for a couple of years now and still have more of it to dig out. It behaved itself in the beginning but now it's constantly appearing in random areas of my yard. It's so invasive! Argggg!
Acorn Update
Remember last fall when I shop-vac'ed up a HUGE bumper crop of acorns in my front yard? (Read that previous post here: Erma Bombeck Would Have Loved This.
Several folks were very worried about how the squirrels would survive winter without all the acorns. There were still plenty in the wooded area of my back yard, plus I dumped out a bag into an area of the back yard so they would have even more. I also left all the ones I saw in the islands in the front yard, just vacuuming them off the grass.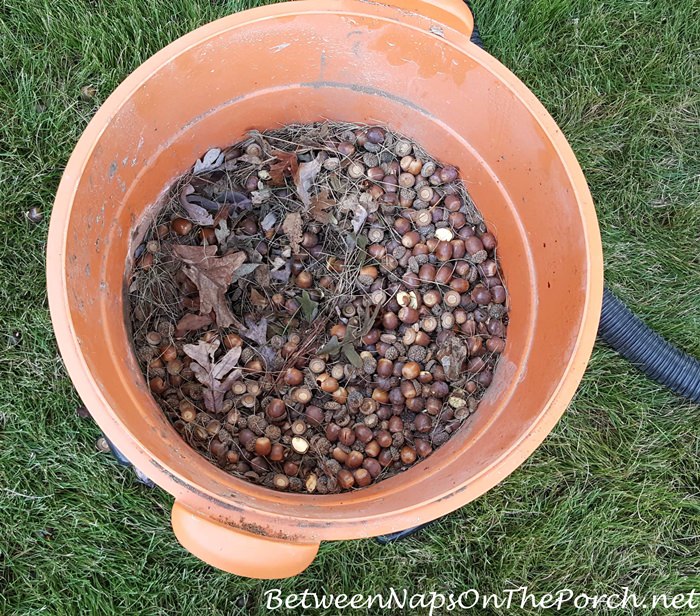 Big mistake! This is how the island around one of my Savannah Hollies looks now–it's Oak Tree City out there! Next time the acorns fall in the front yard, I'm sucking 'em all up! Not looking forward to digging out all these trees. I think I'll have to use Round up, there are just too many of them, plus they put out a big tap root that goes quite deep and is hard to get out.
Update: Please do not leave a comment asking me to not use Round-up. There are already several in the comment section, so I would appreciate if you would comment on something you enjoyed in this post instead of another comment about Round-up. Thanks!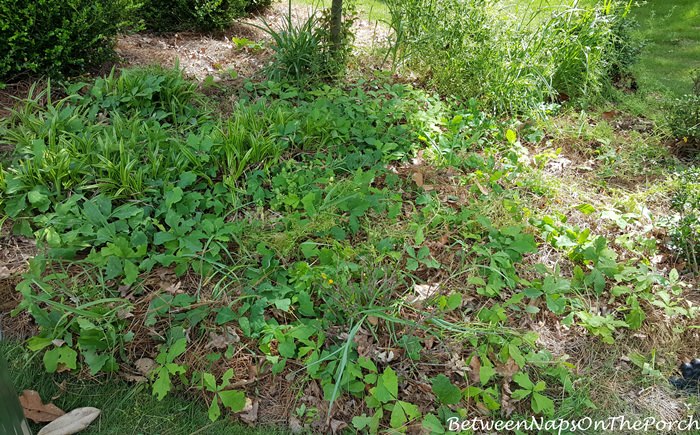 A Purple Iris
A pretty, purple iris I have growing near my walkway always blooms this time of year, but the stems are so skinny, they don't support the flowers. Any suggestions? I don't want to have to stake it every year and actually the flowers are kinda pretty sprawled out across the walkway, but I'm wondering if I need to feed the plant something each spring to make the stems stronger.
See that big white blossom in back.
The magnolia tree is blooming and I love its big, dinner-plate-size blooms. They smell heavenly! One day they are going to invent a computer monitor with scratch and sniff technology. One day!
Metamorphosis Monday
Metamorphosis Monday is a party that's all about Before and Afters. If you are participating in Met Monday, please link up using the "permalink" to your MM post and not your general blog address.
To get your permalink, click on your post name, then just copy and paste the address that shows up in the address bar at the top of your blog, into the "url" box for InLinkz.
In order to link up, you'll need to include a link in your MM post back to the party so the other participants will have an opportunity to receive visits from your wonderful blog readers.
Please observe these few rules:
Please link up Before and After posts that are home, gardening, decorating, crafting, painting, sewing, cooking, fashion or DIY related.
Be sure to include a link back to the party in your post, so your readers will be able to find and visit the other bloggers who are participating.
Do not link up to the party if you're doing so to promote or sell a product.
To those who are linking up: If you notice a shop or store linking up to sell products (yes, unfortunately that does happen) please let me know so I can remove their link from the party. No one wants to click a link expecting a Before and After, only to find a spam link to an online business/store.
*If a post is sponsored or a product was provided at no charge, it will be stated in post. Some links may be affiliate links and as an Amazon Associate, I may earn from qualifying purchases. *