Welcome to the 446th Metamorphosis Monday!
Hope you had a wonderful weekend! I've started some preliminary packing and will soon share what I'm taking on this upcoming trip to Ireland. I plan to take my computer in hopes of creating a few blog posts while there, but for real time postings you'll want to check Between Naps On The Porch on Instagram here each day: Between Naps On The Porch.
If you're not currently using Instagram, don't worry. It's not necessary to join Instagram to view photos that I'll be posting there. To view the photos I post there during the trip, just visit the Between Naps On the Porch blog occasionally throughout the day, then click on the button that looks like this located on the sidebar on the right side of the blog. That button will take you right to the BNOTP Instagram page.
When you click on that button in the sidebar, you'll be able to see all the photos I'm posting while traveling throughout Ireland. I can't wait to share that beautiful country with you, along with the castles and manor houses where we'll be staying. This truly promises to be a magical trip and I'm going to do my best to take you with me! 🙂 I'm excited three Between Naps On The Porch readers are going on this trip, as well!
A Bit of Tweaking
I don't have a dramatic "Before and After" to share for this week's Met Monday, just a few more tweaks I've made to the cabinet storage I recently added to the garage. If you missed that previous post where I shared all the details about this project, you'll find it here: Cabinet Storage.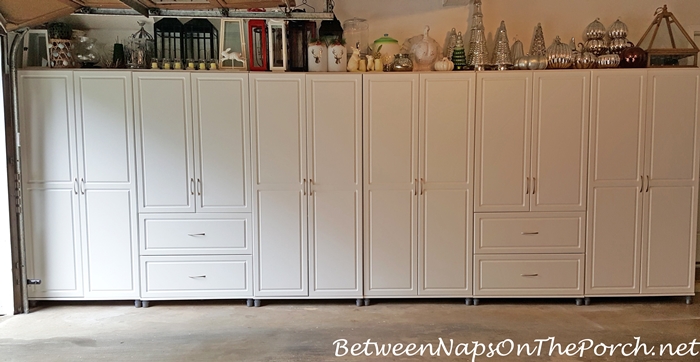 The shelves that come with the cabinet are okay, but they are a little thinner than I would like. In some instances they almost appear to be bowing slightly even though I've been careful to not exceed the weight limit of each shelf.
I changed out the second shelf in the cabinet that holds my Christmas dishware last week as shown below. It's the shelf with the snowman dishes that was changed. I really like the beefier look. I'm not sure if that shelf was bowing, or if it was my imagination, but I think the thicker shelf is working better.
Note: No matter how I take photos, the shelves always appear to be bowing. I've been using my cell phone for these pics since it handles the low lighting in the garage so well, but unfortunately its wide-angle lens always seems to make the shelves appear to be bowing, even when they aren't!
After finding one more set of Christmas dishes I had stashed away in my kitchen cabinets, I decided to add another shelf to the "Christmas" cabinet. While I was at it, I also replaced all the other shelves with the thicker/beefier shelves from Home Depot.
So here's how that cabinet looks now with an added shelf. I can't change out the top shelf or the very bottom shelf since those are "fixed" shelves, but all the others have been swapped out for the thicker shelving. It really feels more substantial!
While I was at it, I decided to go ahead and replace all the shelves in the flatware/napkin ring cabinet as well. Here's the "Before" picture below.
And here's how it looks now. Not sure if you can see much of a difference in this photo. When I added another shelf to this cabinet a while back, I would loved to have spaced out the shelves a bit more evenly, but the hinges in the center are right in the way. So this works fine, even if it drives the OCD side of me a bit crazy. lol
I really do like the thicker shelves and at $7 a shelf, it wasn't that expensive to replace them.
As I was going through photos on my computer this weekend, I came across a few I had taken on my last visit to A Classy Flea. I'm kinda kicking myself that I didn't buy this adorable window painting when I was there. I love this little beach house scene so much! I need a beach house to decorate! lol
I don't know how the artist did it, but look how realistic the sand looks. Maybe she mixed real sand into the paint.
This painting was really cute, too!
Have a wonderful week, Dear Friends! Looking forward to all the great Before and Afters linked for this week's Metamorphosis Monday!
Metamorphosis Monday
Metamorphosis Monday is a party that's all about Before and Afters. If you are participating in Met Monday, please link up using the "permalink" to your MM post and not your general blog address.
To get your permalink, click on your post name, then just copy and paste the address that shows up in the address bar at the top of your blog, into the "url" box for InLinkz.
In order to link up, you'll need to include a link in your MM post back to the party so the other participants will have an opportunity to receive visits from your wonderful blog readers.
Please observe these few rules:
Please link up Before and After posts that are home, gardening, decorating, crafting, painting, sewing, cooking, fashion or DIY related.
Be sure to include a link back to the party in your post, so your readers will be able to find and visit the other bloggers who are participating.
Do not link up to the party if you're doing so to promote or sell a product.
To those who are linking up: If you notice a shop or store linking up to sell products (yes, unfortunately that does happen) please let me know so I can remove their link from the party. No one wants to click a link expecting a Before and After, only to find a spam link to an online business/store.
*If a post is sponsored or a product was provided at no charge, it will be stated in post. Some links may be affiliate links and as an Amazon Associate, I may earn from qualifying purchases. *