Iconic Turkey Hill, even if you don't watch a lot of  television and haven't ever read any of Martha Stewart's books, you have probably heard of her wonderful, historic 1820 home in Westport, Connecticut. Actually, it's Martha's prior home since she sold it back in April of 2007 after having lived there for 30+ years.
While doing a little online research for this post, I came across an old article in a local paper and it stated, after Martha sold her Turkey Hill home, she said she was so depressed she had to go home and go to bed. I can identify with that feeling. We built our first home,  a modest yellow cottage with a screened in porch and when it was time for us to move, I barely held back my tears at the closing. I know the new owners must have wondered what the heck was wrong with me.
Why is it we get so attached to our homes? Is it all the blood, sweat and sometimes tears we put into making them the haven we envision or is it the sentimentality of all the memories we create while living there? Maybe it's both or maybe some of us just don't do well with change. (Raising my hand, here.)
When Martha first stumbled across Turkey Hill one weekend back in 1971, this is how it looked. She describes it on her website this way:
"There was no garage or barn, just a rickety picket fence and an unkempt yard. The house had been rented out to myriad families and had suffered obvious neglect. There was not much of a kitchen and no usable bathroom. The basement was damp, and there was no porch, terrace, garden, or driveway. But it had good bones, lovely windows, wide-plank floors, and seven fireplaces. To us, it was perfect: a do-it-yourself project resplendent with opportunity for a reasonable price, $46,750." 
Imagine trying to find a home in Westport, Connecticut now for that price!
Here are a few pictures of the home after Martha completed an extensive renovation and restoration.
I've always loved the entry. If I read correctly, I think Martha painted the original mural you see here on the walls.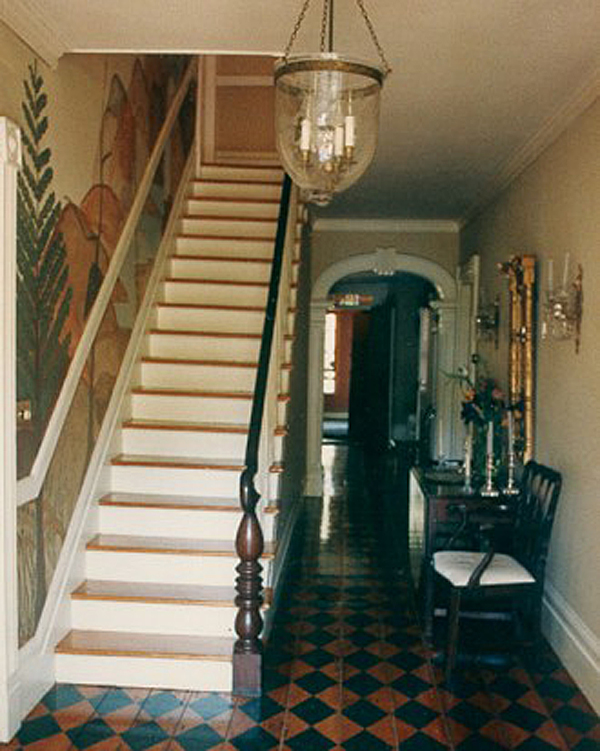 Later she had Eric Beare create the grisaille mural shown below. I like the diamond pattern on the floor above but I do prefer the simpler look in the picture below. What about you?
Do you think that's a grandfather clock under there? While the home was being renovated and while she lived there, Martha would go to local tag sales and garage sales every week. She always found the most amazing antiques, antiques that have since sold for many thousand more than what she paid. Oh, to have been antiquing back in those days! Look at those gorgeous chandeliers! They are like jewelry for the home.
This is how Turkey Hill's kitchen looked after Martha completed her initial renovation…definitely had an upscale "country" look, isn't it? As you can see, Martha was a huge collector of high-end copper cookware. I don't remember where, but I once read an article written by someone who knew Martha Stewart but hadn't seen her in several years. In the article the author said she bumped into Martha in a store where they were both shopping. I have a terrible memory but I still remember the story because of having seen this picture below.
Anyway, the author said Martha was purchasing several copper pots that day, and these were really nice copper pots…very pricey. She said she was remarking how beautiful they were to Martha but just not in her budget. She and Martha continued chatting as Martha checked out and purchased her pots. Once Martha had finished checking out, she turned and handed the copper pot she (the author) had been admiring to her. She said she was shocked because it was such an expensive gift. I loved that story! Apparently, Martha was into doing random acts of kindness long before that phrase became popular.
In 1990, Martha updated her kitchen. I love that she kept the copper cookware. Not only is it beautiful but it's functional too. I miss Martha's old-fashioned country kitchen but I do like the brighter kitchen better. Anyone prefer the country kitchen?
This was the dining area in the kitchen after her 1990's renovation. She was ahead of her time using the aqua blues, wasn't she?
When Martha threw parties and needed additional dining space, she set up beautiful tables in the mud room.
Here's how the mudroom looked when it wasn't being used for dining. It's very different from how we design mudrooms today, isn't it? It looks/feels more like a day room or porch.
Here's the parlor at Turkey Hill after Martha's original renovation/restoration, sporting another amazing chandelier! I think I would have enjoyed antiquing with Martha back in the day. 🙂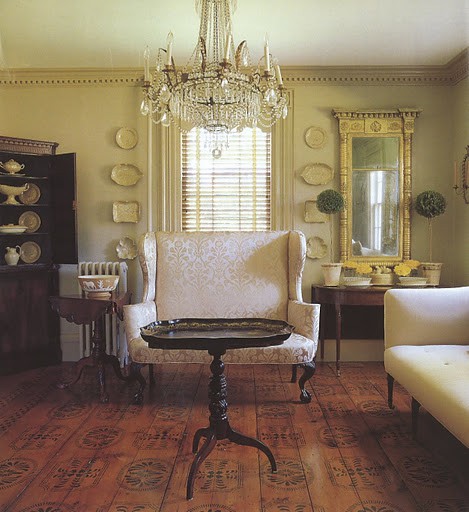 Remember this famous picture? This was the cover of the original book, Entertaining
that was said to "launch an empire."  I wonder if this was shot in her dining room or mudroom?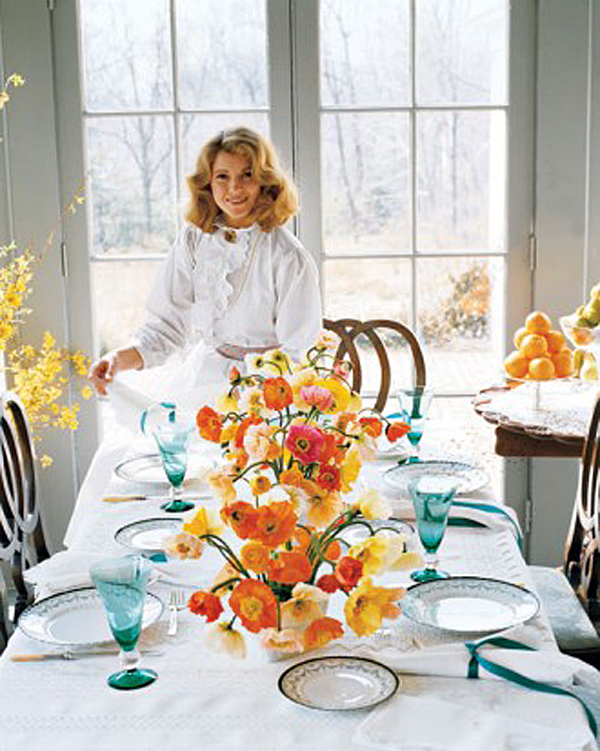 Many years later in 1998, the scene was photographed once again when Entertaining
 was released in paperback. I love that they reshot her in the same room again. So, which table do you like best…the one on the original cover or the one on the later version?
When Martha sold Turkey Hill in 2007, the new owners Casey and Chuck Berg made extensive changes that are described in this article as "equal parts restoration, renovation and addition."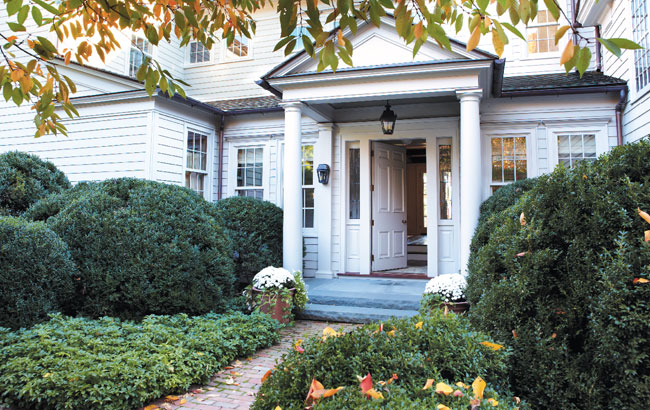 Here's the back view of Turkey Hill when Martha lived there. You can also see the historic, later dubbed "party" barn, she purchased for her husband and had moved to the property during the time she lived there.
Here's the back view of Turkey Hill today. You can definitely see additions have been made.
Looking into the entrance at Turkey Hill today, the moldings and the arched doorways are amazing, aren't they?
The living room today….
A large family room was added to the home using reclaimed beams that are reminiscent of the home's history.
They kept the the beautiful chandelier in the dining room.
The newly renovated and expanded kitchen…
Lots of great storage!
Not sure if this is a new addition or maybe part of the original mudroom or sunroom.
A Master suite was also added with a balcony overlooking the beautiful gardens.
Turkey Hill has definitely seen some changes over the years. Imagine if the original owner/builder saw it today!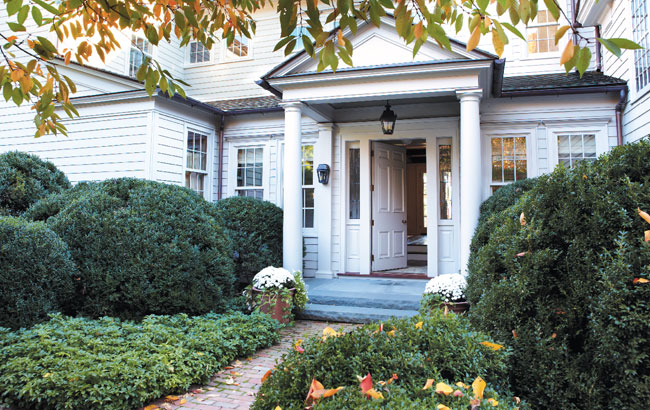 Photos of Turkey Hill's renovation/update were taken by Keith Scott Morton/Connecticut Cottage & Gardens.
The older photos in this post, taken during the time Martha owned Turkey Hill, were found HERE.
*If a post is sponsored or a product was provided at no charge, it will be stated in post. Some links may be affiliate links. *