Welcome to the 411th Metamorphosis Monday!
Light Repair Tip, In Case It's Helpful
You know how you hear about those people who are always causing electrical things to break? I'm starting to think I'm one of them. Seriously!
Last year, the tree I normally use here in the living room, had an entire string of lights go out. I spent many, many hours trying to fix it, including using one of the light repair guns you can buy these days. I changed out fuses, did everything I could think of and nothing worked. I donated the tree this past summer, just couldn't go through that nightmare again.
Instead of purchasing a new tree this year, I decided to just use the tree that I normally use in the kitchen. When I set up the tree and plugged it in, a string of lights near the bottom was out. Arggg, not again!
I changed out the fuses but it didn't help. I started fluffing out the branches and suddenly it healed itself and lit up. I was sooo happy when it lit up, maybe I wasn't going to have to go through the same nightmare I had last year. I stopped for the night, planning to decorate the tree a few days later.
A couple of days later I got back to work on the tree, gently fluffing out some branches near the top. When I touched a particular clump of branches, a different string of lights went out. Whaaaat! Not again! I checked every bulb but they were all tightly in their sockets. Once again, I changed the fuses but it didn't solve the issue.
I got out the light gun I had purchased last year and watched a YouTube video to refresh my mind on how to use it. I placed one of the little light sockets into the gun and clicked it the recommended 30 times, but the string of lights stayed dark.
I ran the gun over that string as demonstrated in the video I had watched. All appeared to have electricity coursing through them. Once again, I tried sticking one of the little light sockets into the gun portal thingy and clicking it at least 30 times. Again, it didn't work, but I did notice something kinda odd while I was clicking away. Each time I would click the light repair gun, one light on the dead string would flash for a split second.
Not expecting anything to happen, I changed out that bulb and the light string came back on! Just wanted to share this in case you have one of those light repair guns. I have no idea why that one light was flashing when I clicked the gun, but it turned out to be the culprit. The tree I donated this past summer and my current tree are pretty old, so I guess the bulbs are just going to keep failing. So much for that feature where all the lights stay on when one fails. That never seems to work, though tree manufactures like to claim it does.
'Twas The Night Before Christmas, A Visit From St. Nicholas
Once I got the tree's lights working, I was finally able to decorate it. I was pretty tired after such a busy night and headed off to bed. When I awoke I was shocked to see Santa had come early! Yes, indeed! He came and left lots of wonderful toys! He must have come early because I've been such a good girl this year. 😉
Oh, my! Let's see what he brought us!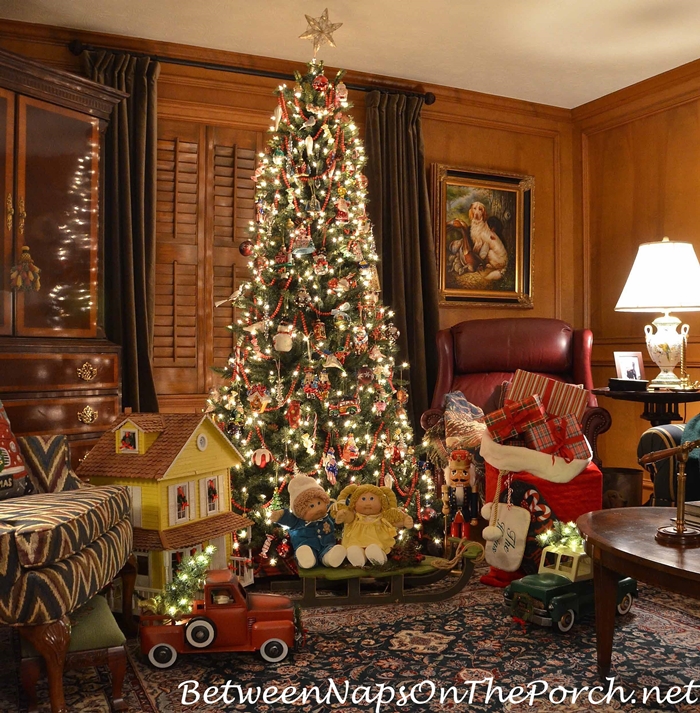 Okay, okay…Santa hasn't really come, yet. He won't be making his rounds until December 24th, but I got a fun idea for this year's decorations. Using decorations and toys I already had, I decided to recreate how it might look after a visit from St. Nick.
The red truck I ordered a week or so ago came and I love it as much as the green "woody" car I used in this past week's Tablescape Thursday. (If you missed that table, you'll find it here: Bringing Home the Tree)
Mr. & Mrs. Deer are pretty happy about it, too. They couldn't wait to give it a spin! 🙂
Both the red truck and the woody car keep selling out, but it looks like they have found a few more. You'll find both the truck and the green woody car here: Christmas Truck & Christmas Woody Car.
And look what I saw yesterday while running an errand, I spotted one in its natural habitat! They really do exist in real life! 🙂
Oh, Santa brought us a doll house, and it's all decorated for Christmas! (Read more about this Victorian dollhouse in Thursday's post here: Bring Home the Tree)
Anyone remember the Cabbage Patch doll craze of the 1980s. Our son was just 3-4 years old when all that was going on. I got caught up in the excitement and purchased a couple of the dolls. My son never showed any interest in playing with them, so they've been sitting on the top shelf of the guest room closet all these years. I guess they are close to 30 years old now.
The boxes they were in fell completely apart over the years, I think the glue that was holding them together just quit working. I didn't try to save the boxes since I didn't purchase the dolls with any thoughts of ever selling them.
Anyone else buy a Cabbage Patch Doll during their heyday in the '80s? Cabbage Patch dolls are "born" here in Cleveland, Georgia, or at least they used to be. Are Cabbage Patch dolls even still around?
The green sled they are sitting on was a find in Marshall's a couple of years ago. (See it in use as a door decoration in this post: A Red Christmas Door)
The tall nutcracker was a gift from my son many years ago. The Santa bag was a purchase this year from Grandin Road. I think it's sold out now. There's a bit of a story behind this bag. I ordered five of them on November 28th, one personalized with my last name for me, and the other four with the names of my son, dil and two grandsons.
After a couple of weeks, I received an e-mail saying shipping was delayed until December 11th. Okay, I could live with that. A few days later I received a second e-mail saying shipping was delayed until December 19th. Now I was getting worried.
I called Grandin Road to ask if they really thought they would ship by the 19th. I wasn't sure I wanted them if they weren't going to arrive in time for Christmas. The representative I spoke with, bluntly advised me to cancel my order. She said, "They'll never arrive in time for Christmas." Reluctantly, I canceled the bags I had ordered for my son, dil and grandsons, but kept the order for the bag with my name on it since it didn't matter when it arrived.
My bag arrived last Friday and I love it. I was sorry I had taken the advice of the representative and canceled the order for the other four bags, so I looked up the bags again on the Grandin Road website and it appeared they were back in stock. There was no mention of a delay in shipping, so I ordered them again. So far, I haven't received any "delay" e-mails, so I'm hoping they will arrive in time for Christmas.
A view with all the lights turned off…
Merry Christmas and Happy Holidays to you, dear Friends! Hope Santa brings you everything your heart desires and more!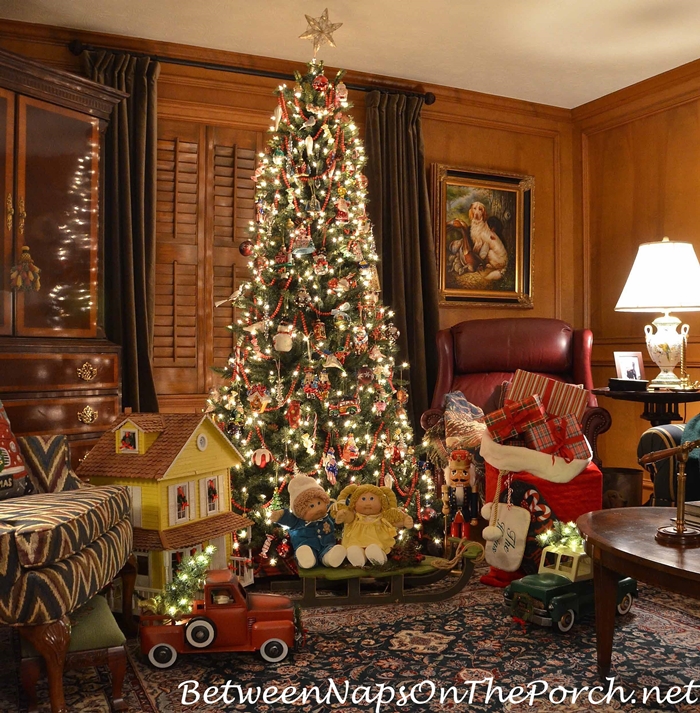 Metamorphosis Monday
Metamorphosis Monday is a party that's all about Before and Afters. If you are participating in Met Monday, please link up using the "permalink" to your MM post and not your general blog address.
To get your permalink, click on your post name, then just copy and paste the address that shows up in the address bar at the top of your blog, into the "url" box for InLinkz.
In order to link up, you'll need to include a link in your MM post back to the party so the other participants will have an opportunity to receive visits from your wonderful blog readers.
Please observe these few rules:
Only link up Before and After posts that are home, gardening, crafting, painting, sewing, cooking or DIY related.
Do not link up to the party if you're doing so to promote a website or sell a product.
Do not link up a post that was just linked up last week since readers would have already seen that post.
*If a post is sponsored or a product was provided at no charge, it will be stated in post. Some links may be affiliate links and as an Amazon Associate, I may earn from qualifying purchases. *