Recently I shared a little passion of mine, collecting Hermes perfume atomizers in pretty colors.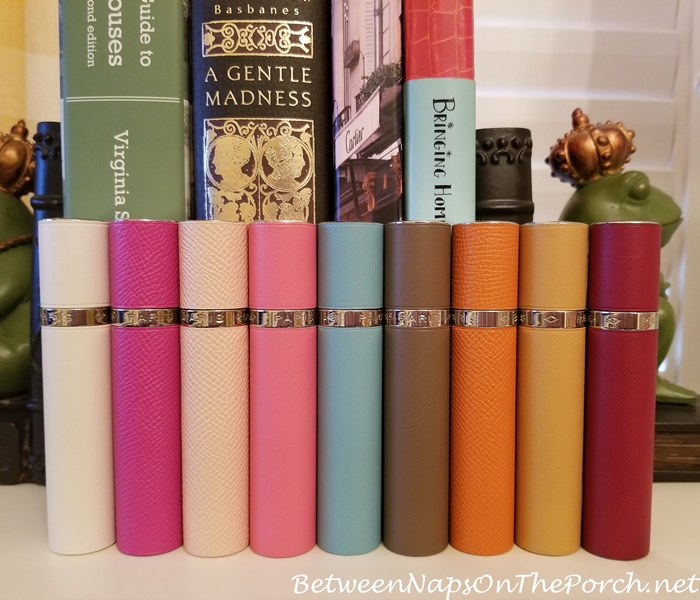 In that previous post, I also shared the perfumes I have inside each of the atomizers. (Find that previous post here: My Hermes Perfume Atomizer Collection and the Perfume They Hold.
In that post, I mentioned my collection was mostly complete and that the only other colors I would love to find were a pretty yellow and an Augusta green, the green associated with Augusta National, the big golf tournament held here in Augusta, Georgia each year.
Shortly after writing that post, I called the wonderful Sales Associate who always helps me when I'm shopping in the Atlanta Hermes store to see if she could find a pink atomizer for my daughter-in-law, Nancy. She found the exact one Nancy and I had been hoping to find–the pale pink one called Eglantine. It's the third one over from the left in the photo below.
During that call, my SA told me something very surprising and disappointing. She said Hermes was discontinuing carrying the atomizers in all their colors except three: chocolate brown, orange and another brown color called, Etoupe. What?! Why would they do that?
I mentioned to her that I was still hoping to find one in a grassy green color and pretty sunny yellow. She looked in their system and though she didn't see any green atomizers, she did find one in a yellow color called, Soufre, which I think means sulfur in French. I went ahead and ordered that one for myself, in addition to ordering the pink one for Nancy.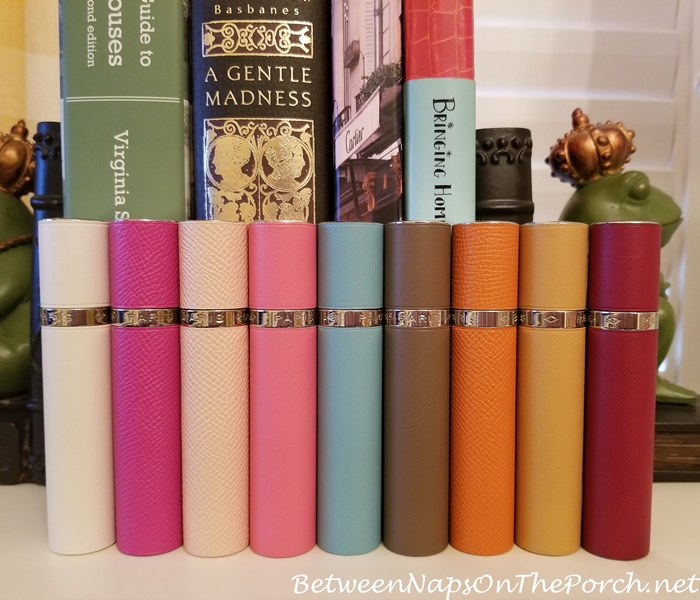 A week or so after that call, I decided to search online one last time for a green one. The only one I saw was a light green. I decided to order it thinking that was as close as I was going to get to Augusta Green.
I was shocked and delighted when it arrived. Apparently, the seller had really blown out the photo because the atomizer was the exact color of green I had wanted. Yay!
While I had been searching for the green, I also came across one that was very inexpensive from the eBay Europe site in a pretty purple called, Iris. I added it and one more color, a pretty teal blue called Blue Paon, from an eBay seller I had purchased from before. Both the Iris and Blue Paon were listed as brand new. The green one was listed as Like New or Barely Used or something like that. When it arrived, it appeared to be brand new, also.
At this point, I consider my collection complete. There are no other colors that I really want/crave. (Famous last words!) I hadn't really planned on creating another blog post about my Hermes perfume atomizer collection, but it fits in with what I really wanted to share with you today–and that's something new I just started.
You may know Between Naps On The Porch is on Instagram and there I primarily share posts that have to do with beautiful old homes, decorating, gardening and travel. (Find Between Naps On The Porch on Instagram here: BetweenNapsOnThePorch.)
Once in a blue moon, I share something fashion related on the Between Naps On The Porch Instagram, but I've noticed those posts aren't as popular, probably because those who follow me there are expecting home-related posts since that's mainly what I post.
New Instagram: Under Moonlight and Magnolias
A couple of days ago, I decided to do something I've been thinking about doing for a while: I created a new Instagram account for sharing posts related to fashion, handbags, jewelry and perfume. There may even be a few makeup related posts there on occasion, too.
I'm not the greatest at naming things, have even struggled with coming up with clever names for my pets over the years. The only thing I could come up with for this new account/feed was my old "handle" I used to post to under at "Rate My Space" back in the day: Moonlight and Magnolias. Of course, that was already taken, so I added the word Under in front for, UnderMoonlightAndMagnolias.
The account name may change one day if I can come up with something better but in the meantime, if you would enjoy following posts about fashion, handbags, jewelry, perfume, etc… you'll find Under Moonlight And Magnolias at Instagram here: UnderMoonlightAndMagnolias.
There are only four posts there so far since the account is just a few days old, but I'll be adding to it a few times a week. I have so many goodies and ideas to share there! Can't wait to share some of the fun things that just didn't fit on the Between Naps On The Porch Instagram feed.
Hope you enjoy this new account! I'm looking forward to sharing a lot of things I've never shared before!
Follow Between Naps On The Porch on Instagram here: BetweenNapsOnThePorch.
Follow Under Moonlight and Magnolias here: UnderMoonlightAndMagnolias.
*If a post is sponsored or a product was provided at no charge, it will be stated in post. Some links may be affiliate links. *