Welcome to the 450th Metamorphosis Monday!
I'm putting this post up early (Sunday evening) in case we lose power in the morning, compliments of Hurricane Irma. The bathtub is full of water, have plenty of bottled water, groceries, lanterns, batteries, phone back-up batteries and other supplies. The latest forecast for Atlanta shows tropical storm force winds of 30-45 mph with gusts to 55 mph starting Monday afternoon and going through Tuesday morning. That doesn't sound too bad, does it? Hopefully it won't bring down any trees or produce any tornadoes.
I've brought in all the lamps from the porch and the bottles from the bottle tree. They were all in need of a wash so this was a good time to get that done.
I also brought in all the chairs that are normally around the dining table. I wasn't sure if they were light enough to get blown around or not, so figured I'd better bring them in. I hope the patio furniture chairs are heavy enough. They are metal and they feel quite heavy, so I didn't try to do anything with those.
Wasn't sure if it was necessary or not, but I brought in the benches from the front porch. This photo is from last year, but I had already hung up my fall wreath. I took it down, too.
Here's where they'll stay until what's left of Irma passes on through.
Thank you so much for all the awesome suggestions you left in the comments on my previous post. I have followed many of them, including ordering the American Red Cross Blackout Buddy. I already have some similar lights that come on automatically when the electricity goes out, but the ones I have only stayed on for a hour or two. These last much longer–for many hours. I like that!
Mine probably won't arrive in time for this storm since they are scheduled for delivery tomorrow, and I doubt Amazon will be making any deliveries tomorrow, but they will be great any time the electricity goes out in the future. You can read more about these where I purchased mine here: Blackout Buddy. I purchased two sets so I'll have one on every level of my home.
Another suggestion that I followed was placing important papers/documents inside a plastic zip-lock bag, to prevent those from getting wet. I don't expect the roof of my home to get ripped off since the winds won't be strong enough for that, but I do worry about one of the big trees in my yard falling atop the house and rain getting inside.
Thanks again for all the excellent suggestions you left in that previous post. If you haven't read the comments on that post, I definitely recommend taking time to do that if you can. The suggestions were so helpful and they came from BNOTP readers who have been through these type storms many times. Definitely worth a read!
You'll find that previous post here: How I've Prepared for Hurricane Irma.
A Small Before and After
A while back I purchased Frye totes in different colors: Saddle and Walnut.
Shortly after purchasing the totes, I purchased two organizers to go inside. The totes are approximately 14 inches long and 5 inches wide. After spending hours online trying to find an insert that was made of stiff felt (didn't want a floppy organizer) and was the exact size needed for the totes, I finally ended up ordering this one shown below. It was the closest I could find to the size of the Frye tote.
I ordered it in two different colors–this light brown color…
…and this darker brown.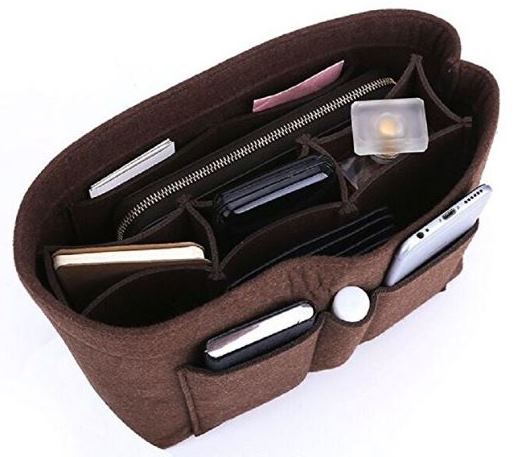 This is how the light brown organizer looked inside one of the bags. The fit is not bad but it was bugging me that it was approximately 1-1/2 to 2 inches wider than the bag itself.
Note: This organizer comes with an insert that divides the middle up into different sections. I removed it as soon as it came since I wanted that part to be open for larger items. I do enjoy using the various pockets that are on the inside and outside of the organizer, just prefer to keep the center open for larger items.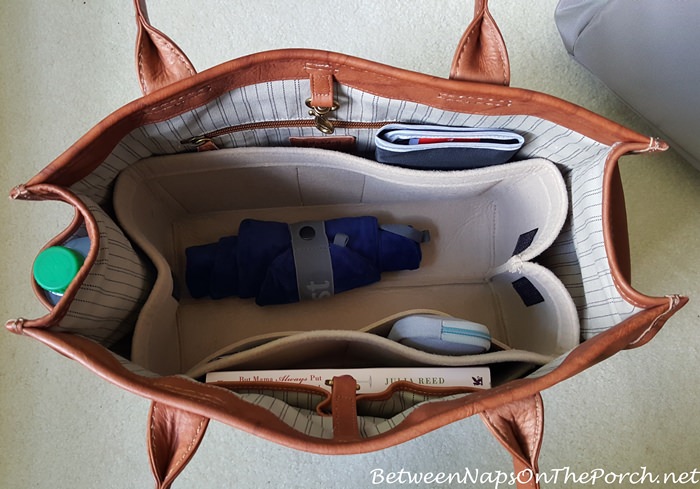 Since it was bugging me that it wasn't the perfect width for the Frye tote, I decided to see if a tailor I've taken clothes to over the years, could reduce the width. I would have attempted it myself, but I didn't think my sewing machine would sew through the felt. It's quite thick/heavy-duty.
I took the dark brown organizer to her first, this was before I left on my trip to Ireland. She did a great job and you can see the difference between the two organizers in this photo below.
Once I was back from Ireland, I took the other organizer to her, too. In this photo, they have both been reduced in width.
An Adjustment: When she first reduced the width of the brown organizer, she had the outer seams on the ends stitched where they pointed to the outside. That didn't work very well inside the bag because the seam made the end panels of the bag protrude outward giving it an odd shape. It just didn't look right.
I took it back to her and showed her the issue. She got it immediately and changed it to where the seams pointed inward into the organizer itself. So now, when the organizers are inside the bag, the end panels of the bag lay nice and flat.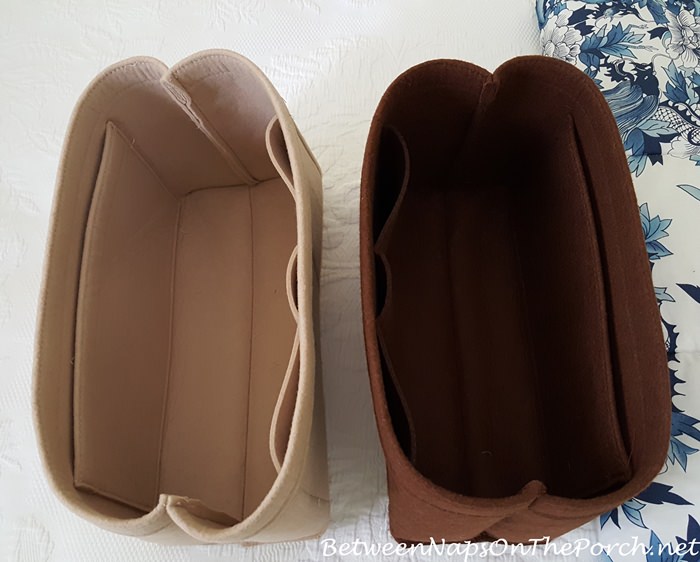 Here's how they look down inside the bag. I love having an insert inside a tote bag because not only does it give the bag support and help it to hold its shape, it protects the interior from pen marks, lipstick and other stains.
The cost for her to change the width was $15 per insert, totally worth it to get it exactly the way I wanted it.
In case you're wondering, Frye doesn't make an insert for this bag. I called to ask about that and suggested it would be a really good idea if they did. There's not a doubt in my mind that they would sell like crazy. I'm sure a lot of their customers would buy them at the same time they are buying the tote.
They thanked me for the suggestion and said they get some of their best ideas for new products from their customers. I also thanked them for being one of the few companies that hasn't compromised on the quality of their products. Really love their bags!
You'll find the organizer I purchased here: Organizer Insert for Tote Bag. It comes in several sizes and the size I purchased and had reduced in width was the X-Large size.
The Frye Campus Tote is getting very hard to find now. I think it has been discontinued since it's been out for several years. I found some here for around the same price as what I paid: Frye Campus Tote. I love the yellow one, too! Arggg, would buy this tote in every color, if I could!
Okay, I'm going to put this post up now while I still have power. I can hear the wind in the trees outside, things are starting to get breezy. Wish me well tomorrow when Irma comes knocking on my door! I have a feeling I'll be in the basement much of the day, maybe working on a puzzle and reading if I can concentrate enough to do that.
Monday Update: Some good news: the forecast is looking better this morning. It doesn't appear that Irma will have near as much power as had been forecasted by the time she reaches our area. There's still a "Tropical Storm Warning" out with expected squalls, but it looks like the winds are expected to be around 35-37 mph. That's definitely better than 55!
I haven't had the heart to bring in the bird feeders because the birds have been all over them this morning. I should probably do that before this afternoon, though–when the winds will be picking up significantly.
Pssst: I post almost daily to Instagram. Follow Between Naps on the Porch on Instagram here: Between Naps On The Porch.
Looking forward to all the great Before and Afters linked for this week's Metamorphosis Monday!
Metamorphosis Monday
Metamorphosis Monday is a party that's all about Before and Afters. If you are participating in Met Monday, please link up using the "permalink" to your MM post and not your general blog address.
To get your permalink, click on your post name, then just copy and paste the address that shows up in the address bar at the top of your blog, into the "url" box for InLinkz.
In order to link up, you'll need to include a link in your MM post back to the party so the other participants will have an opportunity to receive visits from your wonderful blog readers.
Please observe these few rules:
Please link up Before and After posts that are home, gardening, decorating, crafting, painting, sewing, cooking, fashion or DIY related.
Be sure to include a link back to the party in your post, so your readers will be able to find and visit the other bloggers who are participating.
Do not link up to the party if you're doing so to promote or sell a product.
To those who are linking up: If you notice a shop or store linking up to sell products (yes, unfortunately that does happen) please let me know so I can remove their link from the party. No one wants to click a link expecting a Before and After, only to find a spam link to an online business/store.

*If a post is sponsored or a product was provided at no charge, it will be stated in post. Some links may be affiliate links and as an Amazon Associate, I may earn from qualifying purchases. *