Good morning! It's Friday! Are you looking forward to the weekend? I really wanted to spend the weekend going on the Georgia Trust Ramble in LaGrange, GA, but instead I'll be staying home getting some cleaning and other non-fun stuff done around here. Yuck…tours are way more fun.
Speaking of things that are less-than-fun, this is what was happening in my home this morning at 8:30 AM. Two new toilets were installed, one in my guest bath downstairs and one in the hall bath upstairs. Exciting, huh? Just what I want to spend money on! NOT!
The old toilets were starting to make little drippy sounds and I had noticed a slight increase in my water bill. Plus, being 30 years old, they took forever to refill and weren't very water efficient. Rather than attempt to repair them myself (which I have done several times over the years) or call a plumber, I decided to bite the bullet and upgrade them. I'm going to wait on upgrading the one in the master bath because I want to do a major renovation in that space that's going to include knocking down some walls. I wasn't sure what size toilet I would ultimately need once the renovation got underway, so I'm going to hold off and replace that one when the time comes.
After doing a little research, here's the one I ultimately chose. The Kohler Highline just happened to go on sale right before I purchased it, but that wasn't the reason I chose it. It has pretty decent ratings online and I liked the shape of the tank better…it's not squared off on the edges. I know that sounds crazy, but I notice stuff like that.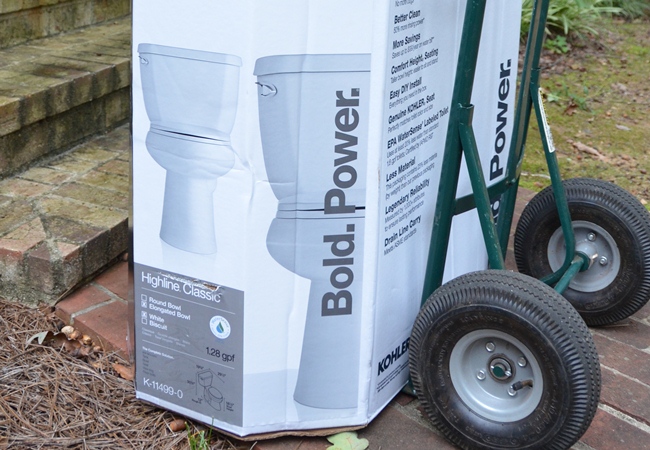 I lucked out. The weekend I bought these, the State of Georgia was having a tax-free holiday on plumbing related stuff that's water-sense certified. The Kohler Highline was on sale for $178, so with no tax and my 10% military discount, the total cost for each toilet was $160.20.
Installation is $100 per toilet. Lowe's charges $99 for installation, but only $60 for any other toilets you are having installed at the same time. Home Depot matched that installation price so my first install was $100 and the second was just $60.
It's gets better, though. The county I'm living in will give you a credit on your water bill of $100 for each water-sense toilet you have installed. Whoo, hooo! So that's a $200 credit I should see on my water bill, once I submit the rebate papers.
Here's the cost breakdown:
160.20 Kohler Highline
160.20 Kohler Highline
100.00 Installation for first Highline
60.00 Installation for second Highline
$480.40 Total
-200.00 Rebate for WaterSense
$280.40 My final cost for 2 new Kohler Highline toilets, including installation
Not too bad, huh? That worked out much better than I initially thought it would.
So, here's how the one upstairs looks installed in my son's old bathroom. I kept the seats from the old toilets because the ones that came on the Highline felt and looked kind of cheap. Plus, they didn't sit as comfortably. Yes, as a matter of fact, I did try one out. Fully clothed. With the door shut…thank you very much. The nice installer put the old ones on the Highline for me. So, moral of that story is, if you get new toilets, you may want to keep your old seats. Just saying….
I somewhat panicked when I saw how far away from the wall it was. You'll see why that was a concern when I show you the one in the guest bath downstairs. I guess the one that was here before was this far away, too; I just never noticed it. The reason I think it was this far out from the wall before is because the person I hired so many years ago to hang the baseball-themed wallpaper was able to wallpaper down behind it, unlike the toilet in the guest bath. Plus, the installer placed it directly over the screws that were in the floor already. So, it must have been this way all along.
Are you wondering why this bathroom has baseball wallpaper?
This was my son's bath and he loved baseball. He played it all the way through highschool, along with swimming year round. Since that was his bath and it was located right next door to his room, it just made sense to tie it into the scheme of the room back then. I recently renovated his room and now it's my home office/craft room. If you are new to reading BNOTP, you can read/view that renovation here: Office Addition: Bedroom Becomes Home Office/Craft Room
Here's how this bath looks at present. I threw open the shutters to capture these pics with natural lighting. As you can see, it's not a very big bath. I have to tell you, renovating baths is not high on my "can't-wait-to-do" list. Baths don't excite me. I'm not one to soak in a tub or spend any time in the bath. I'm more the "get in there, get it done and get out" type. I'd much rather put my energies and money into the rooms where I do spend my time. However, that being said, I know it's time to start seriously thinking about some bath renovations around here. Ugh. Can't you just hear my excitement?
Now, about this blue sink. It was here when we bought the house. I claim no responsibility for this choice. When we first saw it while touring the home, we said right then and there, if we bought the house the blue sink would be the first thing to go. Twenty-two years later, here it is.
The reason it's still here is because our son, who happened to be in second grade at the time, loved it. He thought it was totally cool. So my challenge was to find wallpaper to go with it. While on a "Street of Dreams" home tour that year, I found this baseball paper in a bath and knew it had the perfect shade of blue to work with our crazy sink.
I almost choked when I heard the price of the paper. I don't remember now how much it was, but it had to be purchased through a decorator AND it came with edges that had to be cut off. The edges showed the colorway (is that what it's called?) of the paper. I had never seen paper quite like that. It was some pricey stuff and I had to hire a wallpaper person who knew how to remove the edges and hang it.
Update: Thanks to Ellen for helping me remember what this type paper is called. The word I was looking for is "hand-screened" and the edges have to be trimmed before it can be hung.
The baseballs on the paper have the real signatures of well-known baseball players from the early years of baseball. When I had it hung, the guy who hung it got the biggest kick out of it because he recognized many of the names. I will say this about it, it looks as nice today, as the day it was hung. It hasn't yellowed or changed in color at all.
I chose a cute baseball themed towel rack back when I decorated this room back in the day. It actually a baseball on the end. 🙂
The shower area…hard to see but it has white tile and still looks pretty nice.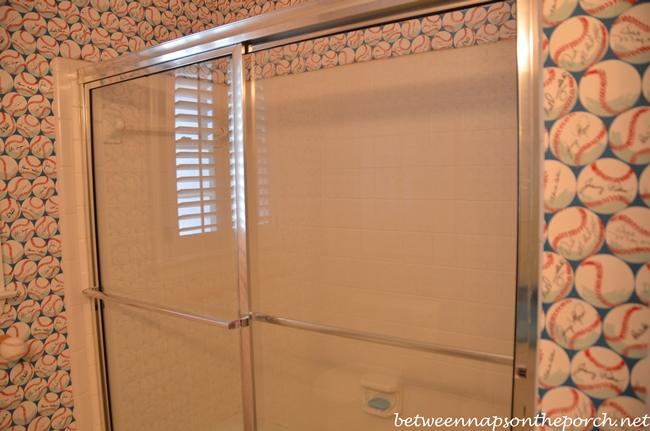 I did replace the original light with this fixture. It reminded me of baseballs for obvious reasons.
Back toward the entrance is a linen closet that's fairly decent size. It's very deep and holds a good bit.
When I renovate this bath, I'll tear out the old cabinet/counter that has seen better days. I may redo the floor, although it's white which is a neutral. I'll install a longer cabinet/counter which would hide the foot print of the old one, so not sure the floor will have to go, although I'd like to see it get regrouted. Or, maybe I'll install a free standing counter that is (or at least looks like) a piece of furniture, in which case the flooring would need to go.
The tub needs to be resurfaced or re-somethinged…have to do some research on that. Or maybe I should go with a whole new one. It has nice, white tile across the back, so it still looks good. I'll probably keep it a bath/shower combo for resale purposes.
I'm seriously thinking of having beadboard installed or some type of wainscoting, which would get painted white. Obviously, I'd take down the wallpaper…sniff, sniff. I sort of hate to see it go. It won't be near as painful as painting over the baseball mural in my son's room was. Once I settle on a design, I'll get excited about it and then I'll be raring to go. The thought of renovating three 30-year-old baths has felt overwhelming, so what I need to do is take it one bath at the time.
While I'm showing you baths, I might as well show you the guest bath that also got a new toilet today. I almost went with a color called bisque or something like that. It was sort of cream colored and would have looked great with my Thibaut wallpaper. I still love this paper and…
…it ties in well with the English Country/woodland feel of the family room that's located around the corner.
Since I didn't want to limit myself regarding how I might decorate this bathroom in the future, I stayed with a white Highline in here, too.
Here's what I meant about this one being closer to the wall. When this room was wallpapered, the person who hung it (not me) didn't wallpaper fully behind it. So I was a bit worried the unfinished area might show. I had the measurements of the Highline and did measure in advance of purchasing it, but when I saw how far the one upstairs was out from the wall, I was worried. It turned out just fine, though. Even standing over it like this, you can't see the unfinished area. I also have a roll of this paper left over, so that strip could have been replaced, if necessary.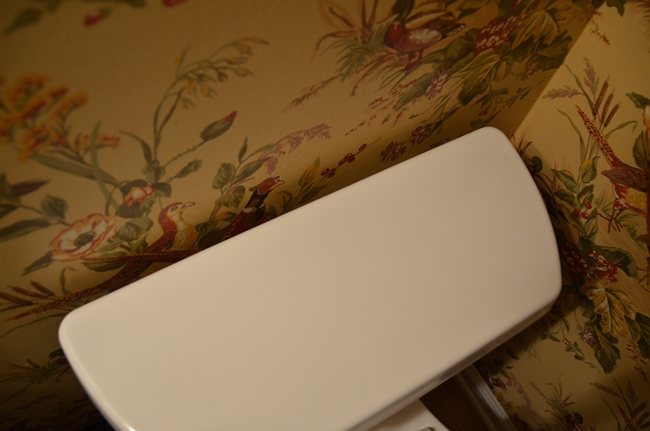 So, not the most exciting Before and After, but no more drippy sounding toilets and hopefully I'll be using less water.
Have you been replacing drippy toilets in your house for water efficient ones?
Got any ideas for me on how I should renovate my son's old bathroom? Do you like the beadboard/wainscoting idea with either paper or paint above? I think I'll spend a little time over at Pinterest checking out baths today. If you have any inspiring pics to share, send me the Pinterest link or email me the picture. I'm sort of starting to get a little motivated to update these dinosaurs. Sort of.
Happy weekend!
*If a post is sponsored or a product was provided at no charge, it will be stated in post. Some links may be affiliate links and as an Amazon Associate, I may earn from qualifying purchases. *