A few days ago I turned on the TV while having lunch and there was a show on HGTV I had never seen before. A woman who I thought was probably a real estate agent, was showing a young couple several fixer-upper homes that could be renovated and redesigned into the home they really wanted.
As I watched, I kept thinking how much the agent looked like Designer, Sarah Richardson, but I knew it couldn't be Sarah since she's not a real estate agent. The more I watched, the more I couldn't get over the resemblance. I had no idea what show I was watching and didn't watch it to the end. I almost never see all of any show I watch on TV since I usually just watch during the 15 minutes I'm having a quick bite to eat.
Pat who reads BNOTP, knowing I'm a Sarah Richardson fan, left a comment recently saying Sarah had just designed a new home on Lake Erie and that it's being featured in the July/August issue of Country Living Magazine.
In the process of Googling for more info. I found that there's a good reason the woman I saw recently on the house hunting show looked so much like Sarah…it was Sarah! She has a 6 part series called Real Potential that I think has been airing on Canada's HGTV since last September.
I guess they are just now starting to show it on HGTV here in the U.S.  Have you seen any episodes? Did you like it? I'd love to see it again now that I know that was Sarah. I really like her personality.
In my Googling, I also discovered another pretty stunning makeover Sarah completed. She purchased a 1950's cottage and gave it a full renovation with plans to rent it out to vacationing families. So if you like what you see in this post, you can rent it out and stay there in person! The rental site indicated there are only two weeks left available, looks like business is good!
Sarah Richardson's Rental Cottage
The cottage Sarah purchased is on a remote little island located in the Township of the Archipelago, District of Parry Sound near the Sans Souci area of Georgian Bay. It's a 30 minute boat ride from Parry Sound. Can you imagine doing a full renovation when you're that far from stores and shops. Talk about a challenge! No quick runs back to town when you realize you've run out of something you need.
This was the exterior of the cottage before the renovation.
Here's how it looked aftewards…I definitely see some changes, especially with the steps/porch area.
Let's go inside and take a look at this transformation that took Sarah just six weeks to complete.
This was probably a popular look in the 1950s when the home was built. I guess over the years, someone tried painting the cabinets white to brighten it up a bit. Looks like the floors were painted at some point, too. Wonder why they didn't just refinish them.
The original kitchen…again very dark. Definitely has that cabin-like feel, doesn't it?
Ready for the "After?"
The home is now bright and light-filled and bright! Sarah decided to paint the floors a really pretty green.
Amazing views!
How do you like the dining table with its tree branch legs? Fun!
I'm so glad they didn't change the fireplace, I love that it looks well used and well-loved.
The kitchen saw a dramatic makeover, too. Now it's open to the living room where the cook can enjoy the beautiful views along with everyone else.
Sarah made all her decisions about this renovation knowing it would be a rental property once she was done.
Some trees were cut down to open up the views to the water. I love how bright and light-filled the master bedroom is, although it would be a challenge to sleep-in, wouldn't it? Just have to wear once of those eye mask thingies.
The views make up for not getting to sleep in!
The guest room with a wonderful deck to enjoy the views with your coffee in the morning.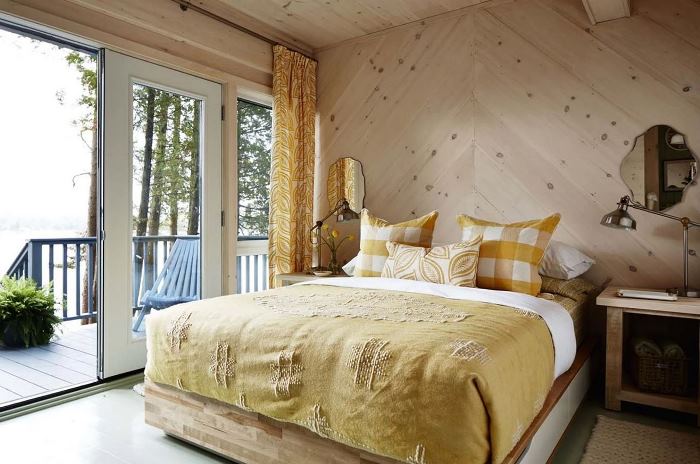 I wonder if there's a small bathroom or shower behind the wall with the skis. I don't think it is…not enough room.
I've always loved Sarah's choices of color for her designs. She isn't afraid to use bright colors. Sarah says, "I embrace the opportunity to experiment with new colour palettes whenever the urge strikes. Why live life in black and white when you can surround yourself with a spectrum of colours that deliver youthful, family friendly style at home?"
You can see that philosophy at work here in this adorable blue and white bunk room.
This room has lots of sleeping areas. I could see two families renting this cottage together, with the adults getting the larger bedrooms and the kids all bunking in here. I think the top bunks may need safety rails, though. I wonder if they were added later.
This island cottage also has a mosquito free zone via this cute screened-in porch.
Love the soft colors Sarah used here, very soothing!
A lovely spot to watch the sun set on another perfect day.
Did you know Sarah wrote a book? It's her very first and I really enjoyed it! You can read more about it here: Sarah Style
Update: Sarah has a new book coming out! Going on my wish list! It can be preordered at a savings here: At Home: Sarah Style

If you would love to rent this cute cottage to enjoy it in person, you'll find additional information about renting it here: Rent Sarah Richardson's Island Cottage
See more of this cute cottage at HGTV Canada where these pictures were found, here: Sarah Richardson's Rental Cottage
*If a post is sponsored or a product was provided at no charge, it will be stated in post. Some links may be affiliate links. *