Welcome to the 367th Metamorphosis Monday!
Do you sometimes find yourself putting off a DIY job, even though it seems like a small project? Maybe you're waiting until the mood hits or you're finally ready mentally to tackle it. That's kind of where I've been with hanging my drapes here in the living room.
I was thinking about this on Saturday, about why I've been putting it off, and I think I know why. Decisions–there were going to be a lot of decisions to make and that can sometimes feel overwhelming.
First there was the issue of deciding which style curtain rod to use: metal vs wood. I finally decided to go with the blackish, oiled rubbed bronze metal rods I had purchased because wood rods would have to be cut to the specific size needed (big commitment) and are often a good bit more expensive. Plus, several of you thought the metal rod would add more interest and I kind of like that idea. I also thought the metal rod would tie in nicely with the dark-bronze dog lamp on the table in front of the bigger of the two windows.
Then there's the always terrifying issue of putting holes in the walls, something I always dread doing in this room. With regular sheet rock walls, if you goof and need to move a rod slightly over, you can just spackle the hole and paint over it. With wood walls, holes feel much more permanent, even though they can be filled in with wood filler to somewhat hide the hole. One plus about wood walls, nail holes aren't nearly as visible on wood walls as they are on painted walls, so there's always that.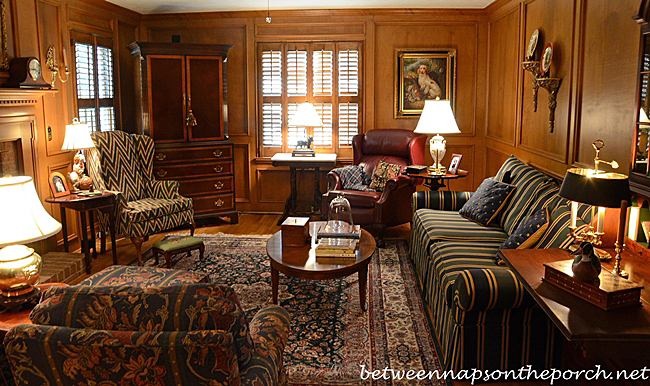 Finally, there was the process of deciding exactly how far out to go with the rods and just how much of the molding I was comfortable hiding. Seems like there's always a trade-off when decorating. In this case, I felt adding the softness and richness of velvet to the room was worth the sacrifice of hiding a bit of the molding, but there was the balancing act of hanging the curtains high and wide while taking into consideration the layout of the molding.
Anyone else go through this type of mental debate and decorating angst when tackling a project around the house? I have found over the years, if I'm unsure or a bit anxious about the next step, it means I need to take a few days off and just let it be. When I'm well-rested and ready, I'll know what I need to do.
This weekend I was finally ready to get going. Several BNOTP readers suggested hanging the curtains before hemming them so the wrinkles would fall out and the draperies could settle. Great idea! I also wanted to see exactly how much they needed to be hemmed.
After hanging them, I'm almost tempted to not hem them at all. Once they were up, I realized that only the bottom of one panel is actually visible, although they would probably hang in nicer folds if they weren't quite so long.
Photography is always a challenge in this room, the wood walls swallow up the available light, which of course is exactly what we love about cozy, paneled rooms. So these pics may be a bit grainy since I had to crank up the ISO on my camera to take them.
I hung the panels up high, just underneath the crown molding. There was the perfect spot right between the crown molding and the top of the molding below, where a rod fit nicely. I had the flamestitch wingback chair pulled out away from the window and was hanging the draperies on the smaller window when I took this photo below, so that's why the chair is in the middle of the room.
This was the rod I chose, the Allen & Roth Bronze Metal rod in a basket-weave design. I think someone else described this has having a woven leather design. It comes in several different lengths and I went with the 72 inch to 144 inch size because I was hoping that would make the break where the rods come together, fall at one end or the other.
That's a little trick I do when hanging curtains, going with a much longer rod than needed. It worked great in the dining room and the break where the rods came together was completely hidden. (See that in this post: French Pleated Draperies for the Dining Room.)
It worked pretty well in this room. For the smaller window behind the wingback, you can't see the break at all, it's behind the curtain rings. The center window was a bit too wide to completely hide it, but fortunately the break wasn't very noticeable at all. You have to really look for it in order to see it.
I really do like how the drapes look in this room. I think the color works great, too.
You can see all the wrinkles right now. I'll see what falls out over the next few days, then I'll lightly steam them using a hand-held steamer to work out the really stubborn wrinkles.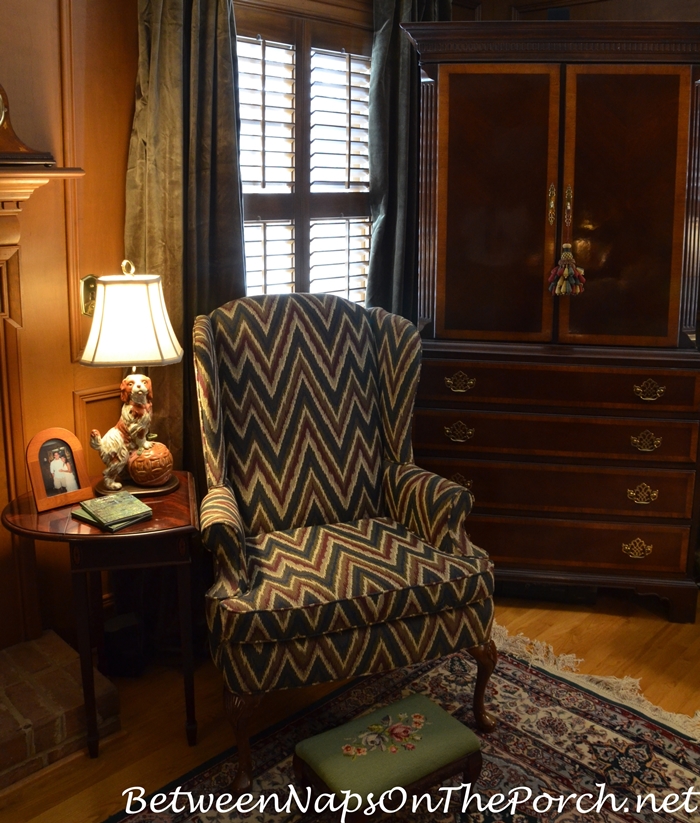 In this photo you can see where the rod fit comfortably between the crown molding and the molding just below. These rods were a bit thicker than the ones I used in the dining room. I thought the chunkier rod worked well with the weight/heft of the velvet fabric.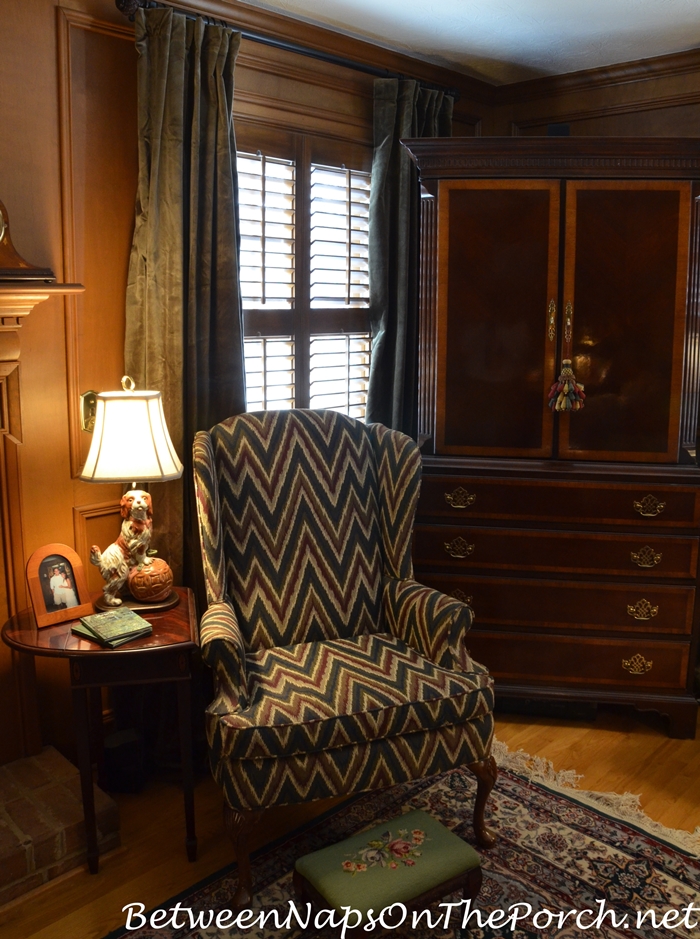 Fortunately, because the curtains were hung with screws going into wood walls, I only had to use one screw on each end. The drapes aren't overly heavy, either.
So what do you think, should I go ahead and pay to have them hemmed, or just let them puddle onto the floor since the hem of only one panel is actually visible? Not sure if I'd ever need/use them if I move one day to another house, but longer panels could possibly come in handy if I did. What do you think: hem or no hem?
Can't See the Met Monday Links Below?

Please Note: If you are have trouble viewing the Met Monday links below, you may need to update your browser. Browsers need to be updated every so often and the links below may not be visible if you're viewing this post with an out-of-date browser. To update your browser, Google "Updates for XXX browser" substituting the XXX with the browser you are currently using.

You may want to consider downloading Google's "Chrome" browser. That's the browser I use and it's excellent. If you currently use Internet Explorer, Safari or Firefox, you can keep that browser and add the "Chrome" browser to your computer, too. You can have as many browsers as you like on a computer. I have several on mine, but Chrome is by far my favorite because it's fast and has so many features other browsers do not.

Clearing the Cache

Periodically you will want to clear the cache on your browser, especially if you start noticing pages online are slow to load or perhaps won't load at all. It's easy to clear your cache, but the steps are different for each browser. Again, just Google "How to clear the cache in XXX browser" substituting the XXX with the name of the browser that you normally use.
Looking forward to all the wonderful Before and Afters for this Metamorphosis Monday!
If you are participating in Metamorphosis Monday, please link up using the "permalink" to your MM post and not your general blog address. To get your permalink, click on your post name, then just copy and paste the address that shows up in the address bar at the top of your blog, into the "url" box for InLinkz.
In order to link up, you'll need to include a link in your MM post back to the party so the other participants will have an opportunity to receive visits from your wonderful blog readers.
Please observe these few rules:
Only link up Before and After posts that are home, gardening, crafting, painting, sewing, cooking or DIY related.
Do not link up to the party if you're doing so to promote a website or sell a product.
Don't not link up a post that was just linked up last week since readers would have already seen that post.
Please do not link up more than 3 posts per week.
*If a post is sponsored or a product was provided at no charge, it will be stated in post. Some links may be affiliate links and as an Amazon Associate, I may earn from qualifying purchases. *