Several years ago I came across the blog(s) of Kiel James Patrick and Sarah Vickers. Their fashion style always features tried and true classic clothing, and I love it! I've always been drawn to the classic (some would say "preppy") clothing style.
Though a big fan of Sarah's blog, I can't always stretch my budget to purchase the clothes/shoes/handbags that she features on her blog, but every once in a while I'll save up and splurge for something I just can't get out of my mind.
One such item that I have seen featured for many years in her posts and on Kiel's Instagram is a whimsical, leather, duffel bag with a safari motif. I fell in love with that bag long before I ever had the opportunity to actually go on a safari.
You can see Sarah's and Kiel's safari bags in this photo below from Kiel's Instagram. As if the bag isn't already awesome enough, it's also monogrammed. Arggg, love it so much!
I can't count the number of times I've lusted after that bag on their website and on Instagram. It was a lot! Sarah and Kiel travel a good bit and this cute bag almost always makes the trip.
Fortunately, Sarah always links out in her posts to where she finds things, so I was able to locate the source of the bag at a website called, Very Troubled Child. I've literally been stalking this bag for years, but have always delayed purchasing it since it was a bit of a splurge due to its limited production. When an item is produced in limited quantity, it will understandably always cost more than if it's mass produced.
The Design
The concept for the bag goes all the way back to 2007 when a similar set of luggage was featured in the movie, The Darjeeling Limited. You know how I'll sometimes post a movie house tour when the home in a movie is so amazing it ends up being another "character" in the movie? (Think Home Alone, Something's Gotta Give, Under the Tuscan Sun, The Holiday, etc…)
Well, that's what happened with this luggage in the Wes Anderson movie, The Darjeeling Limited. It's in pretty much every single scene of the movie and almost steals the show!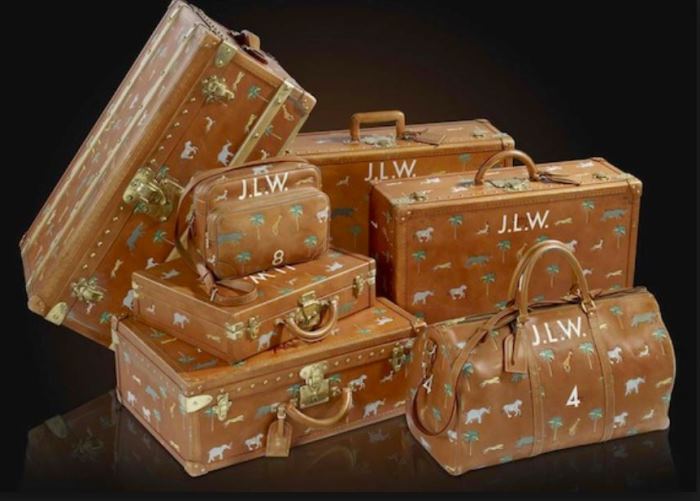 From what I've been able to find, the luggage in the movie was designed by Wes Anderson's brother, Eric Anderson. Then Marc Jacobs, the artistic director for Louis Vuitton at the time, oversaw the making of the luggage. So, Louis Vuitton actually made all the luggage that was used in The Darjeeling Limited.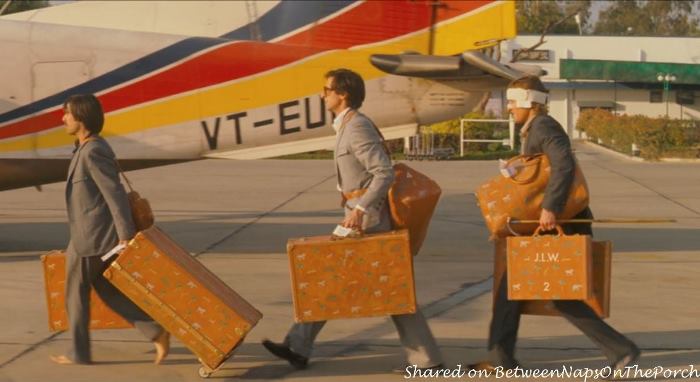 In the movie, the three Whitman brothers (played by Owen Wilson, Adrien Brody and Jason Schwartzman) travel across India via train with 11 pieces of this luggage in tow. The luggage holds a lot of meaning for them because it belonged to their now deceased father with whom they had a somewhat strained relationship.
During the course of the movie, the brothers work through a lot of their issues, and right toward the very end of the movie (spoiler alert) they finally ditch their baggage luggage as they run to catch another train. That scene in the movie is quite powerful as there's no missing the symbolism that the luggage held.
Apparently, Louis Vuitton passed on a big marketing opportunity. From what I've read, EVERYONE was talking about the luggage after the movie was released and wanted to know where they could get their hands on a set.
Unfortunately, LV only made one set, the one used in the movie. It was placed on display in the Louis Vuitton store in New York at the time of the movie's release, and four of the eleven pieces were ultimately sold at auction. The money from the auction was then donated to UNICEF to help the people of India. Wonder what happened to the other seven pieces? Ummm.
The luggage takes quite a beating during the course of the movie. I wonder if it was refurbished before it went to auction, or maybe the buyer preferred it in its original movie state, scuffs and all. lol
Very Troubled Child Answers The Call
Alberto Favaretto, seen here in a photo from his website, Very Troubled Child, loves to travel and is a huge Wes Anderson fan. After seeing the movie he got the awesome idea to produce luggage that would appeal to fans of the movie and the Louis Vuitton luggage that was such a big part of the movie. Now fans could have their own safari luggage!
As mentioned, I've been stalking this bag for several years. Every so often I would stop by Very Trouble Child to drool over it. A few weeks ago I stopped by and had a little panic attack, the luggage was gone! What???!!! Oh, no! I had waited too long!
Well, there's nothing like scarcity to finally make you get your tush in gear. I e-mailed customer service at Very Troubled Child and asked if they still had any of the the No. 4 safari bags left like the one Kiel and Sarah own. Then I held my breath and waited for a reply.
The reply came: the one like Kiel's had been discontinued, but yes, they had a few pieces left, but not many. Yipee! After a few e-mails back and forth to clarify the monogramming details, I finally stopped my procrastinating and ordered the No. 4 bag.
When placing an order for a bag, there are choices to be made. A bag can be customized with a monogram as seen in the movie, or left un-monogrammed. If a monogram is desired, it appears the most common is either two or three letters, but I did see one bag online that had four. VTC will even monogram the letters in a color like gold, red, yellow or blue, upon request.
You can also specify if you want a period after each letter. I agonized over that. The monogram does have periods after each letter in the movie, but it looked a bit busy to me. Honestly, I like it either way, so it was a tough decision. You can see how it looks without periods on Kiel's bag in the 2nd photo up above.
Can you guess which route I went? What would you have chosen?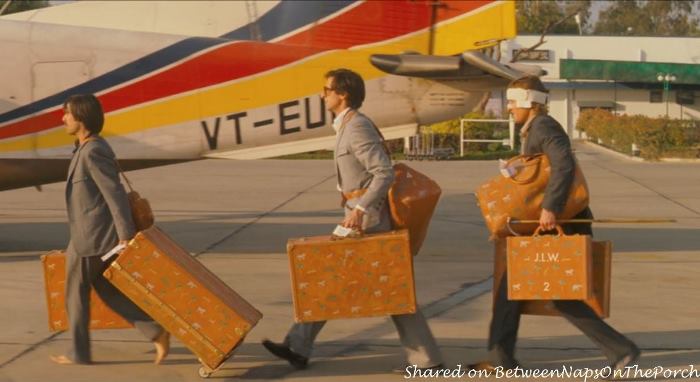 My bag arrived last Thursday, only a couple of weeks after I had placed my order. It would have arrived even sooner, but the monogramming delays the delivery by a week or so while one of their Master painters monograms the bag.
Tucked inside the box (along with my bag) was this large shopping bag! So cute!
I was delighted to see that the bag came with a dust bag, too. It's those little details, ya know!
Inside I found this gorgeous bag, and my heart skipped a few beats. Oh my gosh! All I could think was, "Why did I wait so long?!" I've said that so many times the last few days…that, and "I love this bag!"
Unzipping the bag I located the shoulder strap inside.
Green is my favorite color so I absolutely love that VTC lines their bags with this gorgeous, emerald-green material. There are two pockets on one side, and though I didn't photograph it, there's a big zipper pocket on the other side.
I would love to have had this bag on my safari trip to Kenya back in 2015, and on my recent March trip to Morocco. It would have been perfect for the small plane we took into the bush in Kenya to reach Mahali Mzuri.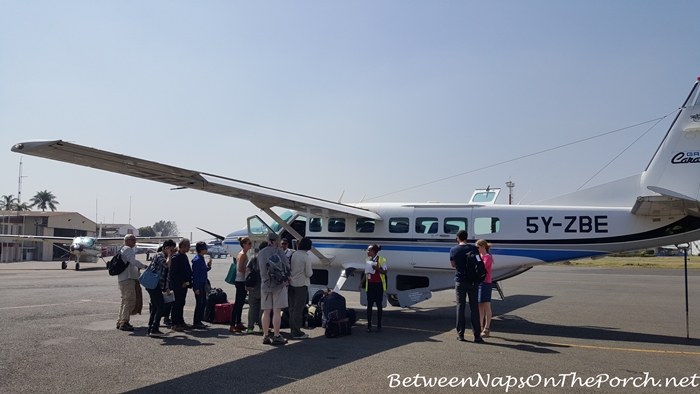 And it would have been perfect for the three nights we were glamping in the Sahara Desert in Morocco where we had to leave our big suitcases on the bus and could only use our carry-on bag. Oh, well–I have it now and it will be great for trips to see my grandchildren and future travel adventures.
Here's how it looks with the strap. That will come in handy when traveling.
Did you guess right about the monogram? I decided to go with no periods because that's typically the way a monogram appears on most things. The periods just made the monogram look a bit too busy for my taste, although if one is being truly authentic to the movie, periods would be the way to go.
The bag came with a really nice lock. I left it on for these photos, but removed it afterwards since I don't plan to ever lock it. I was worried about leaving the lock on the bag, worried it could scuff the bag over time. Not sure if it would do that, but felt safer removing it.
Here's the little key that opens the lock. The bag also came with a nice, leather luggage tag. Everything about this bag says, quality!
The design is so adorable with little animals embossed all over the bag. There's giraffe and zebra…
…elephants and cheetahs…
…rhinos and antelopes. Love the palm trees that are sprinkled all throughout the bag. One of these days I'd love to visit some of the coastal areas of Africa.
I just realized, I never took a photo of the other side of the bag. It looks exactly the same as the front, minus the monogram.
Just for fun, I styled it with a few of my favorite winter sweaters since fall is here. The green, leaf sweater was a clearance find last year from Talbots. The white snowflake sweater is a Ralph Lauren sweater I've had for many years and the red sweater is one I bought during a sale at J. Crew last year. You may remember when I shared it here on the blog.
I have this thing for snowflake sweaters, I'm always on the look-out for them during the fall/winter months. If you love snowflake sweaters, a great place to find them is on eBay. I've purchased several there over the years and you can save a bundle. Ralph Lauren produces a new one almost every year, so I almost always search for his when I shop on eBay.
The wool snowflake sweater on the left is another Ralph Lauren sweater, found a couple of years back on eBay. I love it because it's nice and long, perfect for wearing with leggings.
The other sweater is my latest sweater purchase from L.L. Bean. It's still available here: Fisherman Cable Knit Sweater.
Another sweater I purchased recently from L.L. Bean is the navy and white stripe one on the top left. It's still available and currently on sale here: Navy/white Stripe Sweater. I love navy and white! It's also available with a hood and pockets here: Navy/White Sweater with Hood.
The navy sweater with pink detailing is from Talbots last year, as is the cream sweater below.  I don't know if they are still available or not, but if they are, they would most likely be among their sale sweaters, HERE.
The other snowflake sweater is another Ralph Lauren sweater that I've had for many, many years..so long I can't remember now where I purchased it. It's still in great shape despite wearing it to death every winter!
The navy cardigan at the bottom was a purchase from the Blarney Mills during my recent trip to Ireland.
If you're interested in your own Safari bag, you'll find VTC's website here: Very Troubled Child. At this point I'm not sure how many they have left, but it never hurts to ask.
(This isn't a sponsored post, by the way–and I paid in full for my bag.)
They do have a new Safari bag line called the Savanna Bag, and it features African animals, too. I love it, as well!
I would love one of their Seafarer Bags, would be perfect for beach trips! I love anything nautical!
For the bird lovers, they have the "Birds of a Feather" bags. I'd like one of each, please! Arggh…they are all so pretty! You'll find all their bags here: Very Troubled Child.
I can't wait to share the major makeover the Belleek Castle Lamp (posted about recently) got this past week. Oh my gosh, the difference a shade makes! It's quite the change! I'll be sharing that for our next Metamorphosis Monday.
Have a wonderful weekend, dear Friends!
Pssst: I post almost daily to Instagram. Follow Between Naps on the Porch on Instagram here: Between Naps On The Porch.
*If a post is sponsored or a product was provided at no charge, it will be stated in post. Some links may be affiliate links. *