Welcome to the 226th Metamorphosis Monday!
Recently, I ordered the book, A Bit of Velvet & A Dash of Lace by Robin Brown.  Robin is the founder of the design company, Magnolia Pearl.  Are you familiar with her and her unique style?  I first learned about Robin when I came across her website many years ago. I'll never forget it because that was the first place I ever heard the song, Heavenly Day by Patty Griffin. It was playing on her site that day and it's still one of my favorite songs.
Robin and her husband, John Gray put their home on the market to sell a while back.  The interior is pure Magnolia Pearl.  Robin uses lots of antique lace, tapestry, silk and velvet in the design of her interiors.  In her book she describes her decorating style as layering because she layers fabrics and other materials until she achieves the look she wants.
Robin and John purchased a 1972 Airstream Trade Wind on eBay, sight-unseen.  It was in pretty yucky shape so they gutted it and made it their own by installing hardwood flooring, beautiful lighting, chandeliers and a full-size refrigerator. The refrigerator got an amazing makeover, too.
There's no doubt whose Airstream this is when you see the exterior.  Of course, if you're pulling this airstream, you need a special vintage car to do the pulling.
This vintage Roll Royce got a makeover, too.
It's now a "Rose Royce."  Love it!
Check out the upholstery! See the rug on the inside of the door? Robin frequently uses rugs and tapestries on walls as part of her design.
A view of the rear of the Airstream…the pictures in this post are all from Magnolia Pearl dot com.  You can see this one was featured in a magazine (note writing).  It was probably Country Living since Robin's work has been featured there numerous times. Here home was featured in the Feb/Mar/Apr issue of Where Women Create. I can't wait to share the interior in a future post!
Imagine stepping into a vintage Airstream, turning your head and seeing this! My jaw would be on the ground! The thing I find so amazing about Robin's style is though it incorporates imperfect vintage pieces with lots of character and age, her interiors always feel luxurious, downright decadent.  Check out the vintage light fixture and the refrigerator there on the left.  Have you ever in your whole life seen a travel trailer like this?

Beautiful botanical designs embellish the front of the refrigerator.
You can really see Robin's style of layering fabrics, lace, and fringes to achieve the look she wants. She also uses old, tin ceiling tiles in her designs. It looks and feels very Victorian. I just noticed, there's a column on the left.  That's so unexpected inside a travel trailer which is exactly what makes it positively enchanting!

There's a vintage sink for washing dishes…
You would feel like a queen sleeping here.  The antique bed was chosen for this spot because its arched headboard mimics the shape of the Airstream.  The bedding is down and is layered with old linens, beautiful quilts and lots of pretty pillows. Love the bedskirt!  Now, with a bedroom like this, can you imagine how the bath must look? For just a moment, imagine the typical bath in most vacation/travel trailers. Okay, with that image in mind, let's take a look at the bath.
Amazing!  Look at the chandelier…love it!
This vintage Airstream looks and feels just like Robin's home, truly a home away from home.  Have you heard of Robin Brown or Magnolia Pearl before?  I've really enjoyed reading about her early life and how her parents who made their living as artists, greatly influenced her life.
Looking forward to the Before and Afters posted for this Met Monday!
Metamorphosis Monday: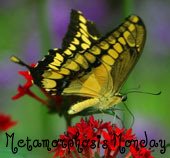 If you are participating in Metamorphosis Monday you will need to link up the "permalink" to your MM post and not your general blog address. To get your permalink, click on your post name, then just copy and paste the address that shows up in the address bar at the top of your blog, into the "url" box for InLinkz.
In order to link up, you'll need to include a link in your MM post back to the party so the other participants will have an opportunity to receive visits from your wonderful blog readers.
Please observe these few rules:
Only link up Before and After posts that are home, gardening, crafting, painting, sewing, cooking, DIY related.
Do not link up if you're doing so to promote a website or product.
Do not link up a post that was just linked last week since a lot of readers will have already seen that post.
Do not type in ALL CAPS.  It spreads the links waaaay out.
Let's try something fun today! Please visit the person who linked before you and after you…that way everyone will get some visits.




Welcome! Thanks for coming to the party!
*If a post is sponsored or a product was provided at no charge, it will be stated in post. Some links may be affiliate links. *