Welcome to the 370th Metamorphosis Monday!

When I added a screened porch onto my home in 2008, I knew I wanted to light the porch at night with just lamp light, no overhead lighting. I love the ambiance lamps give to a space. Once the porch was complete, I ran around the house borrowing lamps from various rooms until I could purchase lamps that felt suited for a porch, particularly a porch with white wicker furniture.
Back in those early porch days, whenever I was out thrifting/antiquing, I'd keep my eye out for inexpensive lamps that would work with wicker. One day while antiquing I came across the little wicker lamp you see below. It was only $18 and it worked great on the porch for a couple of years, but eventually the paint began to flake off.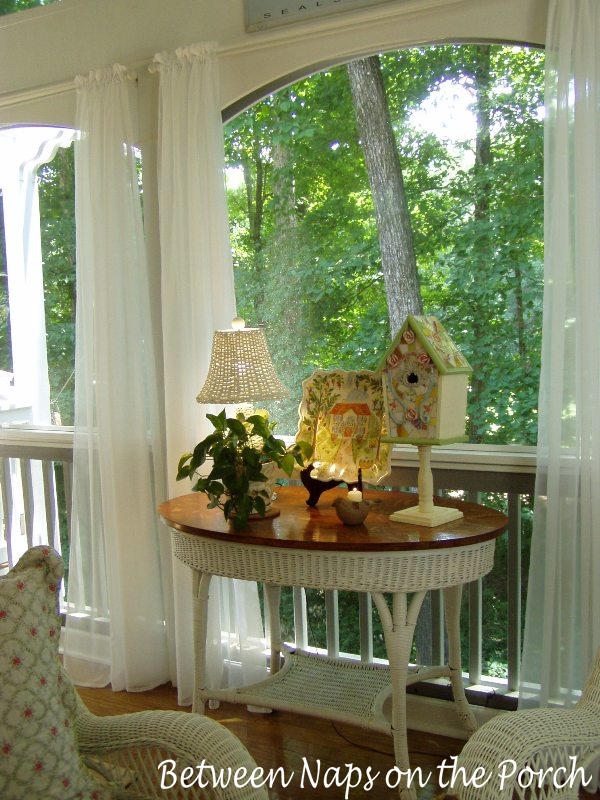 Apparently, it had been a dark-brown wicker color originally and someone had painted over it. It wasn't the greatest paint job, thus the $18 price tag. I could have repainted it, but it was a bit smaller than what I really wanted for that table. Plus, it didn't give out very much light through the dense wicker design.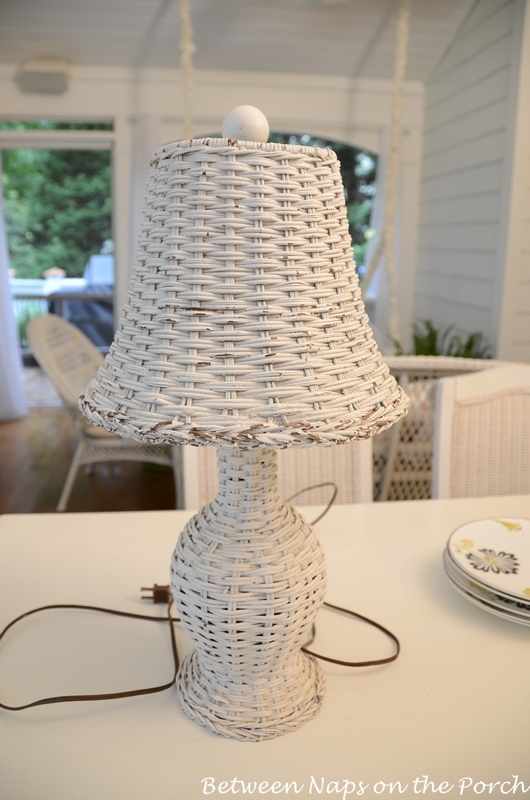 I donated the little wicker lamp and replaced it with a lamp found in Tuesday Morning for $49.99. It's visible in the picture below.
I get a lot of questions about how the lamps on the porch hold up to the weather. The only lamp on the porch that is near a screened window is this lamp. The porch has a pretty big overhang so during normal rains, it doesn't get wet. If it's a severe blowing rain, like the kind we sometimes see with tornadoes, it does get wet, but the lamp is never on during those times. That lamp is only on when I'm home and happen to be on the porch after dark, and I don't typically sit on the porch during big storms. Well, there was that one time. lol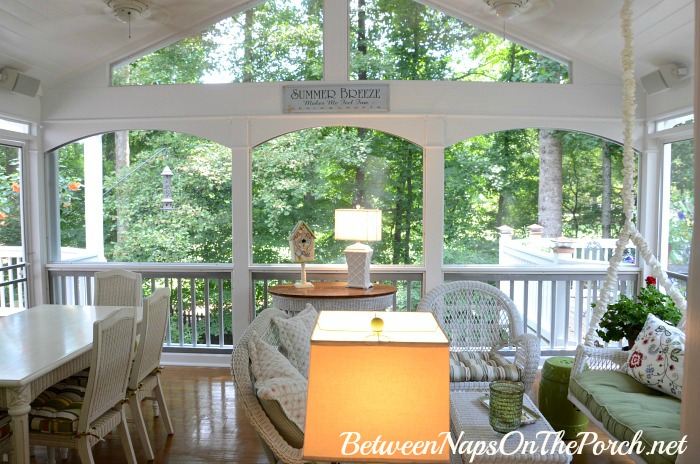 I have two more lamps on the porch: this one here on the hutch…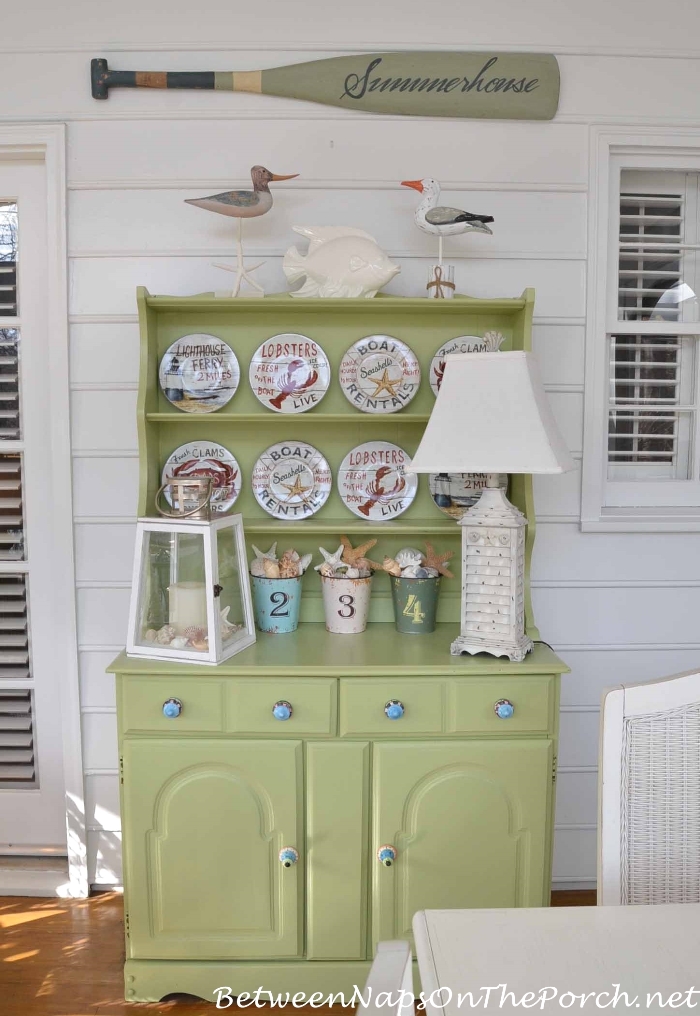 …and this one on a side table.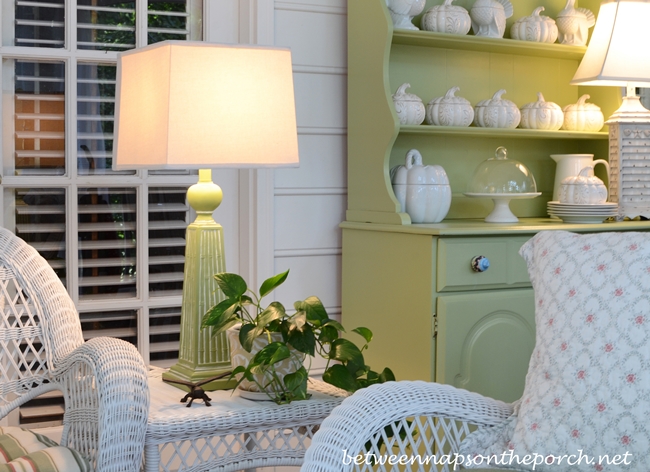 Both of those lamps are far away from any windows and have never gotten even slightly wet. (Read more about the addition of this lamp to the porch here: Porch Lighting: Create a Cozy Atmosphere with Lamps)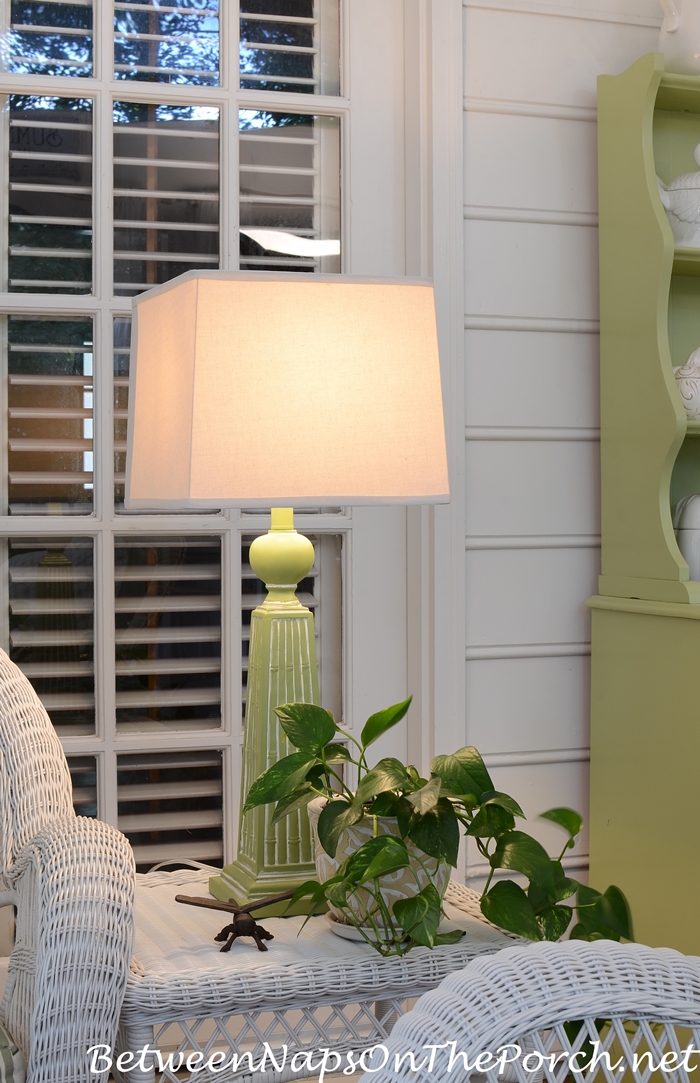 A few days ago I was in the guest room dusting and I noticed the glass lamp beside the bed had a big crack in the glass.
This lamp was used on the side table right after the porch was first built and I think I recall knocking it over once when I was carrying something large through the porch. I don't remember seeing the crack at that time, I think I was more worried about the shade back then.
After noticing the crack last week, I thought about the lamps I already had that could possibly work in the guest room. I decided to use this lamp from the porch, so it's now in the guest room.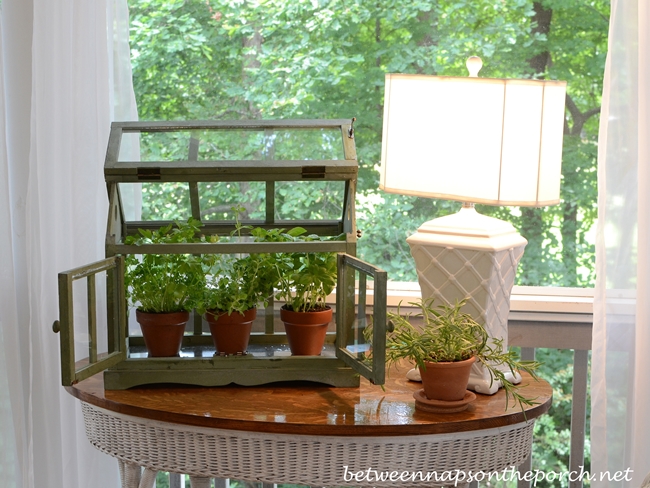 To replace the lamp I stole from the porch, I ordered a lamp that is actually made for using on porches. Back when I first added on the porch, all the "outdoor" lamps I came across then were really ugly! I mean seriously ugly! Since then, lamp manufactures have come out with some much cuter designs!
Here's how the lamp arrived. The directions were excellent and it only took me about 5 minutes to put it together.
After I put it together, I took it into the guest bath downstairs, closed the shutters so it was nice and dark and turned it on. My first thought was, "Oh, no…this is going back." The reason I thought that was because when I first turned it on, it was pretty dim. It didn't appear to put out much light as seen below. As I stood there lamenting the fact I was going to have to box it back up and return it, something magical happened.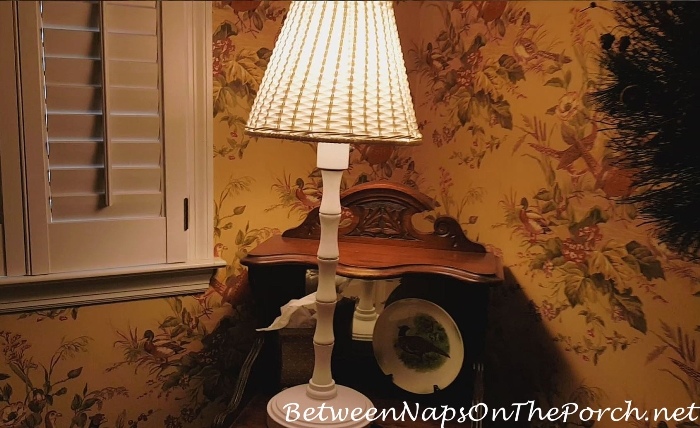 It started to get nice and bright! It took it about 30 seconds to go from dim to bright. Then it hit me, the reason it did that is because of the bulb. It came with an energy-efficient bulb that (per the packaging) costs around $1.97 a year to run.
They've now come out with bulbs that are super efficient and are fully bright the moment you turn them on, but this bulb is one of those that takes about 30 seconds or so to fully brighten up. I was so happy when it did brighten up because I like the look of the lamp a lot. It has a bamboo designed base and a wicker style shade, perfect for my porch that's furnished with lots of white wicker.
So here's how it looked on the porch late in the day.
Here's how it looked as dusk was settling in.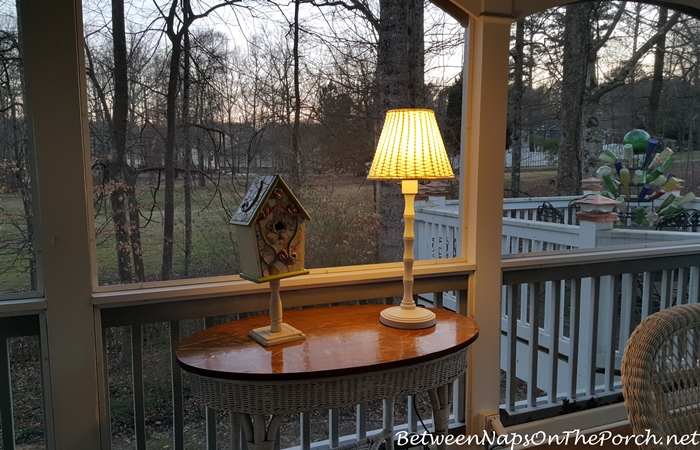 And here's how it looked at night. See what I mean…plenty bright!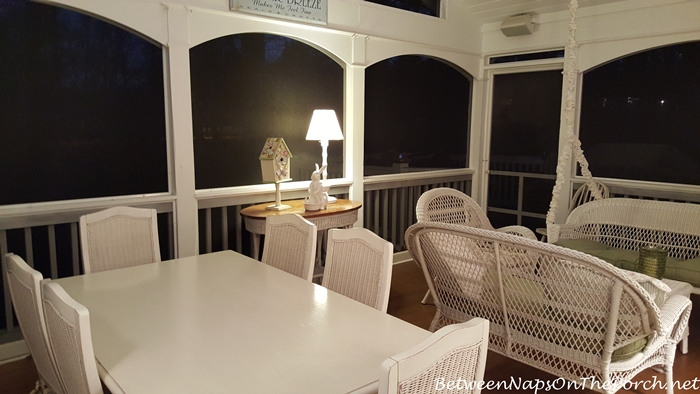 The shade is a vinyl type material so it will definitely hold up to the weather.
Plus, the base of the lamp is super heavy. I guess they made it that way so it could stand up to high winds on a porch. I've never had a lamp turn over on the porch, but I am glad this one is designed that way.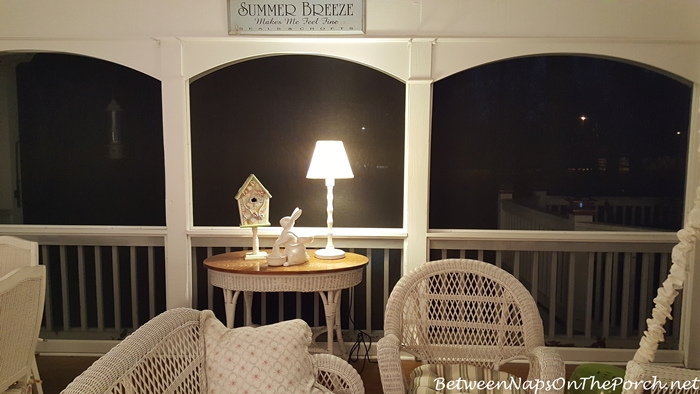 It also comes in a floor standing model. I'm tempted to buy one of those, as well. If you're in need of a cute bamboo and white wicker style table lamp for your porch, you'll find this one here: Waterproof Wicker Table Lamp
If you need an outdoor floor lamp, you'll find it with a birdie finial here: Waterproof Wicker Floor Lamp. If you prefer the natural/brown color, you'll find that style here: Outdoor Wicker Floor Lamp in Natural Brown Color
Here's a close up of the shade on the floor lamp. I love the cute bird finial!
I'm really pleased with this one and though I've never had any issues during the last 8 years having a regular lamp here on this table near the window, this lamp is perfect for being near a window on a porch or in an outdoor room.
Here's how the switch looks that turns it on and off. The switch is protected from the weather with a rubbery type covering that presses in to turn it on or off.
I need to get out here and wash the bottles on the bottle tree. I think I'll wait until the spring pollen season has passed first, though.
Happy Leap Day!
Looking forward to all the wonderful Before and Afters for this Metamorphosis Monday!
If you are participating in Metamorphosis Monday, please link up using the "permalink" to your MM post and not your general blog address. To get your permalink, click on your post name, then just copy and paste the address that shows up in the address bar at the top of your blog, into the "url" box for InLinkz.
In order to link up, you'll need to include a link in your MM post back to the party so the other participants will have an opportunity to receive visits from your wonderful blog readers.
Please observe these few rules:
Only link up Before and After posts that are home, gardening, crafting, painting, sewing, cooking or DIY related.
Do not link up to the party if you're doing so to promote a website or sell a product.
Don't not link up a post that was just linked up last week since readers would have already seen that post.
Please do not link up more than 3 posts per week.
*If a post is sponsored or a product was provided at no charge, it will be stated in post. Some links may be affiliate links and as an Amazon Associate, I may earn from qualifying purchases. *