Welcome to the 424th Metamorphosis Monday!
I had hoped to post photos of the hat rack I ordered back on February 25th, installed here in the office. Unfortunately, it still hasn't arrived. It's coming from Bulgaria and the last time I looked, it had finally made it to the U.S. and was in New York. So since I can't share that little before and after, I thought I'd share how I'm packing for my upcoming trip to Morocco, as well as some tips for traveling during what's known as the shoulder season. Update: Looks like my hat rack has finally made it to Georgia! lol
Travel during the off-season or shoulder season is always a bit tricky. Actually, this isn't exactly the shoulder season for travel to Morocco since travel there during the summer months isn't very popular due to the heat. But the weather this time of year will make it feel a bit like the shoulder season since the mornings and evenings will be quite cool. The daytime temps should be really nice, though. This is a sampling of the upcoming weather for Casablanca. It's actually very much like springtime in Georgia! lol
I thought I'd share some of the clothes I'm taking for the trip, including a few of the pieces I've paired together. Not shown in this post are the coat and a couple of cardigan sweaters I hope to take as well.
I plan to wear a straw hat every single day (along with sunscreen) for sun protection. I'll be wearing a lot of light-weight, long-sleeve cotton shirts, too. They layer really well and the sleeves roll up when the sun comes out, although I may leave them down for protection.
The hat you'll see paired with the outfits throughout this post is available here: Straw Hat with Bow.
Sixteen days is long time for which to pack. Since I'm limited to one large 50-lb suitcase and one carry-on bag, I'm taking 4-5 pairs of pants and lots of shirts/tops. The pants I'm taking are primarily jeans with one pair of black slacks.
The tops seen on the far left side of the picture above are tops I plan to wear with either blue jeans or black or navy jeggings.
This top that I purchased during the winter is perfect for this trip because though it's a combination of wool and cotton, it's very light weight and super comfortable. I'll layer it atop a long-sleeve shirt so if I get too hot, I can always take it off.
Tip:When traveling during the shoulder season, think layers. Layering is definitely a good strategy on those days when the temperatures fluctuate a lot between morning, daytime and evening.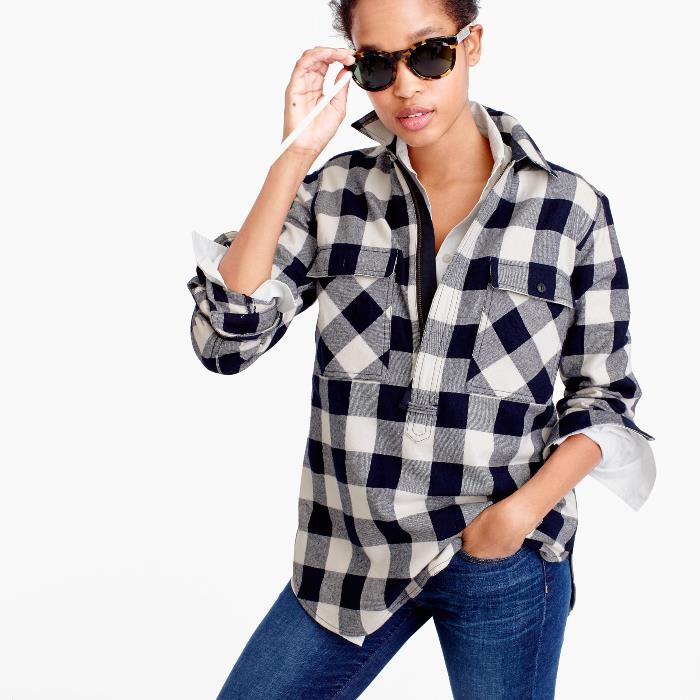 Down the center of that same photo, you'll see the tops I plan to wear with white jeans.
Note the bright pink sweater at the top and the aqua sweater and purple sweater further down in the photo. Those are all cashmere sweaters bought many, many years ago. They are very light weight, though very warm, so they won't add weight or take up a lot of space in my suitcase. I'll definitely be doing a lot of layering with those.
At the far right of the picture, we see a blue and white striped scarf I purchased during a trip to Italy in 2015. I believe I purchased it during out stay in Sorrento. It's super lightweight and should come in handy for going in places where it's custom to cover one's head/hair.
The infamous flannel, cupcake pajamas are going with me. Those are the ones I was wearing during the mini-flood. lol Read about that crazy morning here: An Adrenaline-Charged Morning. Update: I ordered these fun pajamas a few days ago by the same company that made the cupcake pajamas: Pajamas.
Pairing with Navy or Black Jeggings/Jeans
Here's how I plan to wear some of the clothes shown above. The navy, white and pink plaid top on the left was a recent purchase in Marshalls. The lightweight, pink cardigan is currently available in Gap. I purchased it in both pink and white.
Here's a close-up to see how the colors/clothes work together. The pink cardigan pulls out the pink strip running through the navy and white plaid shirt.
Remember this adorable navy "vacation" sweater I fell in love with earlier in the spring and had to have. Though it kinda has a "beach" theme, I'm taking it along on this trip. It works well with both navy jeans/jeggings and white jeans or slacks.
The cute sweater pictures a pink suitcase coming open with all the clothes flying out 🙂 It's currently on sale here: Vacation Sweater. I just love it!
If I have the room, I'm taking along this red, wool sweater I purchased this past winter. It's super warm and would be great to wear the two nights we'll be camping in the Sahara Desert where it can get into the 40's at night. It would look great with either the navy or the white jeans and any of the shirts shown below. The red sweater is available here in very limited sizes: Red Sweater.
Blue polka-dot shirt is available here: Polka-dot Shirt. I purchased it a while back, may have been last fall, so not sure how many sizes are available now.
I've had both the green top and purple cashmere sweater for many years. They will make the trip and will work great with either my black or blue jeggings.
Here's a little close-up with navy jeggings below. I was planning on taking both of my "packable" straw hats, one has a navy blue bow and the other has a white bow. But you'll notice in all the photos, it's the hat with the blue bow that seems to go with so many different outfits, so I may end up just taking it.
Not sure if I'll take the orange cardigan below or not, but I've been wearing this outfit sooo much this spring.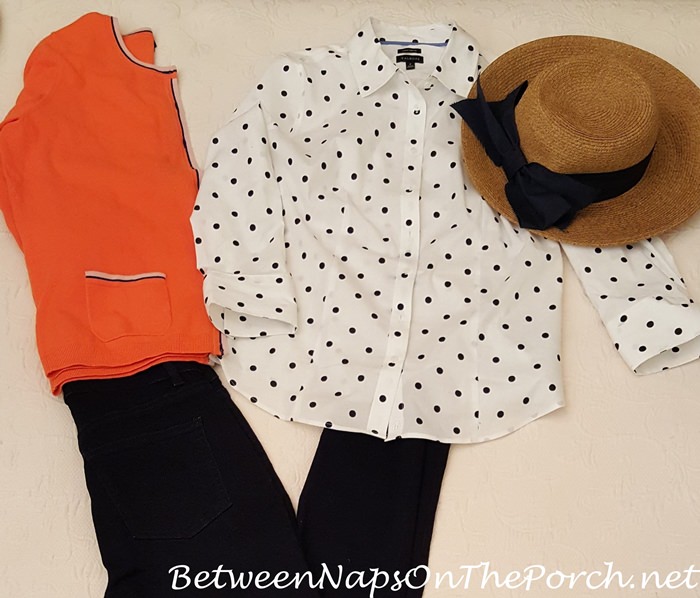 I never thought I liked the color orange in clothing, but I've discovered it actually works great with my pale skin tone. And I love how it looks paired with navy and white. The white polka-dot shirt is available here: Shirt.
Pairing With My White Jeans
What am I pairing with my white ankle slim jeans? I love this floral shirt! It's so much prettier in person than it appears in photographs. It works with both navy and white jeans, and I think the collar and cuffs will be cute showing underneath my bright pink cashmere sweater. Floral shirt is available here: Floral Shirt.
I know it's hard to see, but the sleeves on this shirt and many of the shirts I'm taking along, roll up and have the button on the sleeve that will hold it in place. So I can push up the sleeves on the light-weight wool sweater if I want and roll up the sleeves to a 3/4 length.
I love how that looks because you get to see a bit more of the shirt. All the shirts I'm taking are long enough that they can show out the bottom of the sweater, if I want to wear them that way. That seems to be a popular style/look these days.
A close up…
I'll take along one of the cotton, funnel-neck shirts I purchased in a clearance sale in J. Crew this spring. They are a heavy weight and should be pretty warm. I love blue and white striped shirts with white pants/jeans! And there's the straw hat with the navy bow. I can't get over how many outfits it compliments!
A close-up…
Here's a better photo from the site showing the hat, you'll find it available here: Straw Hat with Bow.
If I take my other straw hat, the one with the cream-colored bow, it will look pretty with some of the other outfits I'm taking on this trip. Here I'm pairing a light cotton shirt purchased on clearance in Talbots last summer with my aqua cashmere sweater and white jeans. I think I'm taking two pairs of white jeans since I don't want to have to wash clothes during my trip. Straw hat with cream bow is available here: Straw Hat with Cream Bow.
Tip: Almost all the shirts I'm taking are long sleeve, but the sleeves roll up. So as the weather warms up during the day, I can peel off my sweater and roll up my sleeves if I need to. This is a great way to dress for the off season or shoulder season when traveling.
The white slim ankle jeans I'll be wearing are available here: White Jeans in Classic Style. If you have more of a curvy figure with a smaller waist compared to your hips, the curvy style is better. That's what I wear, otherwise I get a pretty big gap in the waist. You'll find the curvy style here: White Jeans in Curvy Style.
This shirt never photographs well but the color looks much softer in person. It's a light fabric, again with roll-up sleeves. I found it in Marshalls this summer and love it!
This trip I'm going will be a small group, no more than 10-16 travelers. That's all Overseas Adventure Travel does. Love that! Our guide both emailed and called to see if I had any questions. I've never traveled where I received a personal call from the guide in advance of the trip…so impressed he did that!
I missed his telephone call but I emailed asking if there would be a dressy night, like for our farewell dinner. He said no, all dinners would be casual, but I could certainly bring along dress to wear if I liked.
I don't think I'll take a dress, but I decided to take the short, blue-velvet jacket that I've had many years. It looks amazing with slightly faded denim jeans and whenever I wear it with jeans, I get so many compliments. I love the contrast of the velvet with the denim. I have a lacy blue and white top I wear under it, as seen below. So this is what I'll probably wear for our farewell dinner in Morocco.
I'm still deciding what shoes to take but these are all under consideration.
I'll definitely be taking the navy blue top-siders. They are sooo comfortable, I could live in them! You'll find them available here: Top-siders.
I just purchased the sneakers after seeing a fashion YouTube Vlogger share them. She said they look awesome with black jeans. Apparently, they are super popular because I had a hard time finding them in stock, but I eventually found them available here: Sneakers. They run big so order a half-size down.
My black waterproof boots that I wore in all the torrential downpours we encountered in Italy will definitely be going. They are available here: Black Boots. They were so comfortable, I could have worn them every single day. They run about 1/2 size small, so size up at least a half a size when purchasing them. I think they will come in handy for the cooler nights or any days we get rain, although I think rain storms are usually short-lived in Morocco, unlike Italy where it sometimes rained the entire day.
I may take the Sperry rain boots, but not sure there will be enough rain to justify taking those. They were great for the Italy trip and also for the Holland/Belgium trip. We had some rainy days on that one. I guess when you travel to Europe, you have to be prepared for rain!
I'll also be taking one of my Chanel Chance perfumes. I'm sooo happy they finally came out with Chanel Chance Eau Tendre in a travel-purse container. These were only available for Valentine's Day but there are a few left here: Chanel Chance. The top twists up like shown in the center below, so it won't leak in purses or suitcases. Love these travel perfumes! I always buy my favorite fragrances in these when I can find them. They hold a fair of amount of perfume, too!
Hope these tips help the next time you find yourself traveling during the shoulder or off season. Layering is definitely your best friend and I love the shirts with the roll-up sleeves that button into place. They are so versatile for when the weather suddenly turns warm.
Also be sure to take a rain jacket/coat with a hood, they are excellent for those pop-up storms and toting around an umbrella is a pain. I love a Barber coat for travel!
Happy Travels, dear Friends!
Metamorphosis Monday
Metamorphosis Monday is a party that's all about Before and Afters. If you are participating in Met Monday, please link up using the "permalink" to your MM post and not your general blog address.
To get your permalink, click on your post name, then just copy and paste the address that shows up in the address bar at the top of your blog, into the "url" box for InLinkz.
In order to link up, you'll need to include a link in your MM post back to the party so the other participants will have an opportunity to receive visits from your wonderful blog readers.
Please observe these few rules:
Please link up Before and After posts that are home, gardening, decorating, crafting, painting, sewing, cooking, fashion or DIY related.
Be sure to include a link back to the party in your post, so your readers will be able to find and visit the other bloggers who are participating.
Do not link up to the party if you're doing so to promote or sell a product.
To those who are linking up: If you notice a shop or store linking up to sell products (yes, unfortunately that does happen) please let me know so I can remove their link from the party. No one wants to click a link expecting a Before and After, only to find a spam link to an online business/store.
*If a post is sponsored or a product was provided at no charge, it will be stated in post. Some links may be affiliate links and as an Amazon Associate, I may earn from qualifying purchases. *