Greetings! How was your day today? Hope it was a great one!
Today has been a pretty productive day around here. I have a little update for you about the velvet drapes I recently purchased for the living room. I also have a question for you!
You may remember last week I draped the velvet panels I purchased over the tops of the shutters in the living room to give you a little idea how they might look with the judges paneling and furniture in this space. I only had three panels at the time and was awaiting a fourth panel.
I have the fourth panel now and thankfully they all match! (If you missed the mismatched panel post, you'll find it Velvet Drapes for the Living Room.)
With all four panels here, I went shopping for curtain rods today. Last time I bought draperies, I searched all over the place before I found curtains rods that I really liked.
I decided to go back to Lowes where I found them the last time. They still had the cute artichoke finial rods but I wanted something a little different for the living room. (See previous dining room draperies post here: Dining Room Check Draperies)
I purchased these today, but now that I have them home, I think I've changed my mind.
I don't think I want metal drapery rods in this room. I'm starting to think I should use wood rods with wood finials. What do you think?
You may remember, these curtains have little hooks on back through which you place curtain drapery pins.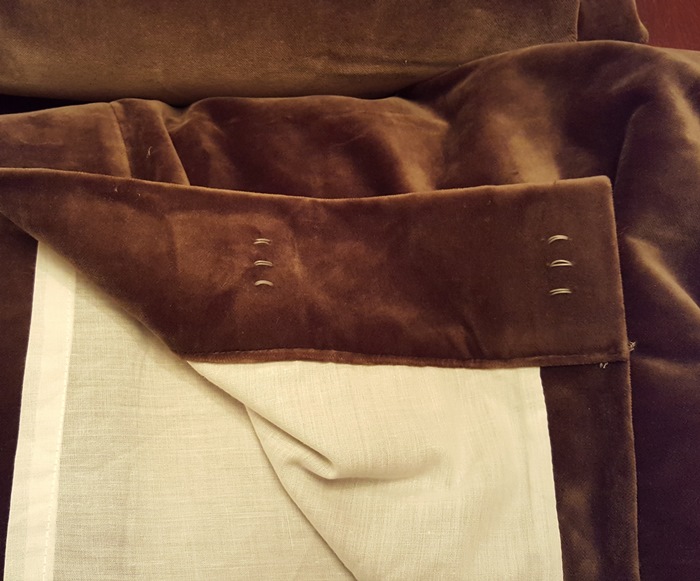 They are designed so they can be hung with regular clip rings by hooking the pins through the ring as shown below.
Do you think a wood rod would look better than a dark metal rod? I would need wood rings, too. I guess I could spray paint the metal rod I purchased with a metallic brown paint, although it might be hard to match to the brown color of the existing finial…but maybe not. The curtains would be hanging in between so if the finial didn't exactly match, I think it would be okay.
The curtains won't be opened/closed. They will just hang on either side of the window since the plantation shutters provide privacy and sun control when needed. So I wouldn't have to worry about the rings scratching up the rod if I did spray paint it. I could use brown/bronze rings if I spray paint the rods. Ummm. Anyway those are some of the ideas going through my head. I would love to hear your thoughts.
How Do You Cut Your Velvet?
I found a place locally that I think I'm going to use for the hemming since velvet can be so difficult to sew/hem. They've been in business over 50 years. I don't have the special tools/cutting board needed for velvet so I'm leaving the hemming up to a professional. I took a panel to them today to get an estimate and they quoted me $65 per window. I have two windows.
While I was there, the seamstress I was talking with said something that really worried me. She was holding the drapes and running her hand over them and suddenly she asked me where I had purchased them. I told her I had purchased them from a Ballard Designs Outlet.
The next words that came out of her mouth stunned me. She told me that they were cut the wrong way and that's why they were for sale in the outlet. She said that velvet is supposed to be cut with the nap going downward. You know how you can run your hand over velvet and it feels soft and smooth going one way and kind of rough going the other way. She compared it to petting a cat as she described what she meant.
My velvet draperies are cut where when they are hanging, the nap or direction of the fabric will be pointing upward toward the ceiling, not downward toward the floor. I told her that I at least hoped they were all going the same direction since I knew the panels wouldn't look the same when hanging, if they weren't. As soon as I got home I checked and they were all cut the same direction with the nap of the fabric going upward. Whew!
Next I Googled to see if what she said was true about how the curtains were cut the wrong way. Here's what I found at the first site Google sent me to which was www.threadsmagazine.com:
I was greatly relieved to read that because I'd prefer my curtains look darker than lighter, so I think I'm glad the nap will be going upward when they are hanging. I won't have to worry about wear because this isn't a dress or an article of clothing that will see a lot of wear. They are drapes that will hang stationary, all the time. I guess the only negative is they might be prone to catch dust more easily with the nap running upward. Ummm, what do you think about all this?
Switching gears, on the way home today, I stopped into a Tuesday Morning. I haven't been in one in a bazillion years so thought it would be fun to look around. I didn't buy anything but look what I saw. Did you know Waverly makes cookware, and you can buy toile pans now. 🙂
Before I close out this post, I wanted to share this in case you are interested. Remember the black boots I purchased that kept my feet dry in some of the downpours we encountered in Italy? Last night I discovered they are on sale half price.
I ordered another pair, this time in this rich brown color called, Bison. I love these boots! I am pretty much living in them this winter. I was wearing the black ones the night my car got stuck in mud and I just knew they were going to be ruined since the mud and water was so deep it flowed inside them. Nope, got home, washed them off and they look as good as the day I bought them, which is amazing since they are suede!
You'll find them on sale here: Teva Boots or on Amazon here: Teva Boots. I purchased them in 1/2 size bigger than I normally wear because I like to wear thick socks with boots. I paid full price ($120) when I purchased my black pair several months ago so the sales prices are awesome!
I was thinking today, whenever I come across something I love that I think you might want to know about, especially an awesome sale, I'll tack it onto the end of a post like I did this time. If I wait to create a "shopping" post of great finds, something I usually only do a couple of times a month, chances are the sale will be over or the item will be sold out. Since I just ordered them in brown last night, they should still be available, although I noticed the sizes are starting to close out as they sell. They have them in three colors right now: Black, Brown and Taupe.
Okay, let me know what you think about the velvet dilemma, are my curtains sewn backwards? lol Is it okay that the nap will be going upward and not downward when they are eventually hanging?
Also, do you like the idea of wood drapery rods for this room or should I just spray paint the ones I purchased, brown?
Looking forward to hearing your thoughts!
*If a post is sponsored or a product was provided at no charge, it will be stated in post. Some links may be affiliate links and as an Amazon Associate, I may earn from qualifying purchases. *